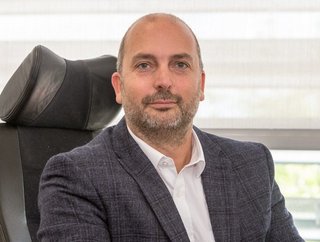 Steve Pass, the COO of DataQube, discusses 5G, IoT and innovation at the edge
This month, we sat down with Steve Pass, the COO of DataQube. As the operations lead behind the world's first standalone podular edge data centre, we sought to get his take on the direction this dynamic, growing slice of the industry will take in 2022.

What wider role does DataQube have in the world of 5G and IoT, and how is the paradigm shifting?
If 5G is really to become a game changer in IoT, you need powerful edge computing capabilities in line. There is currently a disconnect between the sophisticated capabilities of IoT devices versus substandard data handling, and that's where DataQube comes in.
DataQube's sustainable, flexible, scalable edge data centres combined with 5G services can bring true "edge" and "smart city" capabilities to almost anywhere.
By its very definition, IoT (Internet of Things) requires devices to be connected to the Internet and to other interconnected devices.
It is a giant network of people and machines, all interconnected and all collecting and sharing information about who and what they are, what they are doing, and where they are, in relation to other things or people, as well as their general surroundings.
The concept is very much in vogue right now, having been given a turbocharge in light of the last two years, but IoT has been around for a while. What has changed, though, is the augmented capabilities of the embedded technologies integral to IoT, the standardisation of communication protocols and more affordable IT which is driving its adoption.
And 5G is central to this, as it offers faster, more stable and secure connectivity. This is because unlike its 4G predecessor it has been designed with machines, not people, in mind.
The average latency rate for 4G is around 50 milliseconds. This potentially drops to one millisecond with 5G, and it also promises delivery speeds of up to 10 gigabits per second.
Why is the IoT so critical and how can it be enhanced with 5G?
As more and more devices become connected, almost everything we do will be impacted.
This includes the way we travel, the way we shop, the way we bank, how manufacturers reduce faults and track inventory, run their operations 24/7, play games online, upload reels to Instagram and TikTok, how we interact with virtual assistants, use smart home technologies - all of it requires fast, reliable and secure connectivity.
Although 5G makes all of this possible, we are still a long way off from 5G being universal, and the true benefits of IoT are currently limited to those enterprises that have the bandwidth to invest in 5G private mobile networks.
And even then, the seamless data handling aspect is not resolved in its entirety - you need powerful edge computing to do that, and current localised infrastructures are not up to the job.
What does success look like to you in your role?
To be globally recognised for providing sustainable, secure, flexible and scalable edge data centres that positively impact the digitally connected world we live in.
There is much talk about renewable energy, and about data centres becoming responsible for 10% of global energy consumption by the end of the decade.
However, switching from fossil fuel to a renewable energy source does not solve the power dilemma, it just moves it sideways. Data centres are consuming more energy overall - the type of energy is irrelevant - and this is what needs to change.
Because of its person-free makeup, DataQube uses less power, requires less land and does not need reinforced concrete, making it viable and sustainable from the outset.
Micro data centres at the edge are quickly growing in numbers. What future trends would you predict in this area?
The number of edge data centres is growing rapidly, but this is just the tip of the iceberg.
Innovation at the edge has been held back by the lack of processing and storage handling capabilities. This has led to the current disconnect between devices versus supporting critical infrastructures.
So, as more and more edge data centres become available, these facilities need to adapt to keep pace with new technology demands, satellite comms and so on, to deliver truly seamless communications. When this happens, we will see edge and IoT innovation skyrocket.