Data centres and the digital twin
By Nicholas Barrowclough, President of AKCP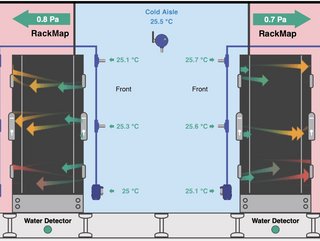 AKCP sensors positioned in containment pod. Credit: AKCP
AKCP runs down the benefits of having a digital twin and how to implement them for the sake of operators
What is a data centre digital twin?
A digital twin replicates the behaviour and processes of a physical data centre. The technology has gained popularity because it can simulate scenarios and predict performance, efficiency and reliability.
Digital twin benefits for the data centre
Data centre digital twins offer many benefits for a data centre operator. You can gain insight into equipment cooling and power status, usage and capacity as well as mapping of the network and power train. Managers are then able to identify suitable areas for optimisation of capacity and energy savings.
How do you build a digital twin?
A virtual model of the physical space must first be created. This can be a long and difficult process in a complex environment such as a large data centre. A simpler, faster and more accurate solution is to model a containment pod. A containment pod is a mini data centre within a data centre. By keeping the physical model simple, a more accurate digital twin is achieved.
Some manufacturers of containment systems may include the digital twin virtual models of their containment pods. These virtual models are created in software like AKCP's AKCPro Server. This makes setup fast, easy and accurate.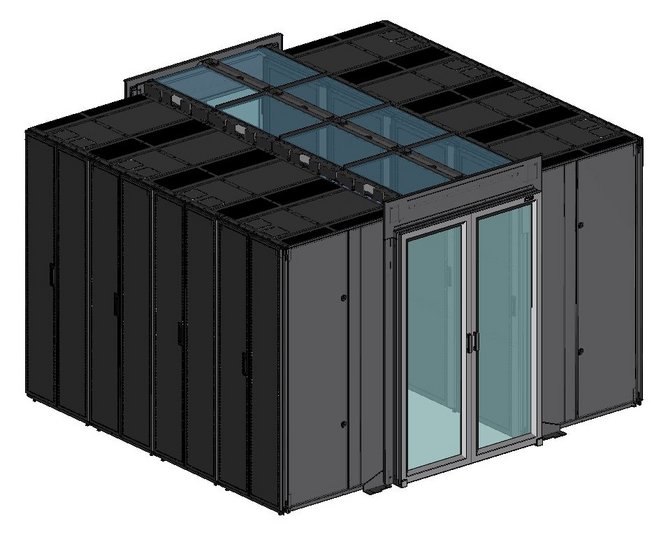 Example of Panduit containment pod. Credit: AKCP
Real-time monitoring and analytics
The digital twin requires sensors to monitor the physical environment and conditions in real time. Where should the sensors be placed? How many sensors are needed?
You don't need to answer these questions. AKCP thermal map and power meter sensor kits are designed specifically for installation in containment pods from popular suppliers such as Panduit, Subzero, Schneider and more.
Integration of sensor data into Computational Fluid Dynamics (CFD) with AKCP's sensorCFD™ produce a graphical representation of airflow and cooling performance. Energy consumption, rack inlet and outlet temperatures, humidity, water leak detection and the physical security of assets are included in the digital twin. This level of monitoring gives sufficient insight for operators to detect critical issues and respond promptly. The data is also used to identify where energy can be conserved, locate stranded capacity and improve efficiency.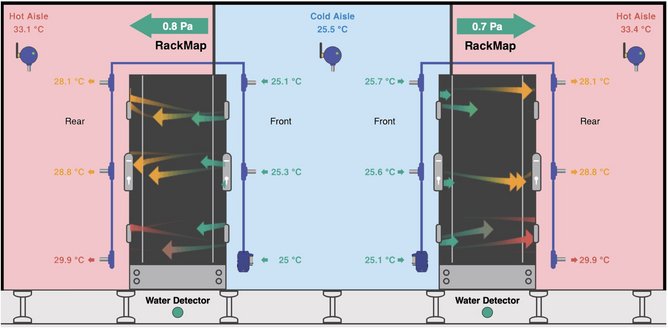 AKCP sensors positioned in containment pod. Credit: AKCP
Predictive maintenance
Analysis of sensor data enables the digital twin to predict equipment failures and schedule preventative maintenance. This helps reduce downtime and repair costs, as well as extending the life of the equipment.
Virtual simulations
Simulated failures of cooling systems or power are conducted in the virtual world, with reports of the impact this would have. This provides a safe way to formulate business continuity plans before real world problems occur.
Capacity planning
Can the data centre meet current and future demands? Make changes in your digital twin. Add capacity, see how it affects power requirements, cooling loads and other critical systems.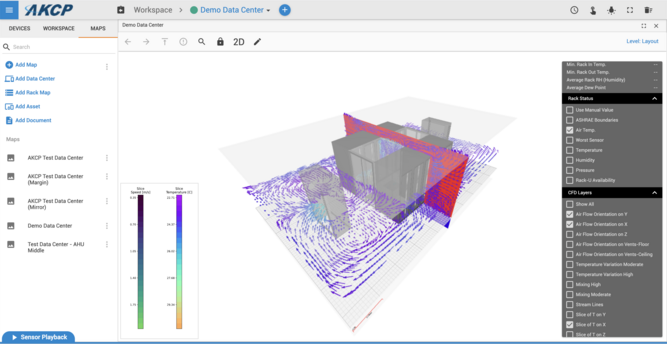 AKCPro Server sensorCFD™
Digital twin challenges
Data reliability
Digital twins require accurate data to be useful. Without precise physical models and accurate sensor data, errors occur when performing CFD analysis. This error can be significant, reducing the value of the CFD analysis.
Traditional CFD tools input arbitrary values for the expected rack inlet and outlet temperatures, power utilisation, airflow, air pressures, and cooling systems performance. For accurate results the input to the CFD model should utilise real world operational data collected in real time. sensorCFD™, a patent pending invention by AKCP meets these challenges by constraining the CFD model with live values.
System complexity
Digital twins have been used in the aviation industry for years. Although a complex system, it has a very specific performance envelope that can be measured against.
A data centre has unique challenges. It's a living, breathing system. Cooling loads change to match the server loads. Changing environmental conditions. Even the physical model may be changing.
Implementing a more controlled environment is beneficial. Containment systems create a smaller space in which the hot or cold air is contained. This smaller, well defined and contained system is easier to control, monitor and model.
Thermal map sensors placed on each rack check for rack inlet and outlet temperatures, at the top, middle and bottom. ∆T values are calculated from these values. Power meters on each rack measure the heat generated. The sensor data is used to ensure the performance of the containment is as designed. The combination of AKCP monitoring, sensorCFD™ and containment creates a more accurate and useful digital twin.
The modularity of the above system means that as the data centre expands new containment centres are added, characterised and monitored through their own digital twin. Rather than a single, large model of the entire data centre, digital twins of individual containment pods give a more accurate and useful analysis.
Conclusion
Creating a digital twin of your data centre is an excellent way to manage, monitor and enhance your data centre operations, maintain uptime and improve efficiency. There are solutions available from AKCP that make the deployment of a digital twin data centre easier, with end to end solutions from containment to sensors to software.