e&, Microsoft and SES forge new connectivity partnership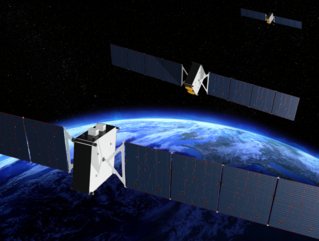 The partnership will see e& teleport's connectivity extended from its SmartHub Data Centre, to offer high-quality services across a global customer base
The Carrier and Wholesale Services (C&WS) division of e& has announced its partnership with Microsoft and SES, as the three telco giants will jointly host the co-located SES O3b mPOWER and the Microsoft ground station at Ras Al Khaimah.
This development - and the hosting of the first O3b mPOWER ground station in the region - will facilitate one-hop cloud connectivity from remote sites, thereby helping customers to optimise their business operations seamlessly. As such, it will be a key aid to businesses implementing their digital transformation strategies within the region.
The details of - and opportunities unlocked by - the telecoms partnership
Thanks to the arrangements of the partnership, e& network services can be connected and extended through SES's second-generation medium earth orbit (MEO) constellation – O3b mPOWER. This MEO delivers high-speed connectivity, from tens of megabits to multiple gigabits per second to a site.
Alongside this, one-hop connectivity will be established to Azure Cloud, while SES's satellite network minimises any network latency delays.
As a result, e& teleport will be extended from its SmartHub Data Centre, to offer high-quality services across a global reach. Meanwhile, premium access to Microsoft Azure services will be unlocked for both SES and Microsoft customers across the world.
The ground station at Ras Al Khaimah is one of the eight initial O3b mPOWER gateway sites, which will support both customer data services and the TTC (Telemetry, Tracking and Control) control of the satellite system.
"SES's O3b mPOWER satellite services will enhance cloud-enabled capability to meet critical industry connectivity needs with greater resiliency and enable users in e&'s customer base to benefit from enabling Cloud applications regardless of where they are located," commented William Chappell, Vice President of Azure Global, Microsoft.
"This partnership is an important milestone in providing customers with the ability to optimize business operations in a flexible and agile manner while accessing connectivity to the cloud from remote sites via satellites and leveraging e&'s global network with space coverage. e& will capitalise on the success of O3b mPOWER satellites to deliver fibre-like connectivity to meet growing customer demands globally," added Nabil Baccouche, Group Chief Carrier & Wholesale Officer, e&.
"Through this partnership, our international customers will have access to cloud-based services and platforms regardless of their location."