EdgeConneX deploys Voltera, its EV charging business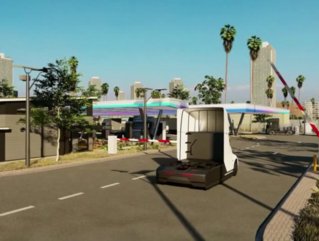 EdgeConneX has now deployed its subsidiary company Voltera, an electric vehicle charging business, which was originally launched last year
Voltera, the new EdgeConneX business, has also revealed that it has equity backing from EQT Infrastructure.
"As a pioneer in the digital infrastructure industry, EdgeConneX has solved many of the same challenges EV fleet operators and automakers face – acquiring, permitting, powering and operating sites in strategic locations, while ensuring customers' speed to market", commented EdgeConneX CEO, Randy Brouckman.
"It's a highly logical and practical application of our long-developed data centre innovations to solve another very real and significant challenge. Voltera will advance the transportation industry like EdgeConneX did with digital infrastructure. It's really all a part of our commitment to sustainable innovation."
Deploying Voltera - what we can expect from EdgeConneX's new electric vehicle venture
Voltera's CEO has been named as Matt Horton. Horton previously spent two years as the Executive Vice President of Energy and Charging Solutions at Rivian, and almost six years (with three years as the Chief Commercial Officer) at the EV giant Proterra.
Voltera will provide scalable electric charging infrastructure, and its client services will include the building, powering, acquiring and operating of its sophisticated electric charging facilities.
"Fleet operators, automakers, and consumers alike are adopting electric vehicles at a rapidly accelerating pace", explained Horton.
"Lagging far behind, though, is the power infrastructure needed to support EVs at scale. We have to bridge that gap if we're going to make zero-emission transportation a reality. That's what Voltera is doing, and it's why I'm so excited to be part of this team."
Voltera's future role in data centre infrastructure
Originally, Voltera was designed to help enhance data centre infrastructure. The idea was that the company would offer an "Autonomous Vehicle Data Offload" service, and that they would work towards "developing data transfer stations for AV Depots". If successful, this would enable autonomous vehicles to be charged and transmit data to the cloud, all at once.
So, in the very near future, we could see edge data centres being built together with electric vehicle charging stations.
"The time is right to scale, and the market is hungry for new business models and creative market-driven solutions to address the power infrastructure challenges that have to date limited EV deployment at scale", added Horton.