How AR technologies are improving data centre efficiency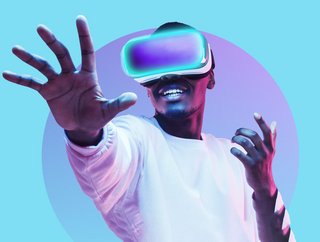 AR
Speaking with Danel Turk, Solution Portfolio Manager for Data Centres at ABB, we delve into the scope for AR deployment in the data centre industry
In 2019, there were around 0.44 billion augmented reality (AR) device users in the world. Just five short years later, by 2024, this same figure is set to rise to 1.73 billion.
The global AR device market has skyrocketed at a phenomenal pace. This uptake has been driven by a number of different factors and almost every global industry. In everything from the scope of AR shopping experiences in the retail sector to AR driving more efficient operations in high-tech industries, the potential deployment of these solutions is exceptionally far-reaching.
In an exclusive interview with Danel Turk, Solution Portfolio Manager for Data Centres at ABB, we find out more about the future scope for AR technologies in the global data centre industry.
The increasing adoption of AR in data centres
When it comes to ensuring high uptime and consistency of service, getting the right people to the right place whenever an issue arises is critical – but it's not always as easy as it sounds.
This was made particularly apparent during COVID-19, when lockdowns and remote working made it apparent how much we depend on the required experts being able to travel quickly. Prior to the pandemic, this wasn't really a reliance that was particularly called into question.
Now, though, this situation – coupled with the post-pandemic shift to remote working – has pushed industries forward and helped IT teams question where remote technologies are best placed to ensure operations are faster and better.
To this end, AR can be extremely effective in keeping uptime high while resolving any issues that do slip through the net as quickly as possible.
"Data centres have to be up and running all the time. However, getting the right people to the right place can sometimes take much more time than predicted," Turk explains.
"But, if you have AR, you can always have an expert on the other side of the line; they can tell you what to switch and where to do it."
In that way, you can achieve the same speed as having someone there on-site completing the repair, but keep safety standards high by enlisting a skilled, professional repair technician.
"So, it's safe from a cybersecurity point of view, but it also serves the wider sustainability goal, too. It means that we don't need to put the person in the car, and send them to the site, for example, to identify which spare part is needed," Turk adds.
This advantage is particularly valuable in many emerging data centre markets, which are typically situated to much more remote locations many hours outside of major cities. As a result, AR technologies make remote or secondary markets a far more feasible expansion option for providers.
Using AR to secure uptime and improve customer satisfaction
According to the Uptime Institute Global Data Center Survey 2022, outages remain all too frequent. In fact, in 2022, 60% of operators surveyed said that they had an outage in the past three years.
But, what's more concerning is the current trend, which has seen outages becoming significantly more expensive for data centre operators.
Although a falling proportion of managers are reporting serious or severe outages, Uptime's data revealed that a quarter of respondents said that their most recent outage had cost more than $1mn, in both direct and indirect costs. A further 45% said that their most recent outage cost between $100,000 and $1mn. As a result, it can be concluded that more than two-thirds of all outages cost over $100,000 each.
This means, according to Uptime, that "the business case for investing more in resiliency – and, as such, training – is becoming ever stronger".
"If you lose a data centre for one hour, people are going to go crazy. Look back a year ago, for example, when Meta went down for six or seven hours – the impact that this had was very significant. One direct impact was the fact that they couldn't sell advertisements. Another could be a loss in share prices, because it's not seen as 'safe' anymore or the sites are not up there, so people are immediately wondering what's going on," Turk asserts.
"This means companies will do anything they can to maintain uptime."
AR will play a critical role in helping to keep uptime as high as possible, thereby enabling data centres to build a strong brand reputation, maintain a high customer experience, and build trust.
Using AR to support the green energy shift
With the data centre industry setting sustainability as one of its core focus areas, the big question for AR technologies is: can they also be used to drive more effective green energy solutions?
Well, according to Turk, not only can AR technologies be used to implement existing green energy solutions more effectively, but they can also help to test newer, more experimental sustainable solutions to a much higher degree of accuracy.
"In the field of green energy, some of the energy sources are still a little bit less predictable. So, the coordination between the green energy generation – including storing it, using it, and optimising it – will definitely be one thing that will grow," Turk says.
"If we take the simple example of battery storage and apply AR or ML technologies to it, we can optimise it and increase the battery lifetime by around 10%. This is because we can share the load more equally, and we can also see the relative health of different battery cells (which ones have the higher cycles and which have the lower cycles). And, using ML, we can divide the energy in a better way, allowing us to increase efficiency."
The power of AR and ML
Alongside the increasing adoption of AR, machine learning (ML) technologies are also proving a critical advantage for data centres.
"Today, it's picking up slowly, but machine learning is coming," Turk says. "If the data centre operator has the same size of data centres, with the same design across its sites, in many locations, they can use ML very effectively.
"So, if something happens on one site, they can do the learning and then see – maybe if they have the same issue on another site – what they should do differently. Plus, they can see the loads so it could be a critical point in a load that triggered it. ML, together with AR, will definitely help in these ways."
Turk explains that ABB is leading the industry in this field, deploying AR and ML technologies across its operations to ensure its services continue to represent best-in-class.
"The data centre industry is developing so quickly. We are happy to be part of it, but it also puts the pressure on us to keep making things better. We need to make UPS more efficient, we need to make our digital switchgear more efficient, particularly from the cooling point of view."
"For engineers, they need to challenge themselves. In the past, things didn't move so fast, the tenders were longer time periods, and it was all a little bit more steady. Today, it's all turned around – everything has changed. And maybe people are ready for it."
"So, at ABB, we are using AR to add digital layers, digital systems, and optimisation programmes. Also, we're not just doing automation or optimisation for one flaw. We can optimise between cooling and the motors, and make analyses for our electricity usage, then we can pull all of that information together."