ICYMI: Li-ion batteries and Vertiv factory expansions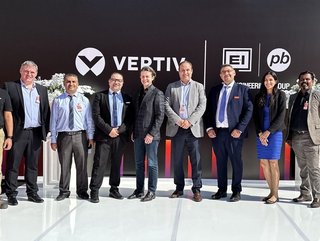 We take a look at the biggest stories of this week, including Vertiv's expansion of its UAE factory, and the launch of this month's Data Centre Magazine
Vertiv inaugurates expansion of its Ras Al Khaimah factory
Vertiv has announced the inauguration of its factory in Ras Al Khaimah, UAE.
This investment will enable the digital infrastructure giant to significantly expand the integrated modular solutions avenue of its business, as well as its low voltage switchgear and busway businesses.
The site is an extension of the existing E+I Powerbar Gulf factory, providing an additional 5,700 sqm of space.
This newest expansion of its manufacturing network is strategically located, in order to help Vertiv batter cater to its Middle East, Africa, Australia, and South Asia customer networks.
The deployment of lithium-ion batteries in UPS applications
Across the board, the pursuit of sustainable energy solutions is rapidly increasing pace. But, for an industry that represents between 1-2% of global electricity consumption, this search could not be more pressing.
Running in parallel to sustainability demands, the European energy crisis is forcing data centres - regardless of their attitudes towards sustainability - to place sustainable energy solutions among their top priorities.
Due to the combination of these factors, two of the most prevalent industry trends are energy efficiency improvements and the deployment of lithium-ion (Li-ion) batteries.
By deploying Li-ion batteries, data centres are striving towards the lowest level of carbon dioxide production across not only their products and supply chains, but also the operation of the equipment. One of the key reasons for Li-ion batteries' high sustainability is their extended lifespan.
"Although the components of the system are more complex, Li-ion batteries have a far longer lifespan and therefore require servicing and replacement less often than lead-acid systems," explains Marc Garner, SVP, Secure Power Division for Schneider Electric UK & Ireland.
"For the data centre operator, a battery which does not meet the design requirement of the load presents a major risk to service continuity. The alternative is that operators will sometimes oversize the system, with all the environmental impacts present in manufacture, installation and operations. By contrast, the characteristics of Li-ion cells mean that none of this will apply to it over the same 10-year period, and the longer lifespan of a Li-ion battery is perhaps its major advantage in terms of sustainability and TCO."
OUT NOW - Data Centre Magazine
February's edition of Data Centre Magazine is out now. In it, we explore the future of data centre marketing, and gain insights from industry leaders including Layer 9 and Green Mountain.