Inside IBM's new quantum cooling solution, Project Goldeneye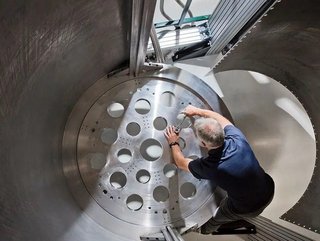 IBM has shared insights into its new 'super fridge' technology, the Project Goldeneye prototype, which is capable of cooling vast quantum computers
IBM has unveiled its newly developed cooling technology, known as Project Goldeneye.
The vast super-fridge represents the latest advancement in cooling technologies, and is set to cater to our technological advancements all the way up to 2025.
In fact, it is yet to be determined whether this fridge is the largest of its kind, with this level of capabilities, in the world.
The details of IBM's Project Goldeneye
The IBM project is a dilution refrigerator which, after three years of development, can house the large-scale quantum computers of the future.
It can cool a volume of 1.7 cubic meters, which is an increase of 0.7 metres (compared to existing fridges).
The fridge has successfully been cooled to its operating temperature (~25 mK), before a quantum processor was wired inside. To put it into perspective, this is 1,000 times colder than space's average temperature of space.
And, this technology means that the fridge will be able to cool larger systems than any we will be able to create in the near future, even potentially surpassing the larger systems that we can expect to be developed beyond 2025.
It follows the standard technique used in dilution refrigerators but, according to IBM, this has been improved, by developing a new modular design.
This super fridge can be accessed through an opening on the side, rather than having to remove the whole external shell. IBM has also said that it has designed a jib crane for the fridge, so that "one day" it can be managed by just one person.
Alongside its advancements in the cooling sphere, the Goldeneye project has aided IBM's knowledge of cryogenic science, advancements which will certainly be deployed in the developing Quantum System Three system.