Kao unveils competition-winning first 'desert data centre'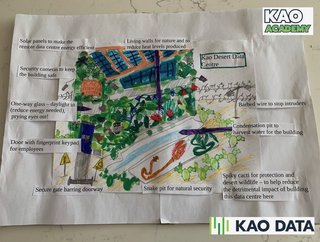 11 year-old Jasmine Wales, who was the winner of Kao Academy's recent design a data centre competition, designed Kao Data's first 'Desert Data Centre'
Kao Data has exhibited the remarkable sustainability insight of the next generation of data centre designers.
After the launch of its Kao Academy competition to design a data centre - and an influx of brilliant entries, from across the UK - the winner has now been announced.
Kao Data's first 'Desert Data Centre' design - from 11 year-old Jasmine Wales
Working in partnership with the Cambridge Science Centre and numerous UK schools, The Kao Academy competition challenged 7–11-year-olds to design their own data centre.
The winning entry came from 11 year-old Jasmine Wales, from Ely in Cambridgeshire.
She created Kao Data's first 'Desert Data Centre' design, which has been equipped with pioneering sustainability features.
These include a condensation pit for rainwater harvesting, one-way glass to reduce energy consumption, solar panels, and living walls to promote biodiversity and reduce heat loss.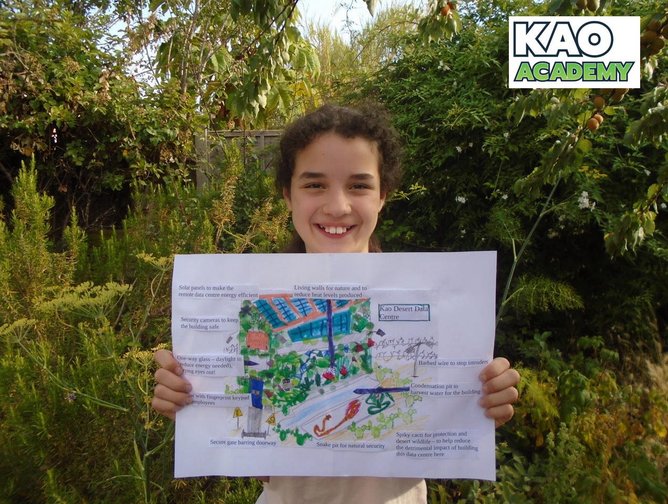 "I have seen lots of new buildings which are full of concrete and have no space for nature, so I wanted my design to help wildlife and the environment", said Jasmine Wales.
"I chose the desert as it's an interesting idea and so that I can add some features for that location, like the solar panels and snake pit! I'm very passionate about sustainability, and we are all part of nature and shouldn't make, build, or do things that would harm it. My design includes lots of ways to offset the impact that a data centre could have on the environment."
"We loved Jasmine's design for her desert data centre. Not only had she tailored the data centre to fit within the hot, dry surroundings, but she had also shown how she could use the desert's own unique climate and ecology to better power and protect the facility", said Adam Nethersole, the VP of Kao Data.
"It's the perfect combination of a futuristic data centre development being designed and built in harmony with its natural surroundings, and the snake-pit is a touch of genius!"
Created in collaboration with Cambridge Science Centre, the Kao Academy was launched in May 2022, as an industry-first science, technology, engineering, and math (STEM) resource, designed to engage primary and early secondary school-aged children with the purpose and roles of data centres.