Ku:l Immersion Cooling performs 30% better than air cooling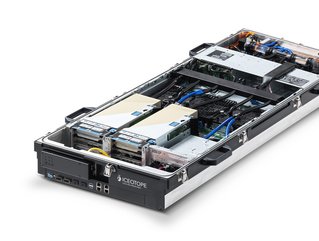 Iceotope and Intel recently tested Ku:l Immersion Cooling solution against air cooling. The results could represent a major industry breakthrough
In a recent comparative test, conducted by Iceotope and Intel, the new Ku:l Data Centre Precision Immersion Cooling Solution was proven to save 30% energy consumption, compared to the typical power usage effectiveness of air cooling.
The proposed Ku:l solution was originally announced back in 2019. The project is the brainchild of industry giants, with Iceotope, Avnet, and Schneider Electric working on its development, with collaboration from Intel and HPE.
Currently, the Ku:l Data Centre Solution is being used by an anonymous UK aerospace company.
Performance testing the Ku:l Immersion Cooling Solution
The efficiency of the Ku:l solution was tested by putting a 19.6kW load under maximum stress levels. Then, it was cooled, and the rate of cooling measured.
Against air cooling (measured using the same test conditions), the Ku:l solution achieved a 4% performance increase, 1kW less energy at a rack level, and with no fluctuation in higher ambient temperatures.
The future potential for the Ku:l Immersion Cooling Solution
"The processing requirements for ubiquitous AI and high-performance applications across the board are already creating a sustainability dilemma for operators," warned Jason Matteson, Iceotope's Director of Product Strategy.
"Accommodating a precipitous increase in chip power at the same time as lowering carbon emissions in distributed edge locations as well as data centres is problematic. Iceotope's Ku:l Data Centre demonstrates a very practical response to an urgent need for a paradigm shift in data centre design."
"Today, sustainability calls for data centre cooling solutions to increase efficiency, flexibility and scalability, while also delivering the performance levels today's computing demands," adds Jen Huffstetler, the Chief Product Sustainability Officer at Intel.
"The new Ku:l Data Centre Precision Immersion Environment enables predictable IT performance with precise cooling and higher space utilisation in a familiar format for today's mission-critical facilities."