Liquid Cooled HPC helping fight an environmental crisis
By Stefan Gillard, Founder & CEO, engineroom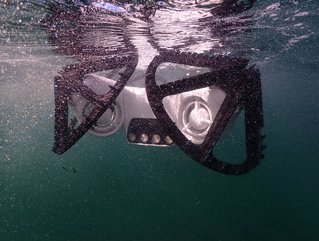 Hullbot is developing a fleet of autonomous submarine robots to fight biofouling, gather critical underwater data, and help clean up the world's oceans
Hullbot is utilising engineroom's HPC extensive expertise to manage a "fire hose of data" as they develop their fleet of autonomous submarine robots
Every day, over 30 million yachts, 3.7 million fishing vessels, 100,000 full-size international ships, and hundreds of thousands of other vessels sit on the surface of our oceans. Virtually every single one of them is a contributor to a hidden environmental disaster unfolding below the waterline.

In order to combat the environmental impact of biofouling (and provide an alternative to hazardous antifouling paints) across the entire maritime sector, Australian robotics startup Hullbot has developed a fleet of autonomous underwater robots designed to inspect, map, monitor, assess and clean boat hulls. The technological challenges have been significant.

By leveraging our expertise and cutting edge HPC data centre hardware, engineroom has played an important role as an HPC provider to Hullbot, enabling their software team to collect and store tremendous quantities of data, as well as process that data in all sorts of interesting, unique, and demanding ways.
The crisis beneath the surface
The threat that biofouling poses to our oceans and environment is threefold. Firstly, biofouling — the process of slimes, algae, seaweek, and animal life adheres to the underside of vessels — is a major contributor to maritime emissions. This hull fouling also leads to the transferal of invasive species to new, vulnerable ecosystems. Lastly, the existing solution to biofouling is the application of toxic paint — an environmentally disastrous source of pollutants.

"Cleaning boat hulls is incredibly important, because dirty boats are less streamlined and therefore use more energy to move; even a few days in the water is long enough to dramatically increase the amount of fuel a vessel needs," explains Tom Loefler, co-founder and CEO of Hullbot. "The slimes that almost immediately take hold on the hulls of boats slow them down so much that they use 25% more fuel once they've been in the water for just a few days. Once shells and barnacles start to take hold too, that can increase fuel consumption by more than 50%."

Biofouling plays a meaningful role in the carbon emissions of waterborne vessels in every ocean and major waterway. Greenhouse gas emissions are a rising cost of the global maritime industry, with the European Union's Commission for Climate Action noting that commercial shipping and transportation alone is responsible for approximately 3% of global CO2 emissions. That figure could rise as high as 17% by 2050 if the industry is left unchecked.

In addition to the environmental impact on fossil fuel consumption, the transference of invasive species like zebra mussels (the presence of which on "hydrotechnical constructions, ships and aquaculture infrastructure … causes corrosion, technical problems and loss of efficiency", according to the International Maritime Organisation), sea stars, barnacles, and crabs can also have a lasting impact on vulnerable ecosystems.

Whether through reduced efficiencies, technical issues, or emissions sanctions, biofouling is also an expensive issue. "Getting boats out of the water to clean and repaint — especially large commercial vessels — is difficult, time consuming, and expensive. Owners want to do it as infrequently as possible, so people are putting the most poisonous, toxic thing they can find on their hulls in the hope that it will kill anything that gets close to the boat, thus keeping the hull clean for longer," says Loefler. These antifouling substances (almost all of which contain copper, zinc, or other "biocides", as well as silicone) then leach into the water around the boat, killing organisms and polluting the surrounding area with heavy metals and microplastics.

The engineers at Hullbot were determined to offer a better, more sustainable alternative.
Enter: Hullbot
The solution to biofouling and hazardous antifouling paint is to clean hulls early and often, removing the first stages of slime and algae growth from vessel hulls before they and their more persistent successors can take hold. In an ideal world, human divers would accomplish this work, but there just aren't enough to clean every boat in time or prevent serious bottlenecks.

This is where Hullbot comes in. Based out of the Sydney mega yacht marina, the startup uses its small autonomous robot to navigate under boats, assess biofouling buildup, and scrub hulls clean — all without a human operator.
"Operating autonomously means the robot needs to know where it is, where it needs to go, how to get there, and how to do what it needs to when it arrives. Also, it needs to be able to get back again safe and sound," says Loefler. "This would be difficult enough on land; it's really challenging in an underwater environment where there's very little light, currents moving around, debris, and not a lot of ways for those robots to reliably find their way safely."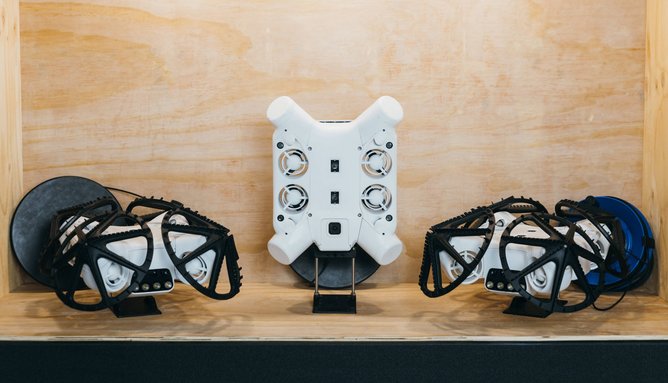 Hullbot uses its small autonomous robot to navigate under boats, assess biofouling buildup, and scrub hulls clean — all without a human operator
The solution: Hullbot's engineers have become world leaders when it comes to solving the problem using cameras, code, and a massive amount of data.
"What we're offering is a no-brainer, but getting the robotics right is really, really tricky," says Loefler. "We have phenomenally talented engineers using the full range of cutting edge robotics software, including SLAM, photogrammetry, point clouds, machine learning, AI, and detailed environmental simulations. That means our product has a very rich software layer."
Hullbot's units are packed to the gills with sensors and devices for returning different types of electromechanical feedback from motors, lasers, cameras, lights, thermometers, and instruments for measuring depth, pressure, rotation, acceleration, and changing currents. Beyond those initial data streams, Hulbot also measures parameters and values of the different elements of the software stack that supports and controls the robot. There are also video feeds, image capture, outputs from machine learning pipelines, control inputs from human operators, screen recordings, simulation recordings, and more.
The result is "a firehose of data streaming out of our robots at all times." That data needs to be captured, stored, and then used to help make Hullbot's robots better. All of that information gets stored and tracked. With a robot in the water, Hullbot might be tracking as many as 4,000 topics at once, each of which might be updating anywhere from a few times a minute to thousands of times every second.
Collecting and managing information in those quantities, especially tied to and interacting with such a heavy software layer, represented a unique challenge for Loefler and the Hullbot team.
engineroom — boutique expertise and cutting edge HPC
This is where engineroom has been able to use our state-of-the-art, liquid cooled HPC/AI offering to create a bespoke offering that suited Hullbot's needs perfectly. We have been able to provide round the clock support, help solve unique issues in transferring and storing the data captured by the robots, and give Hullbot's engineers access to powerful computing machinery and GPUs, offsite storage, and our technical expertise. It's because we're a boutique group that we can work closely with smaller teams to solve unique problems and meet special requirements that might be outside the remit of some of the other companies in the industry.
There are a great many environmental challenges facing us as a society, and we have a duty to work together with one another to combat them. That's what we did here, with Hullbot and engineroom coming together to leverage our respective capabilities and expertise to help one another use technology to fight for the betterment of our oceans, not just for profit.