Modular data centres' role in edge-enabled 5G future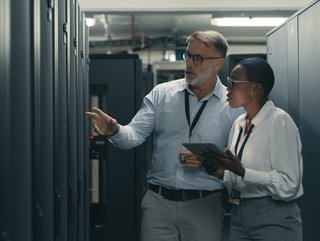 Can modular data centres solve the world's growing edge demand? We speak to Schneider Electric about where modular prefabricated solutions are heading
We're rounding the corner for a 5G future, and new technologies are being imagined faster than the infrastructure can keep up.
So, as our data demands show no signs of halting, could modular data centres be the solution that gets our data centre infrastructure 5G-ready?
We spoke to Elliott Turek and Joe Kramer from Schneider Electric to discuss the market benefits of modular data centres, how these solutions are rivalling the sustainability standards of their larger cousins, and Schneider's predictions for the opportunities that will be unlocked by the future deployment of modular units.
What are modular data centres?
As its name suggests, a modular data centre consists of modules and components that are purpose-engineered and readily scalable. Usually, these components are prefabricated, as this allows for customised solutions that can be deployed at a fraction of the usual delivery schedule.
These units are portable and give the user the opportunity to choose their capacity, power source, and cooling solution. Plus, they can be designed and built at an impressive speed – usually within 3-6 months – and can be located wherever additional data capacity is required.
As a result, modular data centres are becoming increasingly adopted, particularly as AI, IoT, ML and 5G drive an even higher data demand.
Edge computing has been a big industry topic for a long period of time. But it's actually application-based computing that has advanced the cloud's – and so, edge data centres' – evolution.
"Certainly, in the cases of driverless cars, Google maps, or any other application where it needs to be working 100% of the time, you can't have downtime or latency issues," asserts Elliott Turek, the Global Offer Manager for Prefabricated Modular Solutions at Schneider Electric. "With the advent of this increased demand, you need a data centre to provide such a service."
What market advantages do modular data centres offer?
The speed and flexibility with which modular data centres are constructed gives these models a series of unique advantages.
Firstly, their small size means that modular data centres offer a very effective solution to the issue of space constraints. In fact, it's not uncommon for modular data centres to be slotted into existing spaces in car parks or for mining companies to install a small, on-site data centre to support their operations.
"When you look at what we're working on, you think, 'That could be deployed somewhere that's nearby my house or in New York City'," Turek says.
The prefabricated building method offers greater predictability and consistency, which is a valuable trait for companies.
"For customers who are building up a consistent product for themselves – whether it's a distribution warehouse or a cloud tier-one data centre – they want to have predictability across the board and be able to say that what is in Iowa in the US is the same thing that's in the Netherlands'," Turek explains.
"Prefab offers that predictability. Plus you have more control of the overall process, as opposed to a conventional construction project, where you may have different labour in different countries and different zones, each of which may have their own practices for doing things."

"For our customers, what they have at every site globally is cookie-cutter, so they know that, if there's some sort of firmware upgrade that they have to do, it's the same process each and every time."

One critical element of this build process is the added flexibility, which applies to customers spanning a huge variety of industry use cases. These include everything from logistics to food, manufacturing to maps – sectors that are increasingly reliant on 5G technologies and can use modular data centres to quickly achieve the necessary infrastructure.

Alongside this, the replicated building approach enables a significantly faster build speed than the standard new data centre.

"When you are building the whole data centre in the factory, everything that you would normally do on site can be done in parallel," adds Joe Kramer, the Director of Sales and Marketing for EcoStruxure Modular Data Centres at Schneider Electric.

"Typically in a construction process, things have to follow a certain series of events. And with modular data centres, we turned that on its head and gave the customer different approaches, which manifest in being able to build faster."

Alongside this, Schneider also deploys industry-leading sustainability standards across its modular data centres, ensuring its clients continue to meet their ESG targets, even with the adoption of a new data centre.

"Since we take a wide range of Schneider products and integrate them in the data centres, we have all the PEP (product environmental profile) documents ready," Turek explains.

"We then do our due diligence when working with the vendors, to see how much we can get that's recycled, how much we can reuse from other projects and say, if we're building this for our customer in Sweden, determine what's the most effective way of shipping it to them."

In data centre designing and construction, a lot of the consequent waste is caused by the making of one-off units. So, with the tried-and-tested approach of standardised, prefabricated modular data centres, waste is minimised and the manufacturer's ability to recreate it in the same sustainable way becomes even more efficient over time.

Predictions for the growth and advancement of the modular data centre sector

So, what predictions does Schneider have for the growth of the modular sector?

"I think it's really about being where the data is collected and processed. In this new world, edge data is going to have to be processed all over the place," explains Kramer.

"We can't just centralise where all that processing is happening. And there's going to be so many applications that we haven't even dreamed of yet, which are going to drive the need for that."

"But that's where I see the acceleration of modular data centres – when you think about all the new applications that are out there that need to have something other than a very small processing device – having an impact," Kramer adds.

Alongside this, modular data centre providers will be using edge-enabled technologies themselves to achieve greater efficiencies and capabilities within their units.

"I think Schneider's at the forefront of using AI and, with a lot of the things that we're working on, we can be really successful in using that type of methodology," Turek says.

Alongside smaller independent sites, modular data centres are also set to drive some major changes across hyperscale locations. In fact, Schneider has traditionally worked with hyperscalers, including many of the industry's big cloud players.

"Modular data centres have already had a really large impact, I'd say, in the large hyperscale data centre market," Kramer explains.

"There's a sort of race to build data centre capacity, which is being driven by everything that's happening on the edge. The real advantage in the hyperscale space is being able to meet that fast-moving demand and manage parallel activity, so that you can do more in a shorter amount of time."

"The next frontier is going to be focused around the edge and moving all that processing power from those big data centres to lots and lots of places."