On the pod – unexpected medium for data centre marketing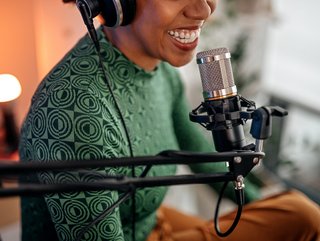 Thought podcasts were limited to comedy? The host of the 'Inside Data Centre Podcast', Andy Davis, outlines how podcasts are driving industry evolution
We're all familiar with the expression that 'there's a podcast for everyone', right? But even the most committed data centre enthusiasts might be surprised to learn about the wealth of dedicated data centre podcasts out there.
The podcast genre offers marketers and thought leaders a wealth of unique qualities. It is characterised by its informal, conversational approach, with content that is usually more personable and relaxed than video-based content. Plus, the length of the episodes allows the speakers to create a thorough deep-dive into their topics.
For these reasons, the growth of data centre podcasts is a fascinating trend, which is highly reflective of the nature of the wider industry – namely, the willingness to share ideas, the genuine interest in learning, and the focus on cross-industry collaboration.
To find out what's driving the rise of data centre podcasts, we spoke to one of the most influential players leading the charge: Andy Davis, the host of the Inside Data Centre Podcast. Over 100 episodes-strong, he has welcomed guests spanning the full breadth of the industry and, even two years in, is still growing.
How did the podcast begin?
As with many great things, the Inside Data Podcast launched its first episode in July 2020, during the UK's COVID-19 lockdown.
"It was at a time where there wasn't a lot going on in the world, to be totally honest. And, although the data centre sector was very buoyant during lockdown, it experienced, like everybody, that first three to four-month period where nobody really knew what was happening. Everything stopped, people were taking stock and didn't really know what to do," Davis explained.
In particular, Davis says that the matter of whether or not to continue recruiting was left with a big question mark, during these first few months. As the Director of the data centre recruitment company DataX Connect, Davis saw this as the perfect moment to launch this long-awaited plan.
"The plan was to record five episodes. So, I reached out to five people that I knew in the sector and asked if they would be interested. Everyone said they'd love to do it, then it snowballed from there."
Shedding light on the workings of a secretive sector
Data centres – even for those within the industry – have long held a reputation for secrecy. But, in the face of challenges that threaten to halt the sector's growth in its tracks, data centre leaders have had to speak with frankness and transparency.
"The main reason I started the podcast was because I've always been quite vocal about the sector being very secretive," Davis explains.
"It was always a case of having to sign an NDA to have a conversation with someone about something, and I thought that that wasn't really necessary a lot of the time. There's a lot of great people in the industry with good stories to share."
And, for Davis, the style of podcasts meant that the people who would normally require an NDA were suddenly a lot more open when asked to take part in a more informal discussion.
"That was one of the objectives: to try and demystify the sector a little bit, and to attract more people to the industry, because I'm a big believer that if people don't know it exists, they're never going to come to us. And we were our own worst enemy by being so secretive."
"Nobody knew we existed; no one outside the industry even knew what a data centre was. So I wanted to be part of the process of making the sector more visible to everybody."
The unique qualities of the podcast genre
Although Davis' guest list started small, fast forward two years and a huge variety of speakers have come to the fore. After all, the more names that feature on the podcast, the more leaders will see this trend, and realise that they can indeed hold open discussions about what they're doing themselves.
And, pushed by the need to share information to address sustainability challenges and navigate the current talent shortage, "the sector is genuinely wanting to be more open".
Taking a different approach to the usual focus on CEOs and leadership teams, Davis works to cover people across the sector, spanning the full breadth of different fields, experience levels and topics.
"I've had people like Mike Tobin and Guy Willner on the pod – both of whom were game-changers in the data centre sector in those early days, in that Wild West part of the industry, where they were really shaking things up and leaving a footprint. Interviewing people like them always leaves you inspired, because a lot of these entrepreneurs have come from quite tough backgrounds. They're not well educated, but they're risk-takers; basically, they take educated gambles across their career," Davis explains.
"People like that can help those in a similar boat that are (hopefully) listening and think that they can't succeed because they haven't got the education. I think, again hopefully, that kind of story helps them. So I've always enjoyed those types of conversations."
"I also really enjoy talking to the apprentices that have just started in the sector. Again, it helps me to understand how they found their way in," adds Davis.
"I think that, if we don't understand and fix the pathway, we're not going to attract new people. So, we need to be asking these apprentices, 'how did you find it?'."
Tackling talent shortages and climate change – all through podcasts
The perspective that Davis' career has given him has, undoubtedly, influenced the content that he produces.
"I think it's all about being more open. I think people now understand the challenges we face, from a talent perspective. That's my day job, and that's where a lot of my conversations spring from," Davis explains.
"If we aren't open, don't start talking to people and don't start sharing our stories, the sector is going to stagnate. The data centre industry itself has grown faster than the talent pool, meaning there aren't enough people, so we have to be more open to new things. Whether that's allowing different skill sets to come into the sector or looking to different demographics and different geographies for talent."
Interestingly, this improved communication and cross-industry transparency is also key, Davis believes, in tackling data centres' other biggest challenge: sustainability.
"For the challenges around sustainability and power, it all comes back to collaboration. Before, everything was a secret. You'd never see a data centre organisation working with another one, it just didn't happen," says Davis.
"Whereas now, there's a lot of great programmes globally, with organisations working together to try and solve a specific problem. What I see most, relating it back to the podcast, is that, now these conversations are happening, everyone is happy to share what they're doing."