Schneider Electric wins Consolidation/Upgrade Project 2023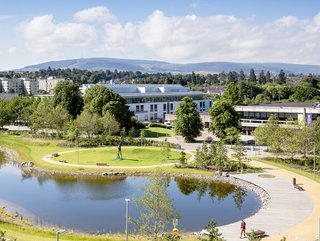 Schneider Electric wins Consolidation/Upgrade Project 2023
Leading companies Schneider Electric and Total Power Solutions win 'Data Centre Consolidation/Upgrade Project of the year' at DCS Awards 2023
Announced by Schneider Electric, the leading digital transformation of energy management and automation company has won 'Data Centre Consolidation/Upgrade Project of the year' at DCS Awards 2023 alongside its partner Total Power Solutions.
"University College Dublin one of the world's leading research-intensive universities, renowned for its commitments to fostering innovation and providing a dynamic student experience. Central to this is the continuity of its data centre. I'm proud to accept this award on behalf of Schneider Electric and Total Power Solutions, which recognises how this new state-of-the-art infrastructure system will not only enhance UCD's resilience but will provide significant environmental benefits going-forward," said Mark Yeeles, Vice President, Secure Power Division, Schneider Electric, UK and Ireland.
As part of the project, the companies designed a delivered a high efficiency Uniflair InRow Direct Expansion (DX) cooling system to the University College Dublin (UCD) and deployed a new EcoStruxure Row Data Centre solution at its Daedalus data centre.
With this implementation, both Schneider Electric and Total Power Solutions reduced the university's data centre power usage effectiveness (PUE) from 1.42 to 1.37. In doing so the two helped the university to lower its energy consumption and cost, while maintaining its support and commitment to environmental sustainability.
In addition the companies relocated to the roof parts of the cooling plant and equipment to free up significant space for redevelopment of new education facilities.
Modernisation
Being one of the largest universities in Ireland and one of Europe's leading research-intensive universities, the project formed part of UCD's new strategic development plan to free-up space at its central Dublin campus. By revitalising its data centre cooling architecture the university is much more energy and space efficient, resilient, and scalable.
"The Daedalus data centre serves as the beating heart that powers all essential operations on campus. From the academic research and HPC clusters to the centralised IT system, it ensures seamless functionality across the institution. This award is testament to the use of innovative technology and engineering, which ensures the University can continue operating without any downtime and can support both its students and sustainability ambitions for the many years ahead," said Paul Kavanagh, Managing Director, Total Power Solutions.