Schneider makes eConversion default for Galaxy V-Series UPSs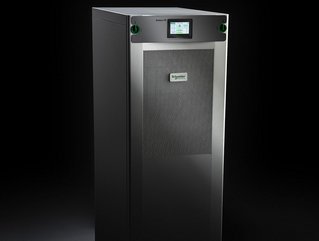 Schneider Electric has now set eConversion as the default mode for its Galaxy V-Series UPSs, to increase data centre and mission-critical sustainability
Schneider Electric has announced an enhanced version of its eConversion protection mode, to improve the sustainability standards of its Galaxy V Series 3-phase UPSs.
And now, after eight years of field tests, all of Schneider's Galaxy V Series UPSs will be shipped to customers with eConversion mode set as the default.
Customers can still choose to use the legacy Double Conversion mode, but Schneider's field experience demonstrates that such a high, permanent use of electricity isn't necessary in modern electrical installations.
With this announcement, Schneider becomes the first manufacturer to deploy 3-phase UPSs in high-efficiency as the default protection mode.
Reducing operating costs and improving data centre sustainability
The eConversion mode provides the highest protection level for critical loads, having been certified to achieve Class-1 protection per IEC® 62040-3, which is the maximum protection level, and matches Double Conversion standards. The Galaxy V Series' eConversion delivers reliable power protection, providing critical back-up power solutions for IT and non-IT environments (such as industrial edge applications).
What's more, eConversion mode offers a three-times reduction in Uninterruptible Power Supply (UPS) electricity consumption, achieving 99% efficiency without compromising availability.
"With eConversion as the default mode for Galaxy V Series 3-phase UPSs, we expect to facilitate the conservation of 175 GWH of electricity annually – which is the equivalent of the energy produced by nearly 60000 rooftop solar installations," commented Mustafa Demirkol, Vice President of Data Center Systems, Offer Management and Marketing, Energy Management at Schneider Electric.
"We're looking forward to helping customers meet their sustainability goals while reducing their electricity spending and corresponding carbon emissions."
As the World Bank predictions forecast energy price rises of over 50% in 2022, Schneider asserts that its eConversion mode will help operators mitigate some of the cost and climate impact of their sites.