TECH LIVE LONDON: Insights from global data centre pioneers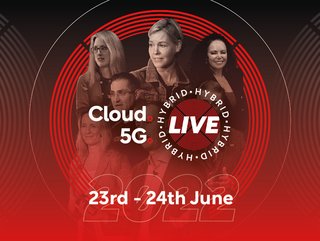 Find out what to expect from the Cloud & 5G LIVE stage, and check out the speaker profiles of Compass, VIRTUS and Norwegian Data Center Industry execs
TECH LIVE LONDON – the leading technology conference – opens its doors at London's Tobacco Dock on Thursday and Friday (23-24 June).
Over the two day event, the stage will be inviting a number of phenomenal speakers from the world of data centres. Their invaluable insight will span topics covering everything from balancing sustainability with profit, to ESG, in the form of talks, panel discussions and networking opportunities.
With more than 60 global speakers and 10 interactive panels, spread across four zone themes - Cloud and 5G, Technology and AI, Cyber and March8 - you'll never be short of things to do.
TECH LIVE LONDON - the event's key speakers
The event's speakers will include:
In-Person
Andrzej Kawalec, Head of Cybersecurity at Vodafone Business
Jonathan Cole, Director BT Defence at BT
Mark Cooper, VP Edge Strategy at AtlasEdge
Tara McDaid, Regional Vice President Sales at Salesforce
Nitu Kaushal, Managing Director of Intelligent Edge for Europe at Accenture
Jessica Ellis, Director of Applied 5G at Deloitte
Virtual
Edwige Robinson, SVP, Central Region, Network Engineering, Operations & Transformation at T-Mobile
Jason Inskeep, Director of 5G Center of Excellence at AT&T
Bjorn Ronning, General Manager at Norwegian Data Centre
Samer Geissah, Director of Technology Strategy and Architecture, 5G, MEC and IoT at TELUS
Ken Urquhart, Global VP of 5G Strategy at Zscaler
Sue Tripathi, Managing Director of Global GTM Lead at Accenture
Velissarios Lataris, Senior Vice President UK & Ireland at Umlaut
Leonardo Coca, Business Director B2B at Telecom Argentina
Cloud & 5G LIVE - three key data centre speakers not to miss


Bjorn Ronning
One of the key in-person events will be the discussion 'Are sustainable data centres for real?', led by Bjorn Ronning.
Ronning is the General Manager at the Norwegian Data Centre Industry, a pioneering business association, which continues to push the boundaries for data centre sustainability.


David Watkins and Tony Grayson
Also on the Thursday, David Watkins and Tony Grayson will be hosting a joint discussion on the Cloud & 5G Stage.
The discussion - Fireside Chat: Critical Environments - will cover infrastructure availability, mission critical mentality, power and cooling, and sustainability.
David Watkins is the Solutions Director at VIRTUS Data Centres, a London-based data centre company, which is renowned for its exceptional sustainability standards.
Tony Grayson is the General Manager of Compass Data Centres. Previously in his career, Grayson has also had senior positions at AWS and Facebook, and was an SVP at Oracle, where he was responsible for their cloud infrastructure.


Kamran Khan
Kamran Khan is an independent consultant, specialising in Digital Transformation-led Customer and Employee Experience Go to Market strategies.
He will be another keynote speaker on the Cloud & 5G Stage, representing Whinstone Data Center. On the Thursday, Khan will be hosting the discussion, 'Service Experience Management: Where CX & EX Converge'.



There will also be a range of digital events (including those listed above) being streamed to viewers across the world.
You can see the full list of event speakers on the Tech Live London 2022 Agenda.


Access the TECH LIVE LONDON agenda - Sign up free to Brella
To access the full agenda for the two days, you can create a free account with Brella.
Through Brella, you can see everything that's going on, and use the tool to set up meetings or networking opportunities in advance.
During the events, you can also use Brella to take part in the live speaker Q&As.
Sign up here: https://next.brella.io/join/June2022
Code to use if prompted: June2022


Planning your route - how to get to Tobacco Dock
The event will take place at Tobacco Dock - a historic venue, set in the heart of East London.
If you haven't been before, here are the easiest ways to get to Tobacco Dock:
By underground and train: The nearest train stations to Tobacco Dock are Shadwell Station, which is a five-minute walk, Wapping Rail Station, which is a six-minute walk, and Tower Hill Station, which is a 15-minute walk.
By overground and DLR: You can take the overground to Shadwell Station from Shoreditch (two stops), or the DLR from Canary Wharf (15 minutes) or Bank (1 stop).
By bus: Bus routes 100 and D3 run closest to Tobacco Dock.
By car: You can also drive to Tobacco Dock and park at its dedicated car park. You can book your car parking space here.