The benefits of online training in data centre organisations
By Lloyd Smith, Managing Director of Wahoo Learning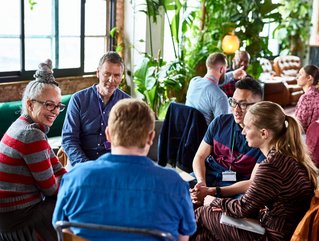 Lloyd Smith, Managing Director of Wahoo Learning, outlines how data centres can tackle the talent crisis and improve operational efficiency, with training
A unifying goal for organisations across the data centre industry is efficiency. Tracked across several metrics, efficiency determines output, profit and competitiveness.
For organisations to find their competitive streak and go the distance, it often takes looking inwards and building a solid foundation. Developing a successful training program has several benefits, some of which are often overlooked, but can be a catalyst in unlocking long-term business efficiency.
The importance of training in data centres
There is a complex cocktail of skills required for any role in the data management industry. Even with experienced and skilled workers, the breakneck pace of technological change and innovation means that training must be considered more than just an onboarding process. Training needs to identify knowledge gaps before they create mission-critical issues and be a constant across the workforce. With the rise of larger, more complex infrastructures such as hyperscale data centres, continued training and support have never been more essential.
By supporting new hires and reskilling existing technicians, training creates consistency across all operational procedures. Internal questions or misunderstandings surrounding ways of working can be addressed in-house, while recurring knowledge gaps can be handled by adapting the training at any time.
With many data centre organisations finding it difficult to retain or even find qualified candidates, a huge benefit of a robust training program is that it protects against the impact of employee churn. When knowledgeable technicians leave, there is a chance they leave a knowledge gap in the team. It can have a huge impact and may require a considerable investment of resources and time to replace. However, with a proven training program in place, organisations can ensure all team members receive the same level of training and are working towards specific learner objectives. This helps protect against churn and provides assurance that everything has been done to prevent outages.
Challenges of traditional training
While discussing the benefits of training, it's important to acknowledge the challenges of traditional methods. Employees undergoing training are away from their office and factoring in travel to external sites only increases the time away. The impact on data centre organisations can be huge as downtime is not an option. External classroom training can be extremely disruptive to operations and a juggling act to manage with different learners.
Another issue with external classroom training is that when learners return to the workplace, the training is thought of as complete, and they are not offered any continuing support or progression. Certification of training and when recertification is required are also much more difficult to track. This means certain skills can fall by the wayside if not revisited and there is no available reporting to determine if the learner requires further training. Over time, being taught by different external teachers, the workforce that has received the same training will have a wide difference in the level of skills maintained.
Benefits of online training
To counter many of the above challenges, an online training programme is an effective route. A Learning Management System (LMS) offering, managed by a provider, can greatly reduce the initial resource investment and onboarding time. This means all learners are provided with the support they need on an optimised platform while internal staff can focus on core business objectives. Saving time is a guaranteed way to increase profits in any industry.
A huge advantage of online services is the ability to collect data on how users engage with the platform, as well as progress and completion rates. It allows for the effective management of different courses as completion times and the number of mistakes can be factored into future training plans. Where knowledge gaps recur, course material can be tweaked and improved and easily re-issued as refresher courses.
A key benefit of eLearning in the data centre industry is accessibility. All that is required is an internet connection and authorised access for learners to start engaging with the platform, and training is optimised for all devices. This makes it easy to scale a platform across a whole business, easily translatable to be used globally and even shared with external partners if appropriate.
Why use a managed learning service provider?
When developing a training program, working with a managed learning service provider offers businesses an extra set of hands and expertise to successfully deliver the program and ensure its long-term success. Engaging training content delivered via an LMS, allows it to be accessible, intuitive and remain in line with key business objectives. With a provider handling training program delivery, very few internal resources are required, meaning existing employees can focus on their workload and the training can be deployed at a much faster rate.
So, what does the future of training programmes look like for data centre organisations? While a significant number of technicians will need to receive training onsite, certain areas such as designers and configuration sales staff will be able to work and train more remotely. Digital platforms allow all learners to access their programs at any time and learn at their own pace. It also standardises the training quality across the whole workforce. Running training through an LMS, which is becoming much more ubiquitous, is easily scalable without compromising performance.
About the author
Managing Director at Wahoo Learning, Lloyd Smith has been working in digital industries since 2004. Focusing on customer relationship solutions in his early career, he moved to learning solutions and has never looked back.
Having created numerous successful training solutions on behalf of clients in the US and Europe, Lloyd has the experience of what it takes to deliver a solution that meets the complex needs of customers. With a passion for new and emerging technologies, he is always looking at how these can benefit companies and learners alike.