The future of hyperscale data centres: exerting influence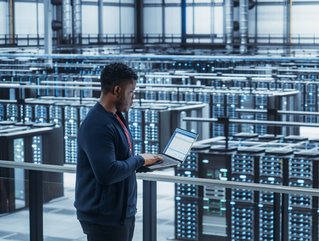 The future of hyperscale data centres: exerting influence
With digital business growing, hyperscale data centres are expected to dominate the market. Leaders in the sector give their insights into their future
Data Bridge Market Research estimates that the hyperscale data centre market size will grow at a compound annual growth rate (CAGR) of 26.93% between 2021 and 2028. This is thanks to the exponential growth of digital businesses which rely on the need to scale quickly and the quality of resilience that hyperscale facilities have to offer.
Created to meet increased demand for cloud services and the ever growing need for capacity - which, with growing adoption of power and space-hungry 5G, AI and IoT means more reliable and efficient capacity is required - these outsourced massive business-critical facilities are designed to efficiently support robust, scalable applications. The majority of these facilities are owned and operated by technology giants, including the likes of Amazon, Microsoft, Meta, Google, IBM and Apple.
There are just 700 of these facilities globally, but this is double both in number of facilities and capacity that there was five years ago.
Growing demand for hyperscale data centres
"The escalating demand for hyperscale data centres arises from the rapid and ongoing digitalisation of business and society, resulting in a need for more and more computing and storage," Dan Pointon, Group Chief Technology Officer of ST Telemedia Global Data Centres (STT GDC) explains. As one of the world's fastest-growing data centre providers, since 2014 STT GDC has worked to power a sustainable digital future, offering colocation that enables businesses to thrive within its scaled interconnected infrastructure.
"Cloud computing, big data analytics and IoT applications have all been instrumental in supporting digitalisation," he adds. "And data centres have been at the core of enabling the efficient management of data, supporting global connectivity and offering scalability."
The recent rise in generative AI applications has emerged as a new demand driver for a different type of computing, placing fresh demands on data centres to be able to provide immense computing power for processing and analysing vast and complex datasets.
This is echoed by professional services, data centre specialists and consultancy firm Arup's Global Science, Industry, and Technology (SIT) Leader Jennifer DiMambro, who adds: "The simple answer to the growing demand is the ever-increasing demand for data at all levels - from the individual, through organisations, and up to public infrastructure. It is clear that hyperscalers provide internet, cloud, and network access in a highly efficient and resilient model.
"We're observing that cloud computing, IoT, 5G, and the growth of edge computing along with the huge increase in demand for access to data are all driving the massive growth." This expansion, she explains, was exacerbated by the pandemic with much of the global workforce relying on platforms such as Zoom and Microsoft Teams, as well as the increasing reliance on streaming services.
Hyperscalers to dominate the data centre market
"Hyperscalers are reshaping the data centre market with new opportunities," Hato Zhou, Deputy Director of Architecture Design at leading global technology and entertainment giant Tencent - the company behind WeChat - adds. "As business data gains more importance, technologies such as data storage, mining, and analysis are becoming increasingly mature, and businesses leveraging data analysis, algorithms, and applications continue to grow."
As historical technological accumulation grows and there continues to be an investment in new technologies, hyperscalers are poised for new growth - leading to further demand for data centres. But as DiMambro adds, while historically organisations may have owned and operated their own data centres, increasingly they are turning to hyperscalers to provide them with a cheaper, more secure, and reliable service.
"Hyperscalers also constantly invest and innovate in infrastructure, ensuring reliability and high
performance," she states. "I believe hyperscalers will continue to dominate the data centre industry, but with growth in the colocation/developer market. We expect to see hyperscalers relying more on developers as a way to meet growth demands in the short- and medium-term due to a faster speed-to-market."
Pointon adds: "The rise in generative AI applications is causing a significant shift in the nature of computing workloads, leading to a substantial increase in high-performance accelerated computing demands - versus general purpose computing workloads - which, in turn, creates distinct requirements for data centre environments, particularly in terms of cooling. As such, hyperscale data centres will have to evolve to meet these unique requirements.
"The market will remain diverse, accommodating a range of providers to meet the varied needs of businesses and industries."
Hyperscale growth's impact on the wider data centre industry
AI demand is pivotal in the development direction of IT and, through AI, work efficiency improves. Though one point that must be acknowledged is how imperative security remains in a bid to tackle and mitigate cybercrime.
"The growing demand for cloud/AI is reshaping the industry landscape, presenting a dual scenario of opportunity and challenges," Pointon expresses.
"The energy consumption of the data centre sector and the broader computing industry raises concerns regarding environmental sustainability issues. This prompts a critical need for enhanced efficiency and real sector-wide action on sustainability measures."
He feels embracing renewable or low-carbon energy sources for powering data centres and integrating more technologies is a pivotal step that must be taken to lessen environmental impact. In recognition of this, STT GDC initiated its ESG strategy three years ago, showing its commitment to environmental responsibility alongside others in the industry and a dedication to actioning meaningful change.
"The accelerating demand is sparking a surge in job opportunities across the tech sector," he continues. "Proficient professionals are in demand to oversee the establishment and operation
of data centres, alongside the development and deployment of AI applications. This offers a promising avenue for career growth."
DiMambro agrees that a key challenge facing the market that needs to be addressed is sustainability. Despite leading hyperscalers making significant commitments in this space, there has been pushback worldwide against major hyperscale developments.
She explains: "We are observing significant opportunities to work with our clients to select sites that enable them to make a step change in sustainability including looking at cleaner sources of electricity and considering alternative sources of energy. There are opportunities for greater community engagement with an emphasis on addressing equity and biodiversity issues at the outset of these projects."
The future of hyperscale data centres and AI growth
Although the future remains uncertain - like in any other facet of life - one thing that can be said with confidence is that AI will play a pivotal role.
"I believe that the future of hyperscalers will involve more roles related to AI," Zhou confidently says. "As for data centres, which serve as the fundamental infrastructure of the internet business, Tencent has been progressively building the fourth generation of data centres, known as T-block data centres, in China since 2009, which boast industry-leading PUE design and operation. With solar power deployed and used in data centre parks, the proportion of data centres powered by renewable energy is steadily increasing year by year, and we expect to see lots of focus on sustainable development in this area in the future."
And over at STT GDC, future expansion plans revolve around continual geographic expansion throughout Asia Pacific and in the UK and Europe, as well as augmenting its technological capabilities to become a prominent infrastructure player in the AI and high-performance computing domain.
This is driven by data on AI adoption, as, for example, the Asia Pacific region is making notable strides in many business sectors, with more than 55% of companies utilising such technologies, Pointon details.
"By investing in sustainable computing power, advanced cooling solutions, and strategic partnerships," he says, "we aim to address the growing demands of AI-driven workloads in a forward-thinking and impactful manner.
"For data centres to be future-ready, they need to be equipped to support high-performance computing workloads including artificial intelligence, machine learning, and high-capacity visual computing."
Geography remains important at Arup, too. From DiMambro's viewpoint, the future of hyperscale data centres will be shaped by how they are situated in relation to urban cores and the related tax incentives and policies. "My colleagues and I are focusing on how we can better integrate hyperscale data centres into an urban environment with considerations for transportation and accessibility, as well as the ways we can physically design these facilities to better integrate into the fabric of a city."