The importance of accurate monitoring in data centres
By Anu Kätkä and Keith Dunnavant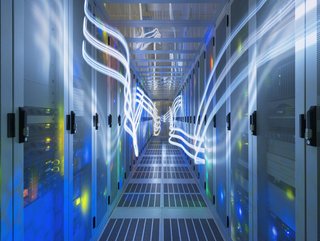 The importance of accurate monitoring in data centres
In the third of three articles from Anu Kätkä from Vaisala and Keith Dunnavant of Munters, we explore how accurate monitoring can foster energy efficiency
Vaisala is a global leader in weather, environmental, and industrial measurements, and Munters is a global leader in energy efficient and sustainable climate control solutions for mission-critical processes, including data centres.
In Part 1, we look at data centre energy efficiency
In Part 2, we look at temperature & humidity control
In Part 3, we look at the importance of accurate measurements
The impact of HVAC measurements on energy efficiency
In many modern facilities, 99.999% uptime is expected - representing an annual downtime of just a few minutes per year.
These extremely high levels of performance are critical, due to the importance and value of the data and processes being handled by the IT infrastructure.
A key feature in data centre design is the delivery of the correct temperature to servers, and this can only be achieved if the control system is able to rely on accurate sensors. Larger data halls can be more challenging to monitor, because they have a greater potential for spatial temperature variability, so it is important that there are sufficient numbers of temperature sensors to ensure that all servers are monitored.
Some servers may be close to a cooling unit and others may be further away; some may be at the bottom of a rack, and others higher up, so there is potential for three-dimensional variability. In addition to a sufficient number of sensors, it is also therefore important for air flow and cooling to be optimally distributed throughout the server room. By a combination of proper design and monitoring, it is possible to efficiently control cooling and air flow to meet the required specification.
In order to evaluate the effects of different variables on average annual energy usage, Munters has modelled their system operating with three different control regimes at three different locations; each with a 1-megawatt ITE load data centre: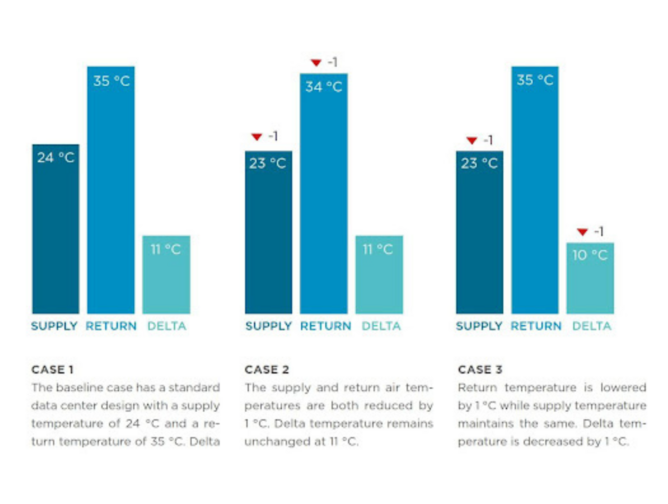 The importance of accurate monitoring in data centres
The results showed lower energy usage in all three scenarios at the milder climate location. Scenario #2 showed 1 - 2% additional energy usage by lowering the supply and return temperatures by just one degree. Scenario #3 showed the most significant increase in energy usage; by lowering the return temperature by just 1°C (and thereby the delta-T), energy usage increased by 8 to 9% in all three locations. This large effect from a small deviation in temperature highlights the importance of both delta-T and sensor accuracy.
Whatever cooling methods are employed, it is crucially important to control HVAC processes and indoor conditions in a reliable manner. To achieve this, data centre managers need to be able to depend on continuous accurate measurements, because the control loop can only be as good as the measurements. For this reason, high quality sensors are enablers of efficiently controlled HVAC processes and a stable indoor environment. However, sensor specification at the time of installation is not necessarily an indicator of long-term performance reliability. The real value of a sensor is derived over its entire lifecycle, because frequent requirements for maintenance can be costly, and as outlined in the Munters models, even small deviations in accuracy can lead to inflated energy costs.
In most cases, the value of the data in the IT infrastructure is extremely high, and often mission-critical, so it would make no sense to deploy low-cost sensors if that results in high maintenance costs, or risks to high-value data. Users should therefore seek durable measurement devices that are able to deliver reliable, stable readings in the long run, because it is that lifelong reliability that really matters.
Data centres represent a less challenging environment than outer space, but reliable sensors are equally important given the essential service that data centres provide to businesses, economies and societies worldwide.
Factors affecting the choice of sensor
Reliability
The accuracy of the sensor at the point of installation is obviously important, but it is vital that the sensor remains accurate in the long-term delivering stable readings. Given the high value of data centres, and frequently their remote location, the lifetime of the transmitters should be well above the norm. The manufacturer should therefore have experience in the sector, coupled with a reputation for reliable measurement in critical environments.
Traceable calibration certificates provide assurance that sensors were performing correctly before leaving the factory, and proven reliability means that this level of accuracy can be maintained in the long-term.
Maintenance
Sensors with a high maintenance requirement should be avoided; not just because of the costs involved, but also because such sensors incur higher risks of failure. In addition, sensors that drift or lose accuracy can result in enormous energy costs, as explained above. The high levels of uptime required by data centres means that any maintenance operations for monitoring equipment should not disturb the operation of the data centre. Consequently, instruments such as Vaisala's with exchangeable measurement probes or modules are advantageous; not least because they allow sensors to be removed and calibrated off-line. Importantly, if a measurement probe or module is exchanged, the calibration certificate should also be updated.

Ideally, it should be possible to undertake maintenance operations on-site with tools from the instrument provider, and this work should be undertaken as part of a scheduled maintenance programme.
Sustainability
From a sensor perspective, the latest technologies allow users to upgrade just the measurement part of a sensor instead of changing or scrapping the whole transmitter; thereby helping to avoid unnecessary waste. The sustainability credentials of suppliers should be taken into consideration to cascade sustainability down supply chains.
Summary
With critical data worth billions of dollars being processed and stored at data centres, power-hungry servers must be maintained in ideal temperature and humidity conditions to prevent downtime. At the same time, there are urgent demands for lower greenhouse gas emissions, improved energy efficiency, lower energy costs and better PUE measures; all at a time of spiralling energy costs. This 'perfect storm' of drivers means that the accurate control and optimisation of HVAC processes is extremely important.