Top 10 data centre influencers to follow on LinkedIn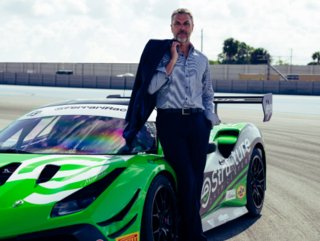 Our top 10 data centre influencers are thought leaders who are sharing the most actionable, informative and current content on LinkedIn, right now
Out of all the most popular social media platforms, LinkedIn has one of the most educated and highest-earning user bases. In fact, 51% of its audience is college-educated and half have an annual salary of over $75,000.
It is platforms like LinkedIn that are transforming the way that sectors perceive social media.
Now, rather than limiting its perceived use case to finding new hires, the world's data centre companies and top execs are actually using LinkedIn to enhance their understanding of the industry.
As with any platform, LinkedIn has its influencers. These include everything from the leaders of the world's largest names, to empowering motivational speakers, and tech masterminds to ordinary people sharing their success stories.
So, in this article, we'll be recommending 10 of our most inspiring LinkedIn data centre influencers. If you want to know the latest goings-on in the industry, these are the people you'll want to follow.
1 Kate Brandt
As the Chief Sustainability Officer at Google, few know the industry better than Kate Brandt.
Through her LinkedIn, she shares her insights into Google's ongoing climate action strategy, technology updates and decarbonisation initiatives, to name a few.
Plus, her feed is filled with current, actionable sustainability advice for companies in the technology and digital sectors.
2 Tony Grayson
Tony Grayson is known throughout the industry for his thought leadership and extensive industry experience.
During his 25+ years of technology and leadership experience, Grayson has worked with industry giants such as Facebook, AWS, and Oracle, and held a Commanding Officer role in the US Navy.
On his LinkedIn platform, Grayson shares his insights in data centre topics including (but not limited to) the cloud, the edge, networking, financial management, commercial power and sustainability.
3 Andy Davis
Alongside his role as the Director of DataX Connect, Andy Davis is also the host of the popular podcast, Inside Data Centre.
The podcast explores the latest big trends in the data centre industry, with industry giants across the world. And, with over 15 years of experience within the data centre sector, Davis is a host that knows exactly what questions listeners want the answers to.
As you can imagine, Davis' LinkedIn is a gold mine of industry insights, podcast clips and global data centre news.
4 Todd Coleman
Todd Coleman is the President, CEO and Founder of eSTRUXTURE Data centres (and, the face of one of our most popular Data Centre Magazine covers).
Coleman's industry success has made him a highly influential data centre thought leader, and his LinkedIn offers a great insight into eSTRUXTURE's continual success.
5 Lauren Ryder
Lauren Ryder is the CEO of Leading Edge Global, a strategic business transformation specialist, with expertise in the areas of technology implementation and virtual CXO.
So, as you can imagine, Ryder's LinkedIn is a fantastic example of industry thought leadership, spanning a huge range of topics. Her shared content includes everything from company insights to interview clips, and corporate culture guidance to advice for other women in STEM industries.
6 Joshua Au
Joshua Au currently works as the data centre lead for the A* agency for science, technology and research. Previously, he has also held the roles of Singapore Chapter Leader for the Infrastructure Masons, Hyperscale Infrastructure Track Chair for the NSCC Singapore, and been a judge at the Data Centre Dynamics Awards.
Alongside his industry insights, Au also uses his LinkedIn to discuss sustainable initiatives at length. As such, his is a great account to follow, if you want to improve your company's ESG standards.
7 Susanna Kass
Susanna Kass' extensive data centre accreditations include, but aren't limited to, her status as an Energy Fellow at Stanford University, being the Co-Founder of InfraPrime, and acting as a Data Centre Advisor for the UNSDG Programme.
And, as with many of the industry pioneers on this list, Kass is a firm sustainability and carbon neutral advocate. She is a member of Climate 50, and is the Data Centre Advisor for the United Nations Sustainable Development Goals.

8 Amy Daniell
Based in London, Amy Daniell is the Senior Director of Hyperscale at NTT Global Data centres. She has also held Director-level positions at Microsoft, URS and AECOM.
Daniell is a visiting lecturer at Bayes Business School, and is a regular speaker at DCD>Talks and DCD>Events, all of which she shares on her platform.
9 Nabeel Mahmood
Nabeel Mahmood is a Board Director for some of the largest names in the technology sector, including SCB Global and United Security Bank.
He is also a popular keynote speaker, and his LinkedIn page is filled with industry news, alongside his insights on the topics.
10 Phillip Koblence
Phillip Koblence is the Co-Founder and current COO of NYI. Since founding the company in 1996, Koblence has grown the company from the operator of a single data centre in Lower Manhattan, to a key player in both national and international markets.
With over 20 years of leadership and data centre management experience under his belt, Koblence's LinkedIn is an invaluable page to be following.