Top 10 data centre marketing executives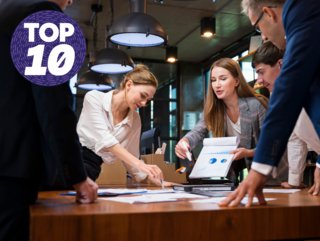 We explore the Top 10 leading marketing executives who are boosting consumer awareness and showcasing the initiatives of the global data centre industry
Marketing the data centre industry requires, by its nature, a highly multifaceted approach.
Not only is there the need to increase consumer awareness of what the industry does and why it is so important, but it is critical that this also encompasses the full breadth of sustainability efforts that the world's data centres are investing in.
In short, it is the job of data centre marketing executives to not only bring data centres into the spotlight, but to do so in a way that improves the reputation of this long-villainised industry.
So, in this week's Top 10 round-up, we explore the leading marketing executives that are representing the data centre industry on the global stage.
10. Carla Sanderson
Carla Sanderson is the Head of Marketing at Teraco Data Environments, which represents the largest carrier and operator of cloud-neutral colocation data centres in Africa.
She has been working in this position since 2010, during which time she has been responsible for the firm's marketing and research strategies.
9. Alison Gutman
Alison Gutman is the Vice President of Marketing Communications at Stack Infrastructure. She has been driving the marcoms of STACK's EMEA region for more than seven years, starting as the Brand and Communication Manager for Italy, before working up to her current role in November last year.
8. Laurene Richards
Laurene Richards is CyrusOne's Global Director of Marketing. She has held this role for almost five years, and has been involved in CyrusOne's marketing efforts for the last seven years.
She has also held a number of management-level roles in events marketing, having previously worked for the GSA and SUCCESS Partners.
7. Steve Smith
Steve Smith is the Head of Communications and Thought Leadership for Energy Management at Schneider Electric.
Smith has been in marketing for over 20 years, with extensive experience in the electrical and energy industries.

6. Lise Kay
For almost six years, Lise Kay has held the role of Chief Marketing Officer at AirTrunk.
AirTrunk is a leader in the APJ data centre market, with the region's largest data centre platform, and extensive sites spanning Australia, Singapore, Hong Kong and Japan.
In recognition of her pivotal role at this industry-leading company, Kay has been named as one of the Data Economy CMO 50's Most Influential Marketers in the world.
5. Ali Ballantine
Ali Ballantine is the Brand and Communications Director for the cloud and connectivity giant Global Switch.
Global Switch operates around 4,600,000 sqft of large-scale, multi customer, carrier and cloud neutral data centre space, spanning both Europe and Asia-Pacific.
Ballantine has been with the company for over 12 years, during which time she has held multiple communications and marketing roles, including Group Director for Marketing and Communications.
4. Phillip Marangella
Phillip Marangella is the Chief Marketing Officer at EdgeConneX. He has been working for the data centre giant since 2015, and has held this leadership position for over five years.
Prior to joining EdgeConnex, Marangella has also held key marketing positions at a number of the world's other data centre leaders, including Equinix, Coresite and Verizon.
3. Arun Shenoy
Arun Shenoy has a telecoms and connectivity career spanning four decades. During this time, he has held key positions with many of the leading names in the industry, including the likes of IBM, CBRE, Intel and Schneider Electric.
Today, Shenoy is the SVP of Global Sales and Marketing at Serverfarm - a role that he has held for almost five years.
Shenoy was also recently featured in Data Economy's recent list of The World's 50 Most Influential Marketers In The Data Economy.
2. Sue Jones
Sue Jones is the Senior Vice President for Global Marketing at Digital Realty, one of the most influential and successful names in the world's data centre industry.
The company currently has a global data centre footprint of over 300 facilities, spanning more than 50 metros across 27 countries, with a presence in no less than six continents.
As the head of this giant's communications strategy, Jones is one of the most revered voices in data centre marketing.
She is also the Co-Founder of the EMEA chapter of the company's Women's Leadership Forum.
1. Alison Wagonfeld
As the Chief Marketing Officer at Google Cloud, Alison Wagonfeld is not only one of the most influential women in data centre marketing, but in the entire global tech industry.
She has held one of the industry's top communications roles ever since 2016, and has been managing Google's global marketing team and the marketing of Google's enterprise cloud businesses for more than half a decade.
Wagonfeld is also a thought leader on a wide range of different industry topics, having previously served as Executive Director of the Harvard Business School California Research Center, where she researched, wrote and taught more than 100 case studies.