Top 10 data centre providers in the UK & Ireland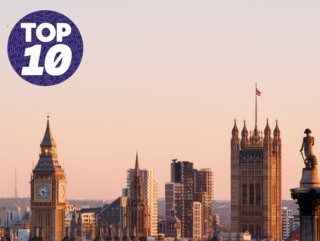 Top 10 data centres in the UK & Ireland
We explore the Top 10 data centre providers that are putting the UK and Ireland data centre markets firmly on the global map
London is the largest of the FLAP (Frankfurt, London, Amsterdam and Paris) data centre markets, largely thanks to the UK's leading position in public cloud infrastructure adoption.
Interestingly, according to Structure Research, hyperscale data centre offerings currently account for 48% of the London market. What's more, this figure is projected to grow to 66% by 2027.
Although London is the undisputed leader of this market, the UK and Ireland at large is a critical market, with a phenomenal presence on the global data centre stage.
So, in this week's Top 10, we explore the providers who are paving the way in the UK and Ireland, including both long-standing market players and new movers to this pivotal market.
10. Interxion
Interxion is a European data centre provider, with over 300 data centres across the continent, including a number of sites in Dublin and London forming two of its key regions. Its data centres boast a 99.999% uptime, and a well-established industry reputation.
9. Global Switch
Global Switch's London campus comprises two data centres, and is situated just half a mile away from the city's world-renowned financial district.
In fact - at 90,000 sqm of space - the site is Europe's largest purpose-built data centre campus.
8. Vantage Data Centres
At the start of this year, Vantage Data Centres made its first move into the London market, with the announcement of a new £500mn investment and 48MW campus.
"With London being one of the largest data centre markets in the world, this expansion further solidifies Vantage's role at the forefront of the digital infrastructure revolution. With relatively little inventory available in London and requirements on the rise, we are ideally positioned to deliver for our customers," commented Antoine Boniface, President, EMEA at Vantage Data Centres.
7. Azrieli
Last year also saw Azrieli move into the UK data centre market, with its £52mn purchase of an unnamed data centre operator in London. This marked its first investment in the UK data centre market, and builds on its already well-established presence in the Middle East, America, Norway and North America.
Alongside the purchase of the data centre itself, Azrieli also purchased land adjacent to the site; enabling the company to expand the original premises in the future.
6. Equinix
Equinix has an extensive presence in the UK and Ireland, with data centre sites located across London, Manchester, Dublin and beyond.
In fact, Equinix possesses the densest concentration of access to EMEA's leading financial, telecommunications, manufacturing and commercial ecosystems.
5. Digital Realty
Digital Realty is another global data centre provider, with a strong presence in the UK and Ireland markets. And, as the owner of the world's largest data centre platform, it is unsurprising that it ranks very highly in the UK and Ireland market.
In fact, it similarly has a number of data centre sites in London, Dublin and Manchester, amongst other locations.

4. NTT
NTT has a far-reaching global data centre portfolio, with sites in London and Dublin, as well as numerous other key world markets.
In London alone, the provider already has seven data centre sites, and a long-standing reputation in the market, having over 20 years of experience in the UK data centre market (with the company formerly operating as Gyron).
3. CyrusOne
In 2017, CyrusOne acquired the UK-based data centre provider, Zenium Technology Partners - in a $442mn deal.
Today, CyrusOne owns over 40 carrier-neutral data centre sites, many of which are located in the UK and Ireland.
Its key London I data centre offers 9.3 MW of IT power, spanning 46,608 sqft of space. And, its brand new hyperscale Dublin I campus delivers a load of 54 MW.
2. Amazon
Despite considerable fallout, last year, Amazon was successfully awarded planning permission to build two new Irish data centres, to be located in north Dublin.
Once complete, the new data centres will sit in two buildings, each two stories high, with a floor area of 12,875m² and 1,445m² each.
And, when operational, it is estimated that a maximum of 58 staff will be hired to manage the sites.
1. VIRTUS Data Centres
VIRTUS Data Centres is a provider based in the UK, with a strong presence in London, as well as an extensive network of sites across the UK. In fact, VIRTUS currently holds the status of the UK's leading data centre provider.
VIRTUS is renowned for its leading sustainability standards, sourcing the energy for all ten of its data centres from the zero-carbon electricity supplier Bryt Energy. By doing so, VIRTUS is able to save 45,000,000 tonnes of carbon dioxide annually.
What's more, VIRTUS' Hayes-based facility has achieved sustainability standards high enough to place it in the top 10% of all the UK's commercial buildings.
Alongside its renewable energy usage, this is also achieved by rainwater harvesting, managing waste recycling, working with equally sustainability-oriented suppliers, and encouraging eco-conscious travel amongst its workforce.
"We believe that it's only by working together that we will truly 'green' the data centre industry for the long-term, and that there will be more collaboration across sectors in the months to come; from sharing best practice, to setting up multi-party task forces to boost initiatives and drive progress," commented David Watkins, Solutions Director at VIRTUS.