Top 10 sustainability takeaways from Data Centre LIVE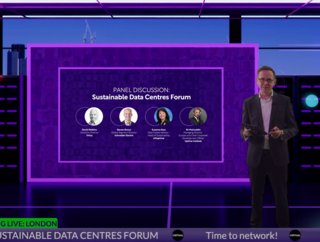 Neil Perry introduces speakers at Data Centre LIVE's Sustainable Data Centres Forum
At Data Centre LIVE, a host of industry experts took to our virtual stages to share their industry knowledge on data centres, cloud, and so much more
AI and renewable energy
"AI plays a very important role in terms of actually how we optimise energy usage in terms of renewable energy," Kass explains in her keynote. "Clean energy transmission and AI genuinely go hand-in-hand to support each other."
She also discusses the importance of clean and renewable energy sources for data centres and the transition towards clean energy procurement.
Water
A subject also linked with AI, water cropped up across a multitude of conversations at Data Centre LIVE 2023.
"The net zero data centre for our people and our planet focuses on zero carbon and zero emissions," Kass says. She inspires those engaging with her keynote to think about data centre designs which don't need to use any water.
"If nothing else, if you actually use hydrogen, the by-products is creating water for your data centre."
And in the panel, Brown added: "And there's no better example of that than AI in terms of how it's going to change our architecture, what that's going to do to workloads, how we can optimise our IT environment.
"In short, will AI directly drive down water and energy consumption by serving workloads in a different way? I'm not immediately optimistic on that in the short term. There's research from University of Colorado, Riverside that contended that ChatGPT, for example, consumed 700,000 litres of water to train. And a single conversation is like pouring out half a litre or water based on the compute behind that.
Energy efficiency
Kass emphasises the need for optimising energy usage and resource efficiency in data centre operations, including the use of compute resources and power usage effectiveness.
Engagement and education
During the Sustainable Innovation in Data Centres panel, Watkins highlighted the need to educate and ensure cooperation when implementing sustainable regulation. He said: "I think the most important thing is engagement rather than regulation, because data centres in the industry are relatively new in the grand scheme of things, and what we really need to do is educate and help governments be able to regulate correctly, because if you don't, regulation will happen anyway and it can get quite difficult and quite painful.
"So it's good that the relationships with industry trade bodies like for example, checking can enable the industry to get visibility and direct contact at government level. Ultimately, as large energy consumers, we're here to not just to do the right thing for sustainability, we're here to support government targets for countries to become net zero."
Carbon neutrality
Kass said: "What is encouraging for me to see or hear or look at the report is data centre remains extremely bullish after the lockdown. Data centre continues to be the number one primary driver of leading the renewable energy procurement and transitioning into clean energy for 24/7/365.
"You may not need to be the first, but you can continue to actually lead the way. AWS wasn't the first to actually join the journey, but clearly the commitment is currently the first along with the other pioneers - such as Google, Microsoft, Meta, who are the early pioneers, and Apple - in terms of engaging and embracing clean energy in the carbon neutrality pledge.
"Even some of them have the carbon negative pledge and they all have moved up the agenda to be 2025 achievement, which is extremely inspiring and the pace is actually picking up."


Heat re-use and heating/cooling
Kass explained how she is working on a project which takes the excess heat from data centres and provide free district heating and cooling.
"Why wouldn't we control the temperature - and all without using any water? Because when they transmit the heat its actually using CO2, which we're trying to decarbonize as a thermal carrier," she explains.
Data centre lifecycles
Considering the entire lifecycle of data centres - including operation, decommissioning, and scaling up - and incorporating sustainable practices throughout, were highlighted as ways to tackle sustainability issues in the industry.
During the panel, Kass said: "We need to think about emissions throughout the lifecycle, not just in defence, but also embracing the entire supply response. So the materials are quite important in terms of where we source, where we come from, what are we going to do with it after we complete the data center in terms of creating a value and a reuse cycle."
Regulatory framework
Following on from conversations about education, the Sustainable Data Centres Forum panel highlighted the importance of establishing and implementing a regulatory framework by governments and companies to support and enforce sustainable development initiatives.
Watkins said: "It's about talking to customers, being open with government, getting the regulations right, getting the incentives right for all of us to work together because we all want the same thing. But it's only going to happen if everybody contributes - nobody can do it in isolation."
IT sustainability
Focusing on the sustainability of the IT infrastructure within data centres, the Sustainable Data Centres Forum panel put forward ideas such as optimising energy efficiency, utilising water cooling, and improving output per watt usage as how IT infrastructure can be harnessed for sustainability advancement.
Collaboration among stakeholders
This was highlighted as a crucial aspect for finding quicker and better solutions to sustainability challenges. The speakers emphasised the need for all stakeholders, including suppliers, users, and customers, to work together in addressing sustainability issues.
Moinuddin called it "imperative". "As we know, we are an ecosystem of suppliers, users, customers, and we need to work together in order to be able to identify the most efficient way of coming up with solutions to the sustainability challenge."
Brown then added: "It is absolutely imperative. I mean, we are emerging as a major construction subsegment. We have a major part to play in that globally interconnected grid. So unless we as an ecosystem all get together and collaborate - even panels like this, being able to talk to different parts of the industry - that's what it's going to take to actually meet the requirements for our industry going forward."