Top 10 sustainable data centre innovations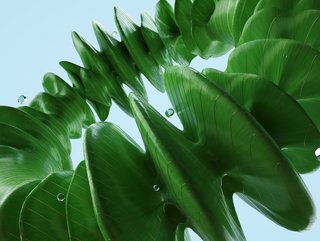 We explore the top 10 sustainable innovations that have been deployed in the industry, spanning everything from nuclear power to immersion cooling
Across the board, the data centre industry is achieving major breakthroughs in sustainable solutions.
Industry leaders are deploying pioneering green technologies, sophisticated energy reuse schemes, and metric-driven approaches to monitoring (and improving) D&I standards.
So, to celebrate the ground-breaking sustainability work of the industry, we've showcased the top 10 sustainable innovations that the world's data centre giants are deploying right now.
10. The world's largest solar-powered data centre
The Guinness World Records recently announced that a new record has been set for the world's largest solar-powered data centre.
The title was won by Moro Hub for its Dubai data centre, which represents a 16,031.925 m² site.
9. Iceotope's precision immersion, chassis-level cooling solution
Last year, Iceotope previewed a new form factor development, which is designed to lower the cost for data centres looking to deploy liquid cooling.
Iceotope's new V2 chassis is fabricated using pressed steel, achieving both enhanced functionality and greater cost-optimisation, thereby easing the deployment and servicing of liquid cooling at scale using standard IT equipment racks.
The new chassis is scheduled to launch in Q3 2023.
8 The rise of Li-ion batteries in data centre UPS
Li-ion batteries have developed significantly since their first introduction in 1985. The case for their use as a substitute for valve-regulated lead-acid (VRLA) batteries within data centre uninterruptible power supplies (UPS) has been well documented during this time.
But now, VRLA batteries are largely considered to be an inferior solution, with this traditional choice being increasingly being replaced by Li-ion batteries.
7 Scala becomes the first in the industry to neutralise 100% of Scope 3
Scala Data Centers, the Latin American sustainable hyperscale data centre platform, has achieved a landmark industry-first for sustainability standards.
The company is the first in its sector to successfully measure 100% of its Scope 3.
Scope 3 is the most complex to measure, as it encompasses the carbon emissions generated by the company's value chain related to the acquisition of goods and the commute of employees, along with a number of other factors.
Now, Scala has measured and completely neutralised its Scope 3 emissions.
6 Cumulus' nuclear energy data centre
Cumulus Data is currently constructing its flagship 475-megawatt zero-carbon Susquehanna data centre campus.
When complete the site, which is located in northeast Pennsylvania, will comprise a 1,200-acre campus, utilising nuclear energy as a sustainable power source.
5 Schneider Electric's EcoStruxure Smart Grid
Schneider conducts extensive sustainability work, across its entire client base and value chain.
For instance, 40% of Italy's energy has been made renewable with Schneider's EcoStruxure Smart Grid. Through this and other initiatives like it, the company is aiming to provide 50 million people with access to green electricity by 2025.
4 NTT's green cooling tech, deployed in its Indian data centres
In a landmark sustainability first for Indian data centres, NTT has announced the deployment of Liquid Immersion Cooling and Direct Contact Liquid Cooling.
This marks the first time that these cooling technologies have ever been deployed in a production environment within a data centre.
These cooling solutions will help the data centres to become up to 30% more energy efficient than they would be using conventional cooling systems.
3 Green Mountain's data centre heat reuse initiative
Green Mountain and Norwegian Lobster Farm have formed an agreement regarding the reuse of wasted heat from the SVG1-Rennesøy data centre.
To achieve optimal growth, lobsters require a seawater temperature of 20°C. Now, thanks to the collaboration, heated wastewater can be taken from Green Mountain's data centre and redirected to the farm, providing the perfect conditions without requiring any additional energy expenditure.
This solution will be used to support the operations of the world's first land-based lobster farm, while representing a pioneering example of data centres driving a circular economy.
2 Becoming Lenovo's 'Data Leaders'
According to Lenovo's new Data for Humanity report, data collaboration will prove fundamental to tackling humanitarian challenges and building ESG strategies.
In fact, one of the most interesting findings of the report was that Data Leaders better understand the importance of data in solving humanitarian challenges, with 96% seeing the most effective use of data in their ESG initiatives.
Companies are set to invest an average of $3mn in data technology and initiatives over the next 12 months. In fact, organisations expect their investment in data to increase their revenue by 50%.
One of the key findings from Lenovo's Data for Humanity report was that there have been marked improvements in profitable data strategies, with 78% of the companies that are successfully using data (referred to as Data Leaders) increasing their revenues over the past 12 months.
Comparatively only 50% of those with lagging data strategies (Data Followers) have seen an increase in revenue.
1 TM Forum's D&I scoring system
TM Forum has launched the world's first comprehensive scoring system for diversity and inclusion (D&I), aimed to improve diversity standards across both individual companies, and the entire global connectivity and technology industries.
The Inclusion and Diversity Score (IDS) is a multi-dimensional benchmarking tool, which has been co-created by TM Forum members.
It is hoped that, through the tool, digital service businesses will be able to 'win the war on talent'.