Vantage Data Centres makes £500mn London market investment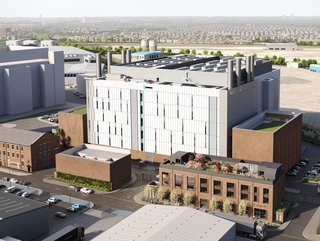 Vantage Data Centres has made its first move into the London market - the largest data centre market in Europe - with a £500mn investment and 48MW campus
Development is now underway on Vantage Data Centre's new 48MW hyperscale campus, located in Europe's largest data centre market.
According to Structure Research, hyperscale data centre offerings currently account for 48% of the London market. What's more, this figure is projected to grow to 66% by 2027.
This marks just one part of Vantage's UK data centre expansion plan. As, alongside this, the hyperscale provider has also opened a second 40MW data centre, on its existing Cardiff campus.
Vantage Data Centres enters into the London market
Vantage has announced the development of its new 48MW campus, which represents a £500mn investment into the market.
The new campus will be situated on nearly five acres of land, in the PowerGate neighbourhood of North Acton, north west London (an already-established data centre community).
Once complete, the campus will total 430,000 sqft, across two 24MW multi-story data centres.
"Vantage has experienced rapid growth over the past three years as we continue developing state-of-the-art data centre campuses across EMEA," commented Antoine Boniface, President, EMEA at Vantage Data Centres.
"With London being one of the largest data centre markets in the world, this expansion further solidifies Vantage's role at the forefront of the digital infrastructure revolution. With relatively little inventory available in London and requirements on the rise, we are ideally positioned to deliver for our customers."
London is the largest of the FLAP (Frankfurt, London, Amsterdam and Paris) data centre markets, largely thanks to the UK's leading position in public cloud infrastructure adoption.
"The continuing demand for data centres in London offers a prime opportunity for Vantage Data Centres to make its entrance into the highly-coveted market," added Tim Kay, Deputy Director for Technology, Department for International Trade in London.
"Vantage's presence in London will play a key role in enabling leading technology enterprises with additional IT capacity to support digital transformation initiatives and cloud adoption."
The first facility will begin operations in late 2024, and will mark Vantage's 11th campus in the EMEA region.