Vertiv launches its Busbar Power Distribution System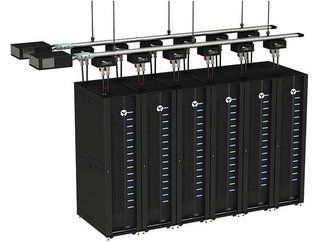 Vertiv has launched its Busbar Power Distribution System, which supports the critical digital infrastructure of data centres and other dynamic environments
The system - which was originally launched in EMEA last year, under the name Liebert MBX) - marks the latest step in Vertiv's portfolio expansion.
The scalable Vertiv Powerbar iMPB enables uninterrupted additions, upgrades and service, all without requiring additional floor space.
The Vertiv Powerbar iMPB is a modular busbar system, which is designed to enable dynamic data centre environments to make power upgrades on demand.
The powerbar features capacities from 160 amps to 1,000 amps, and can be deployed in data centres of any size, as well as laboratories, distribution warehouses, adaptable manufacturing plants and other dynamic environments.
"As more and more devices are added and higher rack densities become commonplace, space is at a premium in today's data centres," commented Phil O'Doherty, managing director, E&I at Vertiv.
"The power infrastructure must keep pace, which means being scalable and quick to deploy. The Vertiv Powerbar iMPB delivers on all fronts with a modular, easy-to-install system that is compact and flexible enough to meet constantly changing demands."
About Vertiv
Vertiv is a specialist provider of hardware, software, analytics and ongoing services. Headquartered in Columbus, Ohio, Vertiv employs approximately 24,000 people and has a customer base that spans more than 130 countries.
Its solutions are designed to ensure that vital applications run continuously, perform optimally and can grow seamlessly to consistently meet demand.
Vertiv's portfolio of power, cooling and IT infrastructure solutions and services extend from the cloud to the edge of the network.