What can green summit announcements mean for sustainability?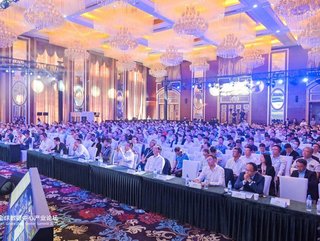 Global Smart Green Data Center Summit 2023 on 4th July, 2023 in Ulanqab, Inner Mongolia
Huawei's Global Smart Green Data Center Summit 2023 debuted new green data centre technologies - but what does this mean for the future of sustainability?
Held in Ulanqab, Inner Mongolia, the Global Smart Green Data Center Summit 2023 boasted the theme of "Smart DC, Building the Green Future" and brought together more than 600 industry leaders, technical experts, and ecosystem partners to discuss new opportunities, demands, and challenges for the global data centre industry.
And with the AI computing era in full swing and having a measurable impact on the data centre industry's outlook, the summit offered an opportunity for attendees and the host to share cutting-edge technologies and innovative practices of green data centres.
The event saw Huawei launch three data centre facility solutions, demonstrating how PUE of facilities can be kept as low as 1.15 - paving the way to building a green and low-carbon future.
PUE - the ratio displaying the efficiency of how a data centre uses energy - specifically focuses on how much energy is used by the equipment, rather than how cooling and other overhead supports it.
Green data centre solutions launched by Huwaei at The Global Smart Green Data Center Summit 2023
The FusionDC 5.0 next-generation prefabricated modular data centre solution, using "1+4+N" architecture using a 'Huawei + Partners' model, shortens TTM by 50%, making it possible to deploy around a thousand racks in just half a year. The solution also reduces the PUE to 1.15 and improves the recyclability from 30% to 85%.
Also featured was the next-generation indirect evaporative cooling solution EHU, which has a focus on energy efficiency and full-chain reliability, and the Mobile intelligent management solution iManager-M for efficient operations and maintenance of small and medium-sized data centres.
Scenario-based next-generation data centre solutions
In a bid to manage and overcome issues when it comes to high energy consumption of traditional cooling systems in large data centres, Huawei has developed the next-generation indirect evaporative cooling solution EHU based on the concepts of ultimate energy saving and full-chain reliability.
For example, AeroTurbo fans and IceCube polymer heat exchangers have been proven to "maximise the use of free cooling sources, greatly improve cooling efficiency, save water and power, and achieve ultimate energy efficiency and green cooling in Ulanqab", Huawei said following the event, stating in this instance the PUE is as low as 1.15, and the water usage effectiveness (WUE) is only 0.6 L/kWh.
Its distributed cooling architecture also allows the independent running of individual devices, ensuring zero impact when a device fails. The simplified deployment and operations and maintenance ensure minimum workload throughout the lifecycle, and the smart iCooling@AI energy efficiency optimisation technology achieves the designed PUE and enables high-efficiency operation upon delivery. Huawei says that iIn indirect evaporative cooling scenarios, the energy consumption will be reduced by 3%–5%.
Meaningful sustainability in the data centre industry
This news follows the release of whitepaper Data Center + IT Collaboration to Cut Carbon where Arun Shenoy, CMO and SVP of Sales EMEA at Serverfarm - a member of the Climate Neutral Data Center Pact - called for a push for sustainability initiatives. He said approaches need to be less of a tick box exercise and for green solutions to be implemented across all areas of data centre operations.
The paper covered greener data strategies for physical infrastructure, power and cooling and how green software development and applications can be applied to secure a greener future.
Gartner's Senior Principal Analyst Autumn Stanish explained how the responsibilities for sustainability are increasingly being passed down to infrastructure and operations leaders to improve IT's environmental performance, particularly around data centres.
"This has led many down the path of greater spend and investment in environmental solutions, but environmental impact shouldn't be the only focus. Sustainability can also have a significant positive impact on non-environmental factors, such as brand, innovation, resilience and attracting talent," she detailed.
Stanish added that success in aligning these strategies with critical business outcomes requires a more comprehensive approach that recognises the indirect benefits that come with sustainable IT operations.