What's next for data centres' sustainability journey?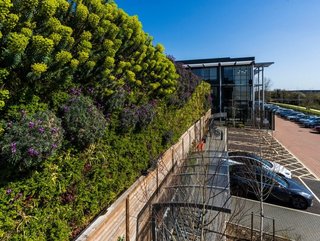 David Watkins, Solutions Director for VIRTUS Data Centres, explores the innovation, collaboration and communication required for data centre sustainability
Experts agree that data centre providers have made significant strides with their sustainability efforts. A necessarily power-hungry sector, today's data centres are expanding and improving their use of renewable energy, developing innovative approaches to cooling and employing many other efficiency-enhancing methods to meet their green ambitions.
But whilst there's lots of progress to celebrate, there's even more to come. In the years ahead, we'll continue to see providers work towards their collective green goals, having committed to making data centres climate-neutral by 2030.
So what will the next twelve months hold for providers around the world?
A collaborative future
We believe that it's only by working together that we will truly 'green' the data centre industry for the long-term, and that there will be more collaboration across sectors in the months to come; from sharing best practice, to setting up multi-party task forces to boost initiatives and drive progress. It's also likely that there will be more international collaboration as providers look to progress being made across the globe and emulate innovative projects.
Fortunately, there's plenty of inspiration to be had with major providers investigating greener options, from adiabatic cooling solutions to choosing optimum locations for their data centre operations.
An end to greenwashing
Like so many other sectors, the data centre industry has been suspected of green washing, where sustainability promises are simply used as 'PR tactics' marketed to impress customers.
However, we're now seeing providers understanding the need to 'prove' that their operations are sustainable – adhering to third party standards like BREEAM (which looks at the green credentials of the built environment) and prioritising industry-standard certifications throughout their operations.
In the next few years, more providers will examine factors outside of their own operations to demonstrate the extent of their green credentials. Up until now, companies have successfully tackled their Scope 1 emissions (those from owned or controlled sources) and their Scope 2 emissions (indirect emissions from the generation of purchased electricity, steam, heating and cooling). However, a big focus in the coming months will be tackling Scope 3 emissions, which include the indirect emissions that occur in a company's value chain such as business travel, purchased goods and services, waste disposal and even employee commuting.
An evolving circular economy
The idea of a circular economy isn't new, but the ''maintain, refurbish, renew and recycle" model is likely to become even more prevalent in the months ahead.
From committing to get more life out of all materials in a data centre to refurbishing hardware where possible, and then recycling parts that can't be reused, there are many benefits to be had and many more providers will adopt the principles in the future. But establishing a circular economy isn't without its challenges - most pressingly that many data centre providers don't own the IT equipment they host – and so must rely on their customers to take a lead in adopting the approach.
This means there will need to be a sustained effort from data centre providers to educate and encourage partners and customers to embrace the model. We expect to witness a move away from solely focusing on IT hardware and applying the same principles to the wider infrastructure of a facility – the area that data centre providers can control.
An evolving future
As well as these new initiatives, there is likely to be an evolution of current practices. Technology innovations and new ways of thinking will further the good work that is already being deployed. For example, the ability of data centre providers to harness renewable energy sources has been game changing in the industry's pursuit of a greener future. Data centre providers have also been investigating the fuel sources they use – and significant progress is being made on this front. The use of Hydrotreated Vegetable Oil instead of diesel in generators has the potential to reduce carbon emissions by up to 90%, while also eliminating sulphur dioxide emissions and reducing harmful nitrogen oxides.
New innovations promise to pay dividends in the long term. Technological developments in areas such as fuel cells are continuing at a pace – and while they're not viable right now, if they can perform at scale, they might present a compelling option for a brighter, greener, future.