Entrusting data centre security to the hybrid cloud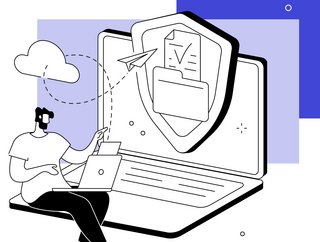 The hybrid cloud provides an affordable and easily implemented solution, enabling speed while protecting information with exceptionally high security
The hybrid cloud is a widely-cited digital solution for growing companies that depend on online data.
Its multifaceted benefits include enhancing security, supporting the remote workforce, being easily scalable, reducing costs and creating a more dependable internet connection.
In fact, according to the 2021 US SMB Midmarket Cloud Adoptions trends report, businesses that adopt a hybrid cloud can enjoy financial savings of 78%, with 79% greater network reliability. As you can see, these are no small perks.
Plus, it can be easily integrated into an existing system – a capability that hybrid cloud providers have ensured.
These pronounced benefits – combined with the global shift to a remote workforce – have meant that hybrid clouds have rapidly risen in popularity. But is the cloud truly as secure as they say? With data protection becoming an increasingly pressing priority, are businesses right to put their trust in the cloud?
The rapid growth of the hybrid cloud – the backbone of the remote workforce
One of the legacies of the COVID-19 pandemic is the shift to remote working and the emergence of the global remote workforce.
Originally driven by necessity, businesses across the globe are making this initially-temporary solution a permanent adoption.
To successfully and simultaneously manage the pandemic and the digital transformation of the era, organisations were "forced to innovate at break-neck speed".
"In fact, our AppDynamics report showed that digital transformation initiatives were implanted three times faster than ever before," says James Harvey, the Executive CTO of EMEA at Cisco AppDynamics.
And now, in the period following this necessity, cloud networks have "grown considerably in scope and also 'grown up' to become a core part of the corporate IT psyche," adds Rob Tribe, the VP of System Engineering at EMEA, Nutanix.
The data security benefits of adopting a hybrid cloud
For many industry specialists, a hybrid cloud presents a more realistic upgrade than a pure cloud model.
"As data has evolved, the threat associated with it has changed. Geo-politics is increasing the complexities for compliance and the prevalence of cyber-attacks, and malware continues to become more sophisticated, compounding enterprises' security concerns," remarks Don Freese, the Chief Information Security Officer at Digital Realty.
"Over the past ten years, organisations have been aggressively pushing towards a pure cloud strategy as a way to unlock growth and ensure security. This has been successful for many, however, it does have its limitations, with some experiencing high costs and an inability to cope with certain workloads."
The hybrid cloud model provides an affordable and easily implemented solution, enabling business functions to be performed with speed, while still protecting the information with an exceptionally high level of security.
"Businesses using hybrid clouds can benefit from strengthened data security, as the centralised management of hybrid clouds allows companies to implement strong technical measures across their data," Freese explains.
The security of hybrid cloud networks is a huge benefit, in and of itself. In fact, according to the US SMB trends report, hybrid cloud networks can reduce a businesses' data security risk by 79%.
And this is an exceptionally timely topic. Parthiv Shah, the Global Managing Partner of Cloud Strategy and Transformation at Tata Consultancy Services (TCS), evidenced TCS' recent Cyber and Global Risk research report. 600 chief information security and risk officers were asked where they see the greatest risks between now and 2025.
"According to the research, 'the prioritisation of the security posture of the company and defining the controls and standards' is the prime concern, followed by 'establishing a more robust cybersecurity strategy'."
By combining the security of a private data facility with a high-speed public data network, businesses can access the best of both worlds.
Through their specialist services, hybrid data centres ensure businesses access a high quality connected environment, increasing the speed at which they can perform their operations.
Plus, these hybrid architectures also give businesses greater resilience by reducing downtime, periodically backing up data and providing an alternative to solely cloud-based dependencies. These qualities make hybrid clouds better able to deal with demand surges.
"Hybrid cloud also gives companies the opportunity to choose where they store their data, meaning critical information can be kept off public clouds, reducing exposure," says Freese.
"And that's important. Every organisation faces the prospect of attacks by ransomware and other cyber-events, which have grown exponentially, impacting the bottom line. Stopping every attack at the door is no longer possible. So, adopting a culture of resilience enables cyber-security experts to secure the organisation while enabling business success," Freese adds.
Projections for growth – what is the future of the hybrid cloud market?
This growth trajectory isn't set to wane any time soon.
Predictions for the CAGR of the Global Hybrid Cloud Market are 21.06% for the period 2021-2026. And, according to Nutanix's fourth Enterprise Cloud Index survey, a staggering 83% of respondents agreed that a hybrid multi cloud solution would be their preference.
"The speed at which organisations have adopted public cloud and gone from one to multiple cloud use is a bit of an eye-opener, particularly in larger companies," Tribe comments.
But, the security of the hybrid cloud solution isn't a given. To ensure that the promised benefits are successfully achieved, Shah predicts that innovative security strategies will be a key part of the hybrid cloud market's future implementation.
After all, "although the cloud is considered more secure than on-premises systems and data centres, a lack of interoperability can make it difficult for enterprises to manage security, compliance, and governance across multiple cloud environments", Shah warns.
"One way of reducing risk is to adopt a 'Zero Trust' policy based on the principle of 'never trust, always verify', applied not only to humans, but also machines," Shah recommends.
Shah also advises that businesses develop long-term and centralised cloud cyber security strategies, which are specifically tailored to each cloud environment.
"At TCS, we suggest a centralised cloud management solution for enterprises to manage their hybrid cloud environments, as these can be easily configured to control collection, reporting, management, and governance in a single console. This solution would be infused with a risk-based approach incorporating, for example, field-level encryption for PCI, PHI, PII as appropriate. We also advise building on the experience of staff to bring cybersecurity controls in line with time-tested security frameworks and procedures."
"If properly managed, a hybrid cloud strategy can provide many security benefits to businesses, but CSOs and CIOs must work together to establish a long-term cybersecurity strategy for each cloud environment to assess, quantify, and mitigate any risk; meet regulatory requirements; and make informed decisions with fully endorsed business justifications," Shah advises.
As businesses increase their dependency on data, we're already seeing how rapidly cyber security is growing in importance.
"This culture is already being formally embedded in new compliance regimes starting with SOX, to GDPR, to new SEC requirements specifically around cyber-security," says Freese.
According to Freese, "businesses need to prepare for and adapt to change, withstand and recover rapidly from disruption".
"Hybrid models could be the key to solving this challenge, while also helping to transform ageing technology in a targeted and strategic way, reducing attack points and improving sustainability."