Equinix and Vodafone team up for Genoa digital hub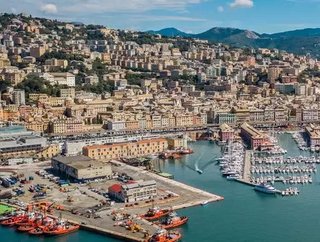 The facility will be the landing site for the 37,000 km 2Africa cable, connecting the GN1 hub to Europe, the Middle East and 16 African countries...
This week, Equinix and Vodafone a new collaboration to deliver the latest stage in the development of the monumental 2Africa cable project.
Equinix will construct a new subsea cable hub in the Italian city of Genoa. Located in the northwest of the country, due south of Milan, Genoa has a long history of maritime trade, with roots reaching back through time before the Roman Empire. In the Middle Ages and during the Renaissance, Genoa emerged as one of Italy's foremost city states, and its position as a hub of trade with Europe, the Mediterranian and beyond was widely recognised. 
Now, the ancient trading city will be host to a new kind of exchange: data. 
The new subsea cable hub, GN1, will be Genoa's first carrier-neutral data centre and one of the landing stations for the 2Africa subsea cable, a 37,000 kilometre megascale infrastructure project that will circumvent the African continent, connecting Europe and the Middle East with 21 landing sites across 16 African nations. 
Marco Bucci, Mayor of Genoa, commented on the announcement, "Genoa is known for the central role it has played in maritime trade for many centuries. Thanks to GN1, the city will become one of the main digital harbors of Europe, and play a key role in global data transfer."
The project, which was announced in May of last year, is the work of a consortium made up of China Mobile International, Facebook, MTN GlobalConnect, Orange, Telecom Egypt, WIOCC and Vodafone - which is acting as the consortium's lead participant for cable landings in Europe. 
The consortium will use GN1 as a strategic interconnection point for the subsea cable system, something that Equinix claims will create "stronger connectivity in Europe" and contribute "to building an inclusive digital society for all." 
GN1 will also be directly connected to Equinix's flagship data centre in Milan, which is . Scheduled to begin first phase operations later this year, ML5 will have an initial capacity of 500 racks spread across 15,000 square feet of floor space. The rest of the site buildout doesn't have a timeline yet, but the completed facility will have a total capacity of more than 1,450 cabinet equivalents and colocation space of more than 45,000 square feet.  
"Italy is an important growth market for Equinix in EMEA, as it's a strategic interconnection point for the region and beyond. We are working to give our customers improved access to the expanding global subsea cable network, so they have increased opportunities to expand internationally," commented Emmanuel Becker, Equinix's Managing Director for its Italian operations. 
"Thanks also to the opening of our new data center in Milan, ML5, we are creating an interconnected metro area where customers can connect with strategic business partners in Italy and across the world." 
The 2Africa cable is expected to deliver more than the total combined capacity of all subsea cables serving Africa today, with a design capacity of up to 180 Tbps on key segments of the system. Once operational, it is expected to have a transformative impact on digital economies and data transference throughout EMEA. 
According to a 2Africa spokesperson at the project's announcement event, "The 2Africa cable will implement a new technology, SDM1 from ASN, allowing deployment of up to 16 fibre pairs instead of the eight fibre pairs supported by older technologies, bringing much greater and more cost-effective capacity. The cable will incorporate optical switching technology to enable flexible management of bandwidth. Cable burial depth has also been increased by 50% compared to older systems, and cable routing will avoid locations of known subsea disturbance, all helping to ensure the highest levels of availability."