Ireland is key launchpad for US expansion into Europe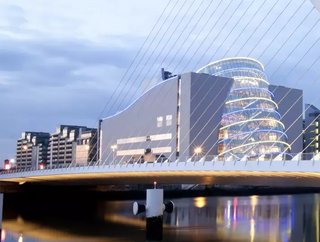 Thinking of expanding into Europe? Hear why Pfizer, Metlife, Google and VMware favour Ireland as the gateway to the region.
The first transatlantic cable was laid between Newfoundland and Valentia Island in County Kerry, Ireland, in 1858. It was a flawed effort; the connection was poor, causing enough issues with efforts to send telegrams along it that major repair efforts were set underway immediately - efforts which ended up further damaging the cable line, severing the connection just three weeks later. 
This first step towards transatlantic subsea communication, shaky as it was, laid the foundations of more than a century and a half of information exchange across the ocean, between the East Coast of North America and Western Ireland.
It's been 163 years since the completion of the first transatlantic cable, an event which cemented Ireland's position as the landing stage for subsea connections between Europe and the Americas. That position has, in no small way, been a driving force behind the country's modern role as a landing stage for US and Canadian firms looking to do business in Europe. 
Today, some of the largest firms in the world, like Pfizer, Janssen, Zurich, Metlife, Google and VmWare use Ireland for their European Headquarters. The combination of an English-speaking workforce (a boon made all the more important as Brexit makes the UK and the north of Ireland an increasingly complex environment that provides diminishing opportunities to access the rest of Europe), a cultural and regulatory landscape that welcomes foreign investment, and world-class connectivity makes the country an unparalleled choice for firms looking to establish a foothold in the EU. 
As a result, Ireland has become one of the world's leading data centre hubs. 
Based on leading data centre firm Interxion's Data Gravity Index, Dublin will be among the top five European cities that will contribute to Europe's growth in data in the coming years, following London, Paris, Frankfurt and Amsterdam. The amount of data generated in Dublin itself is expected to grow alongside its economic expansion, with the Data Gravity Index also predicting that Dublin will outpace cities and data centre hubs like Mexico City, São Paulo, and even Shanghai, to be among the top 20 cities to experience annual data growth by 2024.
Ireland ranks 6th in the 2020 EU Digital Economy and Society Index (DESI), meaning that it is among the leading ranks of EU Member States in terms of the uptake and use of digital technologies. Likewise, the trend to locate data centres in Ireland serving overseas clients will continue to generate increasing amounts of international traffic
Managing the Dublin Data Boom 
According to Interxion, subsea connectivity will continue to play a massive role in helping both international and domestic organisations digitally transform themselves to meet the challenges of changing markets post pandemic.  
As the pace of global digital transformation - and the subsequent need for more connectivity - accelerates like never before, this rapidly developing world is driving urther demand for these cables as individuals and organisations become increasingly reliant on subsea cable's exceptional data speed and capacity. 
According to experts at Interxion, this connectivity will be pivotal to Ireland's continued success in attracting international companies in the technology, pharmaceutical and financial sectors. 
The subsea cable industry is a key contributor to the Irish economy across many sectors. The draft National Marine Planning Framework reported that subsea international networks make Ireland an attractive region for investment for the technology and digital sectors. Telegeography states that there are twelve existing subsea cables connecting Ireland to the US and UK, and a further four systems are under development. The Iish government's statement on the Role of Data Centres in Ireland's Enterprise Strategy identified Ireland as a location of choice for many different sectors reliant on digital and telecommunications capabilities, all of which in turn rely on subsea cable interconnectivity.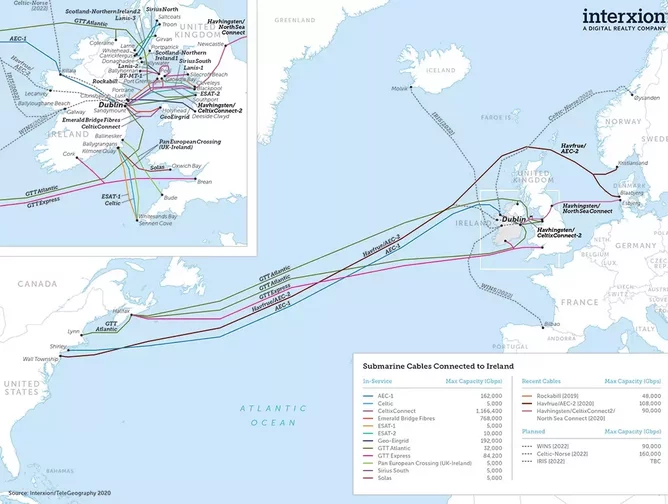 Subsea cables are of strategic importance to Ireland's future as a catalyst for economic and societal prosperity. Ireland can be the ideal location for your company's expansion plans. To find out how, you can hear from leading experts throughout the data centre and digital infrastructure industries on June 15, 2021, as speakers from the IDA, Aqua Comms, GTT Communications, euNetworks and Interxion discuss subsea cabling, digital transformation, Data Gravity and the fate of Ireland's digital economy. 
Key topics will include: 
Key facts about existing subsea infrastructure, 
Future plans, 
Challenges (including Marine Maintenance) and opportunities, 
Terrestrial networks (demand vs supply); 
Ireland's role as a gateway to Europe
The virtual panel (which is taking place between 10:30 PM - 11:30 PM JST on June 15, 2021) will conclude with a 20 minute Q&A. Mike Hollands, Senior Director of Market Development at Interxion, will moderate the event.