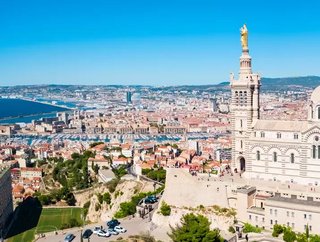 Industry experts discuss the role of interconnection hubs like Marseille in driving the next stage in the evolution of subsea cabling infrastructure.
If data is the lifeblood of the digital age, then submarine cables are the veins and arteries that carry that blood throughout the vast, infinitely complex network that underpins almost every facet of modern life. 
As new technologies like IoT, 5G, and artificial intelligence (AI) fundamentally change the ways in which data is generated and drive an exponential increase in the volume of data moving around the world on a daily basis, the submarine cabling infrastructure that supports the movement and distribution of that data is also experiencing a generational shift. 
Even during the past 18 months, the sharp uptick in global internet traffic thanks to the COVID-19 pandemic has accelerated this shift even further. According to Sami Slim, Deputy Director of Telehouse France, "The emergence of bandwidth-intensive applications and the deployment of dense network infrastructure has increased the demand for capacity and more localised interconnection hubs." 
Enterprises seeking to locate content as close as possible to end-users in order to reduce strain on their networks and improve performance are "a driving force for both submarine cable and data centre infrastructure," something which Slim adds has resulted in a "sharp acceleration of submarine cable deployments due to traffic increase during the pandemic." 
Rick Perry, Head of Subsea Partnerships at Vodafone Carrier Services, agrees with Slim that the demands placed upon cabling infrastructure have increased in response to "huge growth in demand within the economic criteria required by the industry." 
Perry adds, however, that in addition to rapid expansion, the industry has also been experiencing an internal shift. "The initiation of new systems was historically driven by carriers using a consortium investment model," he explains. "Now it is the hyperscale companies such as Facebook and Google who are initiating the majority of the new systems, sometimes funding themselves or joining with a small number of Telcos to meet any regulatory requirements." 
"Hyperscalers have become huge players in the subsea cable market," Slim confirms, adding that for colocation providers like Telehouse, "The advantage of partnerships with hyperscalers is that they can aggregate demand and commit on capacity." 
Because of the growth of hyperscale data centre and cloud companies into the subsea cabling market, Perry continues, "the development and architecture of hyperscale networks will increasingly dictate the future demand for international connectivity and therefore the deployment of submarine cables." This shift is having a pronounced effect, not only on how but where submarine cables are built. 
Location, Location, Location 
Both Vodafone Carrier Services and Telehouse are involved - along with a veritable rogues gallery of hyperscalers, cabling consortiums, and telecoms including China Mobile, Facebook, MTN GlobalConnect, Orange, and Telecom Egypt - are involved with the ongoing construction of the 2Africa submarine cable. Stretching for 37,000km from southern Europe all the way around the African continent, 2Africa is the most comprehensive and ambitious cabling project to serve the MEA region in history.  
Perry explains that the project will be instrumental in supporting the ongoing digital revolution across the continent. "Currently, 39% of Africa is connected to the internet, lagging behind the global average of 59%. Growing this figure is important, with the UN Broadband Commission for Sustainable Development in 2019 estimating that a broadband expansion of 10% would yield a 2.5% increase in GDP per capita," he explains. "We also need to ensure there is enough internet capacity to not only get people online but to help build a modern digital society that includes services that require a large amount of data transfer, such as cloud computing or video. This is crucial for people, local businesses and multinational companies looking to operate in Africa." 
The project, he continues, will mean drastically improved internet capacity, speed, and availability for businesses and consumers across Africa, underpinning the rollout of 4G and 5G networks, which in turn will have a positive impact on communities, improve sectors such as healthcare and education, and build a more inclusive global digital society. A core goal of the 2Africa project, Perry continues, is "to ensure that access costs are better priced than traditional costs to interconnect submarine systems in Africa." As a result, the system will terminate in carrier-neutral data centres in each country. "Where such data centres don't exist, we are working with partners to develop them," Perry notes. 
One of the locations that is expected to be pivotal to the goal of harnessing the potential of the 2Africa cable isn't actually in Africa but located several hundred miles across the Mediterranean in the south of France. 
Interconnection in Marseille 
As African countries become increasingly connected to the digital world beyond the continent, Slim explains that transmitting data in and out of the region is going to be critically reliant on terrestrial information exchange hubs like Marseille. With a robust terrestrial cable network, 15 subsea cables currently landing in Marseille and more than 154 Tbps of bandwidth, the city is a key hub of international connectivity and is Europe's gateway to Africa, Middle East, Asia, and Americas, explains Slim. It's for this reason that Telehouse's strategy for supporting and capitalising on the growth of major submarine cabling projects (including 2Africa) centres on a new point of presence in the city. 
"The rise of Marseille in the interconnection market has been exceptional…. Submarine cable capacity arriving in Marseille is also increasing with new submarine cables (2Africa and PEACE) and more capacity on existing cables," Slim explains, adding that in both Africa and Europe, potential hurdles for massive submarine cabling projects lie not beneath the waves but on land. "The main issue for the city right now is the lack of diversity in terms of data centre supply. That is precisely what Telehouse is looking to solve. Establishing a data centre capacity in Marseille is a crucial step in Telehouse's growth strategy," he adds. "Our aim is to provide submarine consortiums with data centres as building blocks for their infrastructure and a facilitator for their go-to-market in each region. In each city we establish, we share our knowledge of the local environment and the main terrestrial routes to make it easier for our customers willing to open new points of presence in cities such as Marseille. We also think that our strength in the European Tier 1 hubs can help bridge the gap between submarine routes and terrestrial routes that are vital to delivering capacity to a wider market."