What does the edge mean for your data centre network?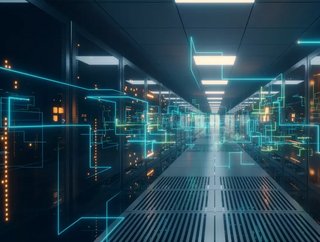 Simon Wilson, Chief Technology Officer Aruba UK&I, analyses the rapid growth of data consumption and storage at the network edge.
By all accounts, the past couple of years has been tumultuous, to say the least – the pandemic has caused upheaval across all aspects of life. In the world of business, this has meant a couple of things, such as implementing hybrid working measures or for some unfortunate ones shutting shop completely.
The move to hybrid working has meant that more than ever, people and businesses are relying on technology to get their jobs done. Subsequently, one area now finding itself in the midst of a revolutionary charge is our data centre networks. For the longest time, data centres have largely been centralised – with the rise of the public cloud consolidating this.
In fact, according to Gartner, today 90% of data is created and processed inside centralised data centres or the cloud. Now though, the pendulum is beginning to swing the other way, as by 2025 this will have massively changed with about 75% of data needing to be processed, analysed, and acted upon at the Edge.
The change to the Edge will mean the requirements of our networks will also drastically change. But to what end?
Brand new data centres mean brand new network requirements
Changes to the network will become increasingly prevalent as we seek to balance the needs of Edge data centres with the increasing use of cloud services and any on-prem footprint. 
Below are some considerations we suggest keeping in mind as data centres move closer to the Edge:
1. Using automation to accelerate operations
As application teams continue to adopt DevOps and other agile methodologies to speed up software development, expect to see server, storage and networking operations become far more integrated, automated, and streamlined. Solutions needed to achieve this must consider both current and future operating models as well as any existing investments. To simplify time-consuming tasks such as server provisioning and common configuration updates, turnkey automation is a great consideration. For teams with more developed DevOps, something such as extending common automation platforms to network-related workflows will become an absolute must. 
Furthermore, as DevOps and agile practices are further utilised in application teams, you can expect those practices to begin to influence how other organisations within IT function. 
2. Two steps ahead with AI
One of the most time-consuming tasks and biggest drains on network operations resources is troubleshooting issues. The visibility of any given network is incredibly important in shortening mean time to repair (MTTR) - improving IT service delivery and helping keep short-staffed teams focus on more strategic matters. 
Network-wide telemetry, feeding AI algorithms that are constantly evolving through machine learning will be a massive leap forward once achieved. Analytics that offer a prescription rather than just an alert of pain will be incredibly useful in providing better network stability and helping trouble-shooters proactively or perhaps even preempt user and/or business-impacting issues. 
However, predictive analytics will not only be key in dealing with issues before they arise but also for gauging when there will be periods of high network usage. You see, in the era of big data, cloud, streaming services and soon IoT, latency and connectivity have been the bane for many a data centre. So, being able to predict when resources will be close to capacity and ensuring it is properly sized to deliver users expected experience will be vital. 
3. Maintaining 24-hour availability 
Even with lockdown measures having passed, partial-remote working or hybrid working will be here to stay. Yet because of this, networks are under increasing strain as we all seek to use data sharing services.  As a result, there will be a growing need for more resilient networks – especially as even a minor hiccup can have huge ramifications on a business's productivity.
While automating day-to-day operations will reduce the possibility of human error, what networking teams need is a far simpler and more reliable way of ensuring availability and delivering upgrades in a non-disruptive manner.
For instance, a programmable, microservice-based operating system could be a great solution for this. It can ensure added resiliency at a software level, run its own bespoke diagnostics tools and while also being able to utilise live software upgrades to eliminate maintenance windows.
We're seeing a paramount shift in how we structure data centre networks with Edge data centres being the latest continuation of this trend. Data centres are shifting to centres of data. Now, it's likely that you're already on your way towards this new era of data centre networking – that being said, we hope these considerations outlined above prove food for thought on how your business can make the best use of these changes. While it is still very early days for the Edge, it is blindingly clear they are going to be playing a central role in shaping the future.