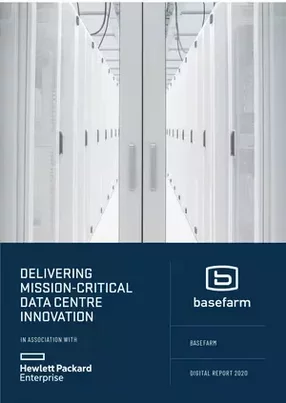 Basefarm: delivering mission-critical data centre innovation
Petter M. Tommeraas, Senior Vice President Data Center Services at Basefarm, discusses delivering mission-critical data services that enable digital tra...
Petter M. Tommeraas recounts his first experience with a 'data centre' as "walking down a hallway in an office building, back in 1998, and coming across several servers outside a single room off that hallway. Those servers and that room were the data centre. And that was a solution being delivered by one of Norway's main data centre providers to a large, national customer."
To say that the data centre industry has transformed in the 20 years or so that Tommeraas has been operational in it is something of an understatement. Currently Senior Vice President Data Center Services at Basefarm, a managed service provider that delivers services based on both public and private cloud services and manages its own data centres, Tommeraas has a unique view of an industry at the heart of global digital transformation. 
"The pace of change has been tremendous," he notes. "Naturally, that change has been facilitated by technology, but it runs much deeper than that - the overall quality, the level of security provided and the entire philosophy around what you do with your data and your data centre is so much more mature. That's particularly the case for companies such as Basefarm that provide mission-critical services to customers. The broader pace of digital transformation has driven data centre growth in particular. From our perspective, there's been a real shift in companies moving away from doing everything, and most of it well, to using digital technologies and tools to focus on honing their USPs and placing effort into the most important or core things. It means that the rest of those services - in this instance how to manage data - are sourced from other specialist companies."
Basefarm is one such company. Founded in 2000, it is today part of the Orange Group, and offers a suite of mission-critical IT services that covers Big Data, cloud, and managed, security and professional services. Tommeraas is responsible for operations related to data centres. "I have two main responsibilities," he says. "I deliver colocation to customers that want to mainly take care of their own operations but are looking for a service due to reasons such as regulation or an added complexity. Alongside that, I take care of and deliver all the data centre service to support the other areas in Basefarm, such as managed services, cloud solutions and the rest of the portfolio."
Digital transformation has changed all organisations over the last decade or more. In particular, companies are faced with increasing volumes of data to manage. Despite this, the design, build and operation of purpose-built data centres is becoming a less common route to the cloud, with many choosing a colocation service. Tommeraas says that there are several reasons why colocation is an increasingly attractive choice: "Often, it's for customers that need the added layer of operational stability and security that they can't get from managing the operations themselves, for example," he explains. "Other examples could be a public customer that needs an added level of privacy or has very specific needs around who can access their data, or even a competitor services company. 
"The biggest difference between Basefarm and other colocation providers is that we have the entire portfolio within our businesses," he continues. "So, while we have many customers that need to use our colocation services as they progress through their project or migration, they regularly use our additional offerings, such as our advisory services or specific knowledge in associated areas. I'm confident in saying that we can offer a total solution that few other colocation data centre providers are able to in terms of delivery and competence."
Basefarm calls this total service 'idea to cable', an integrated package of the key competencies for digital transformation including Big Data, cloud computing and information security. This allows Basefarm to provide strategic advice, implementation projects and infrastructure operations under one management and on any cloud. It is, Tommeraas concedes, a service capability further enhanced by the company's belonging to the Orange Group. "We became part of the Group in 2018, and the advantages of that include belonging to one of the biggest networks in the world. It allows us to deliver network services around the globe in one of the top five networks and has certainly broadened the portfolio we're able to offer our customers."
Elaborating on the scope of the company's portfolio, Tommeraas says: "Our customer teams are very proactive and work with every client, to the extent that we insert our people into the organisation and ensure that they work alongside the customer's delivery team. Public cloud is an area that is growing very rapidly and we have a very broad suite of deliverables in this area. The biggest challenge is often communicating to the client the specific solution or group of solutions that they need, which is why we work so closely with them to ensure they're getting the best of breed in every area."
Elaborating on this point, Tommeraas states that digital transformation and the migration to the cloud means businesses have to change their traditional operating focus. "It used to be very much focused on big projects every couple of years, which required a larger step-change," he states. "It's not like that anymore. Organisations are faced with constant change or evolution, with a continuous flow of projects to manage and learn from, so it requires a different approach. That kind of scenario means that providers like us also have to work far more closely with our customers - we've even been forced to change ourselves in response to that direction."
For Basefarm, Tommeraas explains that digital transformation has meant a rapid shift technology-wise, first from on-premise data centres, to the public and - looking ahead - a hybrid model. "The future is hybrid," he explains. "It won't be feasible to use the public cloud or data centres alone, but rather a combination of several innovative technologies and solutions in a hybrid model. The key challenge in that from our perspective is ensuring that all of those technologies work well together. There's not many providers out there that can do that at the moment and it'll be a crucial differentiator for Basefarm, and Orange Group, moving forwards."
Understandably, to provide such a level of service requires that Basefarm works with several leading technology providers, including AWS. The company is currently Norway's first AWS managed service provider, a certification that enables it to offer greater expertise in cloud infrastructure and application migration. "As well as AWS, we have several big partnerships," says Tommeraas. "For example, we're certified by Microsoft for a lot of our work on public cloud, and we also have long standing relationships with companies such as HPE, Lenovo, VMWare and Dell. Each of these is really about the partnership for us more than just the delivery. We want to work very closely with each of our partners to put best-in-class products to the market, it's beneficial to us and our customers."
Technology aside, sustainability is a key driver of data centre innovation, not least due to the significant amount of energy consumed by such sites. It is here that Basefarm has a distinct advantage in its Norwegian location. "We've carried out a lot of analysis over where the industry may go over the coming years, and for us, Norway is the obvious choice. It offers low-cost power and 100% renewable energy, which is really important for us and our customers' environment strategies. Obviously, it's also easier to cool data centres in our climate as opposed to other locations, but there are also other, more practical reasons. In Europe, 80% of the market is in Frankfurt, London, Amsterdam, Paris and Dublin, and each of those locations is getting pretty crowded. 
"I see two distinct trends. On the colocation side, there's a lot more international interest in putting data centres in Norway," he continues. "But through Orange we're also moving into a number of other markets such as the UK, Italy, Spain, Switzerland and Belgium for example. In that sense, the future outlook is definitely more of a pan-European project, with us also eyeing work in the US and Far East for a number of clients."
More broadly around future developments, Tommeraas notes several trends around the technology side of data centres. "Density is increasing," he states, "so putting greater levels of power into smaller sizes - that totally changes the way you have to think and build in terms of cooling and so on. More generally, the competition is getting fiercer. We're in a very good place, but you have to be mindful that to survive and prosper you need to be offering true best of breed solutions that take into account the increased value of data to all organisations."