Data4: Scaling data centres for the growing European market
Adam Levine, Chief Commercial Officer, reveals how Data4 has transformed the French data centre sector from outlier to key player in the European market
With 137 hectares and 340MW of resources, Data4 has a volume of land reserves and power capacity that is unique in the European market.
From small scale origins in a slightly under-performing region of the sector, in 2014, Data4 rapidly aligned itself with the newly-emerging global data centre trends. It developed a strategy around three pillars of growth: Scalability, Quality and Sustainability.
Alongside this, its strategy of acquiring large, scalable campuses placed it in prime position to ride the wave of the rapidly growing European data centre market.
We spoke to Adam Levine, the Chief Commercial Officer at Data4 about the factors that drove Data4's successes, its ongoing European expansion, the company's future plans, and how this strategy is being shaped by sustainability.
Utilising a sleeping giant of the Tier 1 data centre markets as a springboard to becoming France's largest data centre provider
Data4 owns, operates and invests in large-scale data centres across Europe. But, despite now having claims in major European markets, it all started out in one of the sector's more forgotten regions.
According to Levine, in the early days of Data4, France was perceived as the "country cousin" of the other major European markets of Frankfurt, London, Amsterdam and Dublin.
"I think it's key to point out that we're in what's historically considered to be a Tier 1 market, but that it has been regularly under-performing compared to the other FLAP-D markets.
Paris hadn't really seen the level of growth that its competitors had, and so, "it was perceived as a bit of an outlier."
This was a key part of Data4's success as, when they started out in Paris, it was very much a market with a lot of potential but without much going on.
"And we had this huge campus, of 111 hectares and a hundred megawatts. I mean, we didn't think we'd fill this campus in 50 years, let alone in the time that we're doing", Levine reflects.

A rapid expansion, from single market, single tenant, to a pan-European, multi-product business
And Data4 is geared to take full advantage of this market boom, with its Paris campus currently underway to become a 250 MW site. Now, the company is planning to further consolidate its position as a market leader in its core markets, which are Paris, Milan, Madrid and Warsaw.
But, it wasn't always this way.
"It's very easy to sit and think yeah, this is great. But when I joined Data4 eight years ago, we sat down with a white sheet of paper and said 'Okay, what are we doing here? How are we gonna make this thing work?'. And two years later, we were still struggling to sell a couple of hundred kilowatts and a few racks," Levine recalls.
"And when things are going so well, you do kind of forget that a little bit. But at the same time, it's still in your DNA, it's part of everything you do.
"When you look at the most successful businesses, they have always come *this* close to failing. And I think, remembering those beginnings is what keeps you hungry and makes you never want to just sit back on your laurels and accept what you've got. I think if it has always been easy, it's hard to get motivated to keep it going. What keeps us going is that we remember how hard it was to get here. And we never want to go back to that position."
Now, as the Paris data centre market takes off, Data4 is right in the heart of the action. In fact, Paris' data centre industry is doubling every year, and has been maintaining this pace for a few years. If we look back to the growth spurt that Frankfurt and London went through a few years ago, it's clear that Paris is on the cusp of the same upward trajectory.
Since its inception in Paris - and the success that this strategic positioning achieved - the company has expanded across Europe.
In 2013, Data4 acquired a site in Milan, in 2018 it expanded to another site in Madrid, and then in 2021, they set up a site in Warsaw.
During that time, Data4 has transitioned from a single tenant, single market start-up to a pan-European, multi-product business.
Their growth strategy involves going to tier two cities (non-capital cities) in the core market countries that Data4 already has a strong position in (namely, France, Spain and Italy). In order to fully utilise these markets - where they have already built up a strong reputation, leadership structure and talent pool - they will continue to consolidate their position in these locations.
In terms of new markets, Data4's expansion plans will see them working in new markets, including Frankfurt in the very near future. They are continuing to evaluate and re-evaluate where the market is extrapolating, where it is going, and then looking for growth opportunities across Europe accordingly.
Although this seems like a series of pretty standard steps, in reality, it's a strategy that is relatively rare amongst data centres.
"I think that there is a tendency in the data centre industry - and a tendency in the business world itself - for companies to be headquartered somewhere, whether it's Tokyo, Seattle, London, Paris, Dublin, or wherever, and for that to be the centre of their universe."
"What we've tried to do is to understand that every country is different. Every country has its own specificities and ways of doing business. And so, what we've done is rolled out a lot of the decision making and power structure in our organisation to the regions. So, we have strong regional organisations with country managers, and they very much drive and own their own regions", says Levine.
"We very much believe that, as we grow, one of our strengths is to have this scalable, repeatable model, to use whenever we go to a new location."
According to Levine, the pandemic pushed a lot of other companies to reconsider the way that they centralise their operations.
"What I think we're seeing now is that, post-pandemic, a lot of other companies are moving in that direction, because the days when you could run a region from, say, Shanghai, Tokyo, Dublin or New York are kind of gone. Companies have now realised that that was not really a scalable model. And the fact that people, all of a sudden, had to stop travelling for two years, meant that they were forced to diversify and push decision-making out to the regions."
Now, some of the larger cloud providers are beginning to introduce big shifts in their organisational structure, to move away from the centralised approach.
Data4's customer marketplace and partnership with Generale Prefabbricati
Equally important to Data4 is its partner ecosystem; a critical contributor to its future success. The company has created a marketplace, as Levine describes, that allows customers to buy and sell services with each other.
"The idea of the marketplace is that it creates an environment where the customers don't want to leave because, as long as they can continue to sell their own products and services within that environment, it creates that virtuous circle where they will remain forever," commented Levine.
The Grupo Generale Prefabbricati has also proved to be an invaluable long-standing partner for Data4. This partnership, and Generale Prefabbricati's industry expertise, was key to Data4's successful expansion into the Italian market.
"They've been a fantastic partner", said Levine. "Don't forget Italy was very much the second market for us. We were a French company with strong links to the French market and French suppliers, and Grupo Generale then gave us those connections to the Italian market."
Now, the relationship with Generale Prefabbricati has grown from working with Data4 as a vendor, to becoming the company's key Italian partner. In fact, Grupo Generale very quickly became a key supplier and partner in France, as well.
"We've been working with them since the inception of our Milan campus. They're a great example of someone that starts out as a vendor, who is then intelligent, flexible and agile enough to grow into becoming a key partner."
Data4's approach to growth, expansion and sustainability
Across all sectors spanning the world, sustainability is a question at the forefront of everyone's minds.
And nowhere is this more apparent than in the data centre industry. Balancing rapid expansion with future-proofing the sector itself is no mean feat.
"If you were to go back five years, I don't think anybody foresaw the scale at which this thing would take off. I think we all knew it was always going to be big, but the scale has been insane. And so, the way we're preparing for that is through sustainability," says Levine.
Data4 good is Data4's corporate responsibility programme, which consists of four main pillars.
"We're promoting digital responsibility and looking to reduce the environmental footprint of our activities. We are looking to be a committed player at the heart of our ecosystem. Not just at the data centre level, but to give back to the communities. To invest in education, in the environment and in the local environment in which we operate. And then, ensuring good working conditions for our employees."
Alongside this, Data4 has also signed up to the Climate Neutral Data Center Pact - a pledge of industry players and trade association of data centres in Europe committed to achieve climate neutrality by 2030 - and has implemented a circular economy approach across its operations.
"We look to inject a view of sustainability on everything we do, throughout the life cycle of the data centre, its design, construction, operation and end of life."
By developing a life cycle analysis of its data centres, Data4 can now accurately calculate the global environmental footprint of its data centres, from inception to end of life (or, from cradle to grave, so to speak).
Sustainability is absolutely imperative to Data4, and its extensive eco-conscious innovations include the use of low carbon concrete, lithium ion batteries, and an equipment waste recycling programme.
For Levine, beyond being a part of the company's ethos, company expansion cannot exist without sustainable focus.
"Our customers are pushing us to be a lot more conscious and to measure our environmental impact. We're having to measure this, not just for ourselves and our own sense of responsibility, but our customers are pushing us to."
"I'm fairly sure that, in the next round of contracts that we've got coming down the pipeline, we will have strong, solid commitments with financial penalties revolving around waste recycling, carbon footprint, carbon utilisation and so on."
"So, I don't think you can talk about how we're planning for the growth in the future, without talking about sustainability."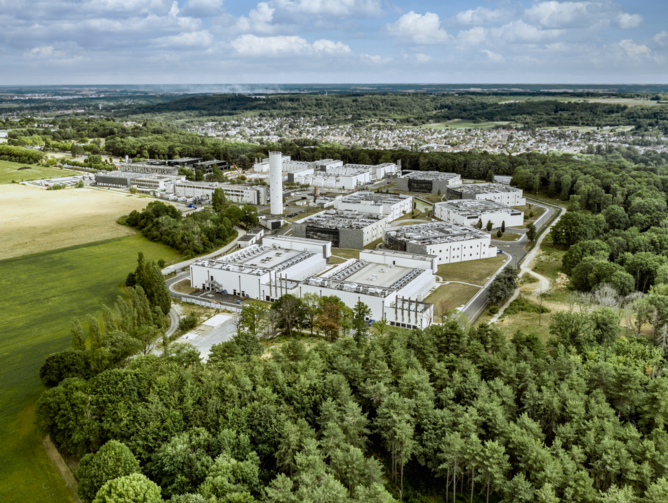 Campus Paris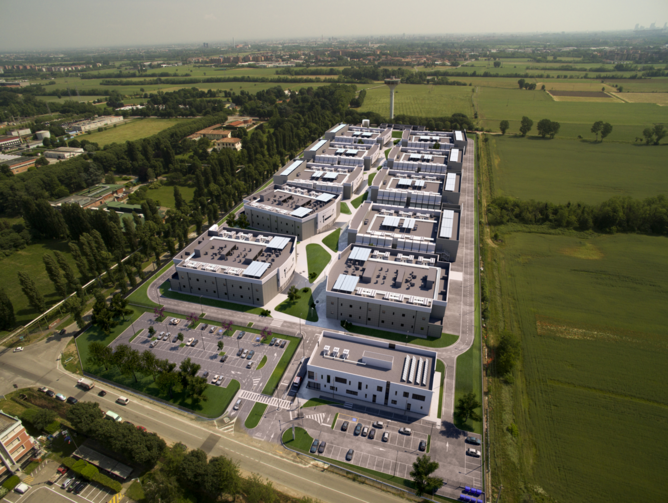 Campus Milan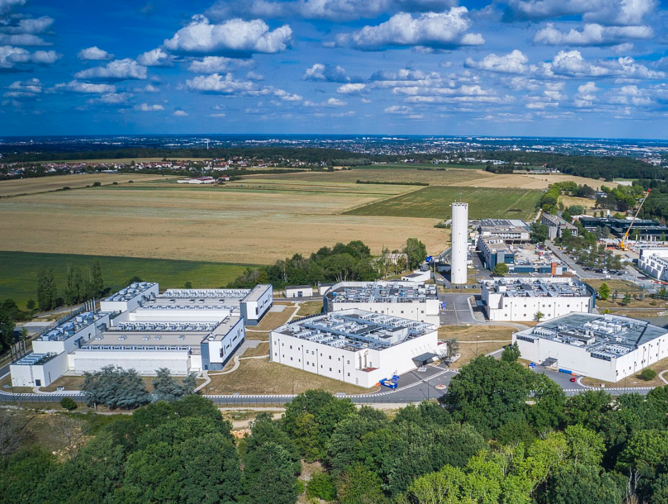 Campus Paris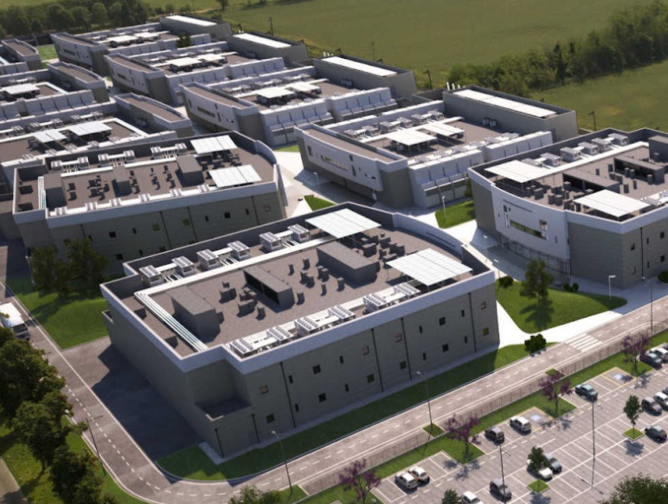 Campus Milan