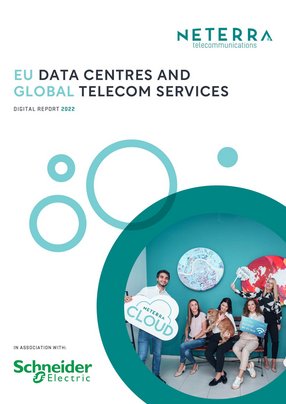 EU data centres and global telecom services
Chief Commercial Officer of Neterra, Chris Harper discusses telecommunications, data centres and the company's NetIX Internet Exchange platform
Bulgarian by birth, Chief Executive Officer Neven Dilkov founded Neterra in 1996 as a global connectivity and telecom solutions provider. The company has offered global connectivity, IT, data centre, and telecommunications services for the past 26 years and has a core network of over 150 points of presence in 35 countries.
Neterra now has four data centres in Bulgaria (EU) located in Sofia, Stolnik, Ruse, and a fibre optic network running throughout Bulgaria. Chris Harper, Chief Commercial Officer at Neterra, describes the company as a "safe pair of hands" for people needing telecoms and data centre services in both Europe and Central Asia, specifically Kazakhstan, and the Balkans.
Neterra's NetIX Internet Exchange platform
Neterra also has its NetIX business, a global internet exchange platform for customers to link with other internet exchanges. Harper says it has been very successful in Europe.
Two notable features of NetIX are connectivity and latency. Neterra recently announced that it had been selected by US CDN Limelight to house its equipment in Neterra's SDC data centres, connected to the NetIX platform. This gives you more connectivity around the world, Harper points out.
In terms of latency, NetIX allows internet exchange data to be transported from country to country in a very short period of time. "Our NetIX platform is completely transparent. You can see on our website, NetIX.net, that we're able to move data from Frankfurt to Sofia in 23 milliseconds. Frankfurt to Instanbul takes 36 milliseconds, whilst Miami to Sao Palo happens in 55 milliseconds and data from Moscow to Paris can be transferred in 70 milliseconds." Harper stresses that the equipment in those points of presence, enabling this to be achieved, belongs to Neterra.
Domestically, the company provides NetFleet for vehicles, which works much like a black box on a car in that it tells you information such as a vehicle's location and driver behaviour.
Neterra's Sofia data centres: Supporting digital transformation for companies
The COVID-19 pandemic caused everyone to consider the idea of moving things to the cloud and having everything on-premises in offices suddenly became a problem. "For example, you and I are sitting in our home offices, but we need access to everything as if we were in the physical office," Harper says, adding that this trend is increasing.
"There is, however, no such thing as the cloud - it's just data centres around the world with services, and we offer those services to our customers on a rental basis. So you can have cloud solutions with DDoS protection, you can have full IT services, and you can have feet on the ground working on your equipment.
"All our engineers wear head cams so they can actually be guided by a customer," Harper says, who went on to explain that one of the most common scenarios is when a customer needs something rebooted, and the headcams allow them to see what Neterra's engineers are doing."
Developing SDC 2, a fully Tier 3 compliant data centre facility
SDC 1 is the company's first data centre, and SDC 2 is currently in development and will be located next to it. "We are in the process of finishing off the build," Harper says. "It's a 2x1MW installed power facility with about 280 to 300 racks. It's fully Tier 3 compliant and we've already had significant sales success with some big Tier 1 carriers who will start going live in early April."
Adding to Harper's comments, Nikolay Chakinski, Neterra's Data Centre Product Manager, said SDC 2 is going to be a multi-tenant facility, which means Neterra will be able to provide wholesale services as well as colocation services for different organisations. "The good thing is that it's located within the same campus as SDC 1, allowing our customers to benefit from the enhanced connectivity that we have there on site," Chakinski explains.
Harper points out that Neterra's data centres are "very well connected to the outside world," describing it as "the gateway" into several locations. The reason for this is that all the cables coming from places such as Athens, Istanbul, and Romania pass through Neterra's facilities.
Alternative offerings to Tier 1 markets
With such a diverse range of services, Neterra can provide technical solutions of up to 150MW in one of its data centres in Stonik, which, according to Chakinski, is located at the largest substation in Southeastern Europe with a power capacity of 1.2 Terawatts. "There we can meet the power and space needs of any business that chooses us as a partner," Chakinski says.
"In addition to that, we are a telecom operator meaning that we can provide a full portfolio of telecom and wholesale data centre services, as well as different solutions to our customers." Chakinski also points out that Neterra has a better time to market compared to some other Tier 1 markets focused on colocation. The average time to deploy a new 15MW power supply line for Neterra is up to two years, whereas other Tier 1 markets may require five to seven years, explains Chakinski.
Harper adds that the company has a great geographical location, low tax and highly trained engineers, as well as competitive electricity pricing - something which is a top priority for Neterra.
A company strategy dedicated to sustainability
Like every company, Neterra has a carbon-neutral goal. However, what makes Neterra's particularly impressive is that it achieved it two years sooner than anticipated. "We wanted to be completely carbon-neutral by 2023," Harper said. "But we actually did that by the end of 2021. 100% of our electricity is clean, and by that, I mean it's nuclear-powered rather than coal powered.
"We also have an amount of land at our SDC data centre in Stolnik. This enables us to build a green solution on that site, and if you ever land at Sofia and look out the window you'll be able to see it - it's massive," Harper says.
Although it has achieved its carbon-neutral goals, Neterra is continuing to be as sustainable as possible. For example, Harper says that all the cars in the car park are hybrids, and the company is deploying several efficiency measures throughout its products. These include investments in low power AC Technologies for its data centres and operating in what Harper calls a "predominantly paperless environment", where documents such as customer contracts aren't printed, and everything is done electronically.
In addition, the lights in Neterra's offices are low power bulbs that are turned off whenever they're not needed, and the company has also been participating in several sustainability initiatives such as rain forestation activities.
Working with Schneider Electric
One of Neterra's longest-standing partnerships is with Schneider Electric, having collaborated with the company since the very beginning of its data centre business.
Founded in 1836 in Le Creusot, France, Schneider Electric is a French multinational company providing energy and automation digital solutions for efficiency and sustainability. It addresses homes, buildings, data centres, infrastructure, and industries, by combining energy technologies, real-time automation, software and services.
Chakinski says that the latest project between the two companies involves an SDC tool where "Neterra relies on Schneider Electric to provide working technical solutions for the electrical systems." This includes everything from power distribution boards to supplies.
Neterra also works with partners in a variety of different ways. "We work with all the industry leaders providing best in class systems for different data centre systems like transformers and power supply systems, precise climate control, fire alarm and fire suppression, leakage detection, access control and so on. It's our policy to always organise open tender procedures with transparent rules, an ambition to choose the best solution," Chakinski said.
Discussing the requirements of a good partner relationship, Chakinski said it "requires trust, respect, and open communication. Good working relationships also gives you freedom cause instead of spending time and energy for you, you can focus on opportunities from winning the new businesses or focusing on person development."
Looking ahead to the future, Neterra is planning SDC 3, its fifth data centre as well as expanding its existing Stonik facility. Harper says he also has the ambition to make Neterra the "go-to partner" for data centre services in Bulgaria. In addition, he is planning to provide more telecom services in Europe, Central Asia, and Latin America. The company is also going to increase its focus on Africa, APAC, and the USA.
NetIX is also going to be developed in the APAC region where Neterra has a "significant number of Tier 1 carriers purchasing its services. Also seeing growth will be Neterra's workforce, as it looks to hire new staff. As well as Sofia, it has an office in Spain and has staff in Mumbai and Brazil.
Harper confirms that people will hear more about Neterra in the future as it continues to grow its services within both the data centre and telecommunications industries.
Colocation hall in Neterra's SDC: Sofia Data Center
Sofia Teleport: satelite antenna field next to Sofia Data Center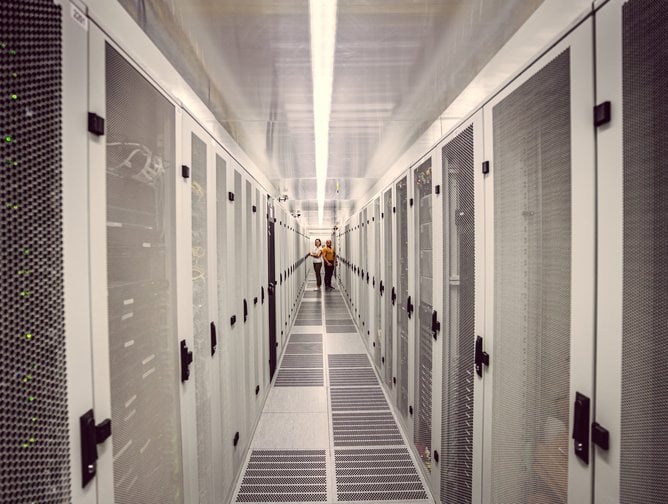 Colocation hall in Neterra's SDC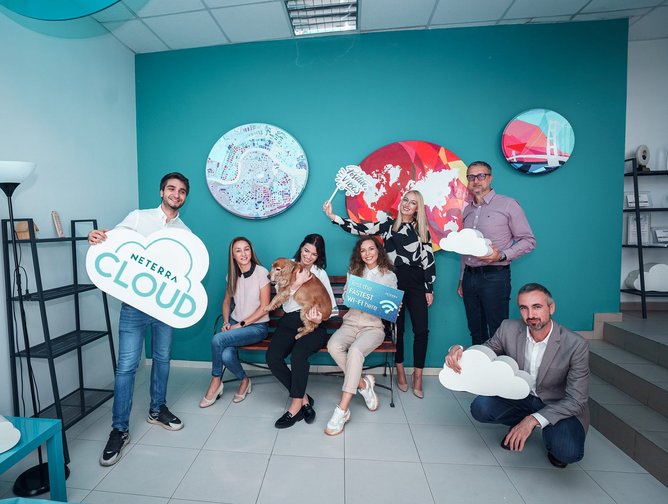 Head Office: People from Neterra's HR, Marketing, Sales departments