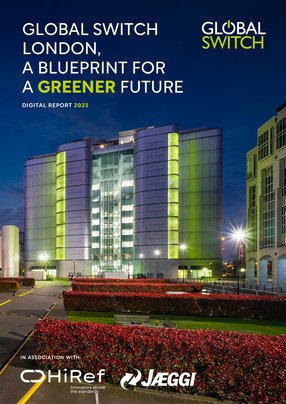 Global Switch London, a blueprint for a greener future
Global Switch's London Campus located in the Docklands, the capital's premier connectivity hub, is home to the world's leading networks and cloud on-ramps
Global Switch is an owner, operator and developer of large-scale, carrier and cloud-neutral, multi-customer data centres across Europe and Asia-Pacific. Founded in 1998, today Global Switch is one of the highest credit-rated data centre companies in the world with investment-grade credit ratings from Fitch Ratings, Moody's and S&P Global Ratings.
Global Switch's portfolio compromises 13 world-class data centres that house a myriad of organisations seeking high-specification technical data centre space for their mission-critical equipment.
"We have around 430,000 square metres of floor space and are occupied by a broad range of customers, global and national, large and small including government organisations," says Matthew Winter, Global Switch's Chief Design Officer.
"The company's focus is on highly resilient, central, low latency, network-dense locations in prime city centre locations and internet hubs close to customers on the edge of financial and business districts," he adds. "Our data centres operate exclusively in the Tier I markets of Europe and Asia-Pacific and provide an 'Always On' service, serving our growing customer base across the two regions."
Global Switch's state-of-the-art London campus
Global Switch's London campus is a state-of-the-art data centre environment located in the heart of the city's connectivity-rich London Docklands, with access to an abundance of carriers and cloud providers.
The original home of London's internet, and in close proximity to Canary Wharf and the City of London, the Docklands continues to attract global businesses seeking resilient, highly connected data centres, with Global Switch central to this hub.
The Global Switch London campus was established in 1999 with the redevelopment of the historic Nick Grimshaw-designed former Financial Times newspaper printworks, creating the London North data centre, explains Adam Eaton, Global Switch's Executive Group Director for London.
"The campus grew in 2002 with the launch of the 12-floor, purpose-built London East data centre with over 65,000 square metres of space," he says. "The campus is fantastically positioned, only a stone's throw from the financial district of Canary Wharf and located on the site of London's earliest network and connectivity hub."
While other data centre hubs have sprung up in other London locations, the Docklands area is still the capital's premier connectivity hub with the largest availability of networks and cloud on-ramps, Eaton comments. "The Docklands hub continues to see significant data centre development and has available power, unlike Slough and other areas west of London where new power coming to market is already reserved," he says.
"In terms of performance, Global Switch has operated data centres on the London campus for nearly 25 years," Eaton assets, "developing a wealth of knowledge and experience that has permeated through an operations team that has a pinpoint focus on health and safety and operational performance."
Extending and expanding the London campus
Global Switch's London campus, which enjoys allocated power in excess of 125MVA and has, for a number of years, purchased 100% renewable electricity to cover Scope 2 emissions, is currently in the midst of a redevelopment programme.
Both London North and London East are in the process of redevelopment that will deliver additional highly energy efficient, low power usage effectiveness (PUE) suites. The campus has been built to support a variety of different customers, from hyperscale multi-megawatt deployments through to enterprise and single rack colocation.
Furthermore, the campus will be further extended and enhanced with the planned development of a third data centre on the campus, London South, which is expected to come online in the next few years.
"We started the redevelopment programme with London North and upgraded space within the data centre to provide high-density technical suites with increased IT power," Winter comments. "These spaces reflect our reference design principles with no raised floor and flooded room cooling, delivered by a fan wall product. These initial spaces are already contracted to a global Enterprise customer. The completion of the Phase 1 redevelopment will see the delivery of additional high-density suites."
Similarly, in London East, Global Switch has a power densification programme which will see existing suites refurbished to provide higher power density. "This commenced with a single-floor feasibility study which was immediately let to a hyperscale customer," Winter comments. "Through this first phase, we have extended the study to look across the whole data centre to offer further improvement in terms of PUE and high-density space.
"While London North and London East are focused on continuous improvement, we also have our planned new development London South which will sit alongside our other data centres as a part of a single campus but with diverse utility and connectivity services," adds Winter. "This state-of-the-art data centre will complement the other data centres on our campus and expand upon the IT power and services that we can offer."
Redeveloping a working Grade II* listed data centre
Originally designed by Sir Nicolas Grimshaw for the Financial Times as a printing press facility, and opened by then-Prime Minister Margaret Thatcher in 1988, Global Switch's London North site was converted into a data centre in 1999, transforming the building from communication in the printed form to one of digital communication.
With the building named a listed building in 2016 by Heritage England on account of the standing of the architect, there were a number of challenges faced by Global Switch when it came to redeveloping a live data centre in a historic building.
"Redeveloping existing data centres means that they are generally operational and so the works need to be meticulously planned to avoid any consequential downtime," Winter explains. "This means that projects can sometimes take more time to complete when compared to new builds."
"With London North, it meant that we could not modify the façade nor a spine wall inside the building, which gave us some challenges adding to the complexity of the project. Nonetheless, the data centre has been upgraded to a high standard including the entrance."
One of the most significant challenges when redeveloping the site was strengthening the floors which required additional structural foundations to be installed in an operational environment, all while restricting vibration.
"Great care has been taken to look at the plant loadings on the roof while replacing the two historic cooling systems with a new system of free-cooling chillers," Winter describes. "In all, we have received very positive reviews of the already let new space that has been created that will ensure the building continues to be suitable to meet current and future demands."
Energy efficiency programmes at the London campus
Sustainability is a fundamental part of Global Switch's business, which is continuing to reduce its carbon footprint across its global portfolio. All new European developments target a minimum of BREEAM 'Very Good' with a PUE of less than 1.2 and all Asia-Pacific developments target a minimum LEED 'Gold' with a PUE of less than 1.4, as well as other local sustainability certifications.
Global Switch's London campus, in particular, has been subject to a number of energy efficiency initiatives, which are also being rolled out to Global Switch's other sites, starting with its other European data centres.
"In London North, we replaced the two legacy cooling systems with one common system comprising free-cooling chillers," Winter explains. "We also replaced all the CRAH units within technical suites and elevated the temperature of the water that is used as the medium to circulate cooling to the suites while also raising the leaving air temperature from the computer room air handlers to the servers under a supply air control strategy to reduce energy consumption; the data centre had historically been developed with return air control.
"In the redeveloped spaces where we have fan walls installed, the design has been validated by CBRE meaning they calibrated their virtual twin of the infrastructure using the Romonet software against the installed plant which will at full load achieve an annualised PUE below 1.3.
"As part of this European-wide programme we aim to power intensify vacant suites as the power requirements of customers today are often much higher than they were 5-10 years ago: 10kW racks are not uncommon and equate, depending on their layout of up to 3,000 watts per square metre.
As Winter explains, Global Switch is embracing redevelopment rather than solely focusing on new builds that are also underway, reducing unnecessary emissions and helping the company meet its sustainability goals.
"In terms of sustainability, it is better to redevelop, reducing unnecessary emissions of already-built forms than replace them with new, which is why redevelopment should be showcased instead of just the new builds," he says. "In this respect, we have been piloting a new BREEAM scheme for the fit-out of our data centres, which has in the past only been applied to new builds."
A number of steps have been taken to meet Global Switch's targets of reducing carbon emissions and environmental impact.
"We have set a target to purchase 100% renewable electricity across all our data centres by 2030 for both our infrastructure and the customer IT load and in 2022, we purchased 78% of renewable energy against our total electricity consumption," says Winter. "We are presently reviewing a science-based target with the aim of limiting temperature to 1.5℃ based on an ICT sector methodology for Scope 1 and 2 to achieve a near-term target for 2030 and so we are well on our way to achieving this. Our next challenge is to further understand our Scope 3 emission reduction and we need to work closely with our partners to achieve this."
Key partners helping enable sustainability goals
When it comes to enabling these sustainability ambitions, Hi-Ref and Jaeggi have been key partners for Global Switch, supplying critical cooling equipment in its new data centre in Frankfurt and beyond.
"Both Hi-Ref and Jaeggi have been key partners who have supplied critical cooling equipment in our new Frankfurt North data centre and their partnership will continue with the expansion of new developments and our ongoing redevelopment programme," Winter describes. "The Jaeggi hybrid coolers are a key workhorse in our cooling reference design and help us to achieve potential free-cooling for over half the year. Hi-Ref, while supplying CRAH units in Frankfurt North, has also been assisting us in the analysis of raising the chilled water temperature in our existing data centres through the redevelopment programme."
To achieve its Scope 3 goals, Global Switch's partners are key to achieving its goals. "The supply chain represents the majority of our Scope 3 with Fuel and Energy Related Activities (FERA) also being a key proportion," Winter adds. "We are aiming to work closely with our partners to identify where the embodied carbon savings can be made while still achieving the objective output. I have been encouraging partners through our briefs that they provide Environmental Performance Declarations (EPDs) but accept there is a transition period for these to become common practice."
Global Switch to help drive future connectivity needs
These are exciting times for Global Switch, with a sale process underway and significant developments planned and ongoing across the global footprint.
"In 2022, despite the macro volatility as a result of the war in Ukraine, the energy crisis and broader geo-political concerns, Global Switch demonstrated the resilience of its business model, which stands us in good stead for the next 12 to 18 months," Eaton explains.
Significant growth in the sector of data and cloud computing and the growing adoption of applications from SaaS, PaaS and IaaS to mobile payments and gaming and video streaming will continue to drive significant data centre demand. "Furthermore," Eaton adds, "the growth of data-generating devices, such as smart meters and autonomous vehicles, as part of the Internet of Things, and 5G system deployments are new sub-sectors that will undoubtedly require vast volumes of data. 'Always On' data centres and high levels of connectivity, both of which Global Switch is well known in the market for, are critical components to deliver that demand."
Global Switch is continuing with its proven strategy of redeveloping and densifying existing data centres and building new data centres in existing Tier 1 markets, in particular, adjacent to existing data centres. "This," Eaton adds, "will deliver the required capacity to support growth in our existing customers as well as the forging of significant new relationships across the Hyperscale and Enterprise sectors."
With increasing scale, Global Switch continues to evolve and the near future will see an even greater focus on ESG responsibilities. "We continue to evolve our operational processes to drive an ever-evolving ESG strategy and our comprehensive development and redevelopment programmes will ensure that, over the next period, the business focuses on many of the topics that are front of mind in the world."
Significant developments driving data adoption
From new technologies to more integration with local communities, there are significant developments in sectors new to the industry which are driving data adoption and enterprise architectural challenges.
"New technology often requires greater cooling capacity and we are seeing this with the growth of liquid cooling, however, any development will require a laser-sharp focus on environmental impact," Eaton comments. "As our industry matures, I believe governance levels will increase and all that we do as an industry will become more public and under greater scrutiny. New developments will require more integration with local communities and an understanding of how the buildings integrate with the surrounding areas in which they exist will be paramount. We must explore how we can utilise our waste heat more effectively and to a greater good, for example utilising our waste energy to deliver local heating benefits."
Innovative technologies such as AI and automation will also be used to drive changes in data centres globally, Eaton predicts.
"Operationally we will become smarter, utilising AI to drive changes to the maintenance regimes in the data centre campus and delivering more proactive, condition-based maintenance programmes that will extend the life of equipment while reducing the environmental impact of maintaining for the sake of maintaining," he concludes. "Automation within the campus will increase and we will become smarter at managing the infrastructure, allowing for greater operating temperatures, improved efficiency and reduced environmental impact."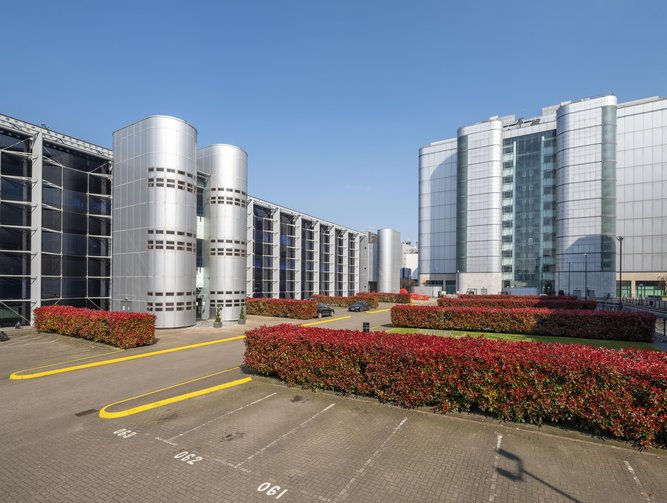 Global Switch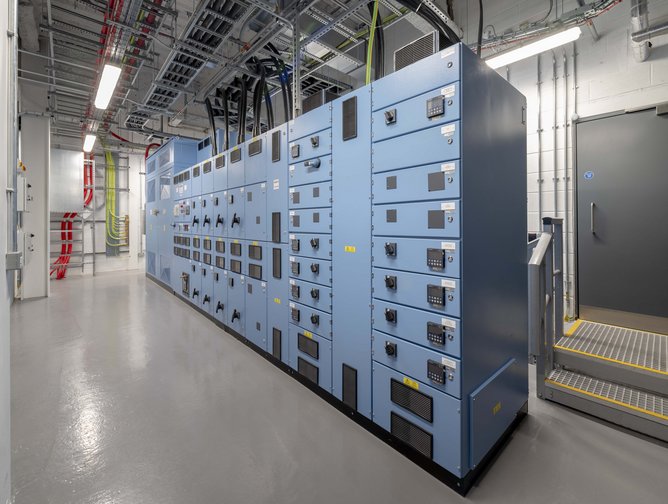 Global Switch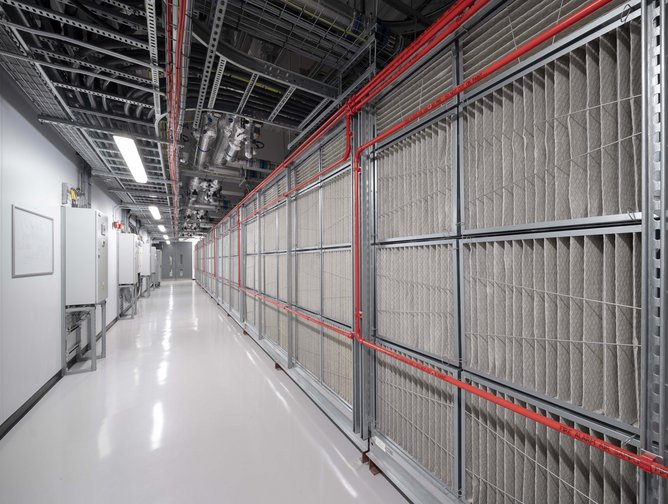 Global Switch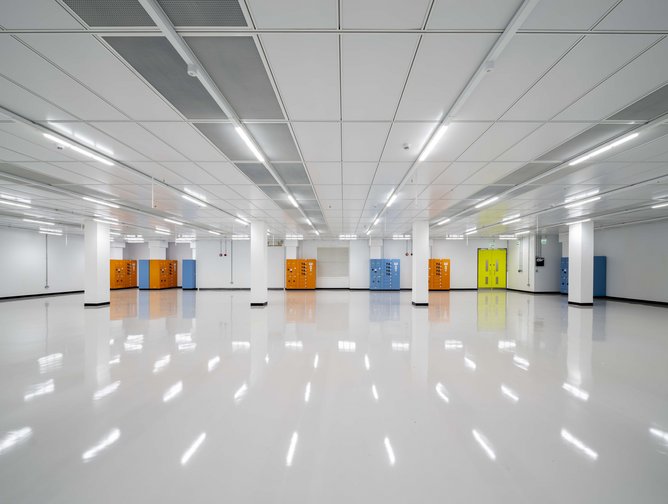 Global Switch