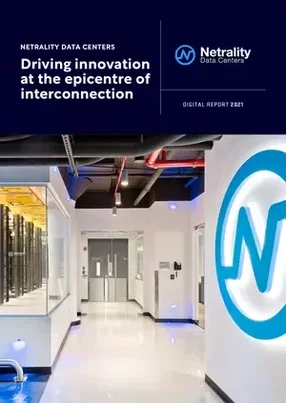 HOW NETRALITY IS REVOLUTIONISING THE DIGITAL ECOSYSTEM
Netrality's CRO, Amber Caramella, talks about her ground-breaking, winning vision for cultural change across the data centre industry.
Netrality's CRO, Amber Caramella, is driving ground-breaking change across the organisation's expanding footprint of network-rich, fibre-dense facilities and the data centre landscape as a whole. The trailblazing leader's multi-fold approach to progressive change extends beyond acquiring and further monetising portfolio assets. Caramella is ensuring Netrality Data Centers' continuous investments in infrastructure enhancements, ecosystem expansions, and portfolio growth provide a diverse platform for evolving needs and full-suite solutions.
We live in an increasingly frantic world, especially when you look at the digital infrastructure landscape linked with the unpredictability brought on by COVID in the past year and a half. So, what impact and challenges does Caramella see the industry facing over the next few years?
"The pandemic certainly further solidified that technology is fundamentally changing the way that we interact with the world around us.
"Many technological advancements adopted during COVID kept us together when we needed to be apart. Numerous industries accelerated their digital transformation efforts by enabling advancements in telehealth, video conferencing, online education, and virtual gaming to help us stay healthy, entertained, and connected both personally and professionally.  
"That said, I see several challenges. One being the increase in the amount of data and capacity demands placed on data centres with the evolution of technology and the expansion of always-on users. The supply chain continues to struggle due to extensive global shortages of labour, materials, and equipment resulting in longer lead times. Further investment in digital infrastructure will be crucial to enable and sustain such growth. 
"The second challenge is ensuring an optimal customer experience given unprecedented bandwidth demands and the proliferation of data-intensive technologies."
This is where Netrality comes in. But how? 
"Increased bandwidth demands are driving the migration of data processing to the nexus of connectivity and the network edge. The rise of hybrid cloud and latency-sensitive technologies require a modern infrastructure approach. Traditional cloud and legacy networks cannot adequately respond to and serve an ever-growing number of IoT devices.
"Interconnected data centres located near end-users, are fundamental to businesses and services. More enterprises are leveraging edge computing to actualise the full potential of their application services. When it comes to providing services in a timely, efficient, and cost-effective manner, edge computing is essential.
"Our offering is unique in that our data centres are at the epicentre of the edge in the markets we serve — enabling global connectivity. By leveraging highly interconnected edge data centres, customers can dramatically extend their performance and reach across entire regions with superior uptime, low latency, and on-demand connectivity."
But that's just a small glimpse at the bigger picture. 
"Just as our data centres are the epicentre of the edge, the ecosystem is the epicentre of growth. In a network-neutral, interconnected data centre, ecosystem partners not only house their infrastructure but, more importantly, seamlessly connect and exchange traffic with one another. When customers can directly connect to service providers and cloud on-ramps in a colocation environment it reduces single points of failure and latency via direct connection. It also lowers costs by bypassing the public internet. Ecosystems can scale to accommodate customer's unique needs.   
"By introducing customers to an entire ecosystem of providers, Netrality enables optimal solutions while lowering their total cost of ownership. "Netrality customers can design new solutions and innovations such as, hybrid-cloud architectures with secure, scalable connectivity to increase application performance and provide greater reliability."
No company or industry in this interconnected world can operate as an island. Netrality knows this. Strategic partnerships hold the key to market-leading growth. Caramella says this approach is vital. 
"To further the evolution of our data center ecosystem and market position, we align our brand with influential industry leaders, providing increased visibility, go-to-market resources, event sponsorships, and co-branded campaigns."

Caramella cites Netrality's recent venture with Google Cloud Interconnect at its Kansas City, MO location. She calls this deal a 'game changer'. 
"Google recently deployed a Google Cloud Interconnect at 1102 Grand, creating additional cloud connectivity options in our data centre and enabling direct connectivity to the Google Cloud Platform (GCP). It's a game-changer because customers can extend their infrastructure, business applications, and capabilities with a multi-cloud, multi-site network environment. It also allows higher speeds and lower connectivity costs for our customers. 
So how is Netrality keeping ahead of the game? Caramella says the cornerstone of Netrality's strategy and competitive advantage is the ownership and operation of its data centre assets. 
"We are leveraging the dynamic nature of our physical assets and efforts to market wholesale, office, retail, innovation, and business continuity spaces where appropriate and opportunistic across the portfolio. 
"Our owner-operator business model is also beneficial because it provides our customers with long-term reliability, stability, and scalable growth opportunities from cabinets to cages to wholesale data centre offerings. Additionally, we have the ability to custom design deployments that require roof rights. All of our locations are technically sound for cell tower and 5G operators to occupy."
Caramella sees this ownership strategy as a huge advantage over Netrality's competitors — many of whom lease colocation properties. This ownership also adds to Netrality's market prominence and ability to capitalise the value of its assets and the role they play in shaping the digital economy. 
"Our building assets are the epitome of our ecosystem as are our data centres. As the owner and operator of our buildings, we have positioned our properties as the premier hubs for tenants looking to power innovations of tomorrow. We are unparalleled in our ability to deliver dense connectivity and extensive deployments that create optimal testing and innovative environments for 5G supported equipment. Netrality provides the flexibility needed to meet unique testing and design needs while delivering the best overall experience to our data centre customers and building tenants."
Netrality's leadership began acquiring strategic assets with core interconnection data centres back in 2012. Netrality adds to the deep history of each facility by building Meet Me Rooms to congregate fibre assets and facilitate interconnection – the cornerstone of innovation. 
"Take for example our operations in Philadelphia, PA. For over 90 years, 401 North Broad has served as a base for innovation. It was originally designed as the nation's first commercial and industrial building featuring a freight station and access to rail infrastructure. Since the early 1990s, 401 North Broad has been a major junction for North and South fibre routes with a significant portion of the nation's East coast traffic traveling through the property. 
"Netrality's 401 North Broad continues to house companies on the cutting-edge of innovation including "The Block", the world's first esports campus by Nerd Street Gamers. The immense connectivity options and near-zero latency within 401 North Broad give gamers a competitive edge both on and off the premise – connecting communities and advancing the next-generation of gaming. 
"Leading biotech firm, Biomeme, is building its headquarters for research, manufacturing, and operations of its PCR testing solutions at 401 North Broad as well." 
As you mentioned, acquiring the most strategically placed locations is key. Where else is Netrality casting its net? 
"Our most recent acquisition of the Indy Telcom campus in Indianapolis, IN will allow us to further expand our footprint across the Midwest. This aligns with our core strategy to own the epicentre of connectivity in the markets we serve. As the only data centre campus near downtown Indianapolis, Indy Telcom facilitates access to the fibre crossroads of America providing connectivity to Chicago, St. Louis, Columbus, Kansas City and Pittsburgh – making it a premier data centre for telecom companies and enterprise customers. We are eager to expand our footprint and accelerate business growth in the robust, network-rich region."
Caramella highlights how her industry is constantly transforming with technology and how it operates. 
"Right now, trends are shifting, and secondary and tertiary markets are increasingly relevant because of hybrid cloud deployments that seek diversified fibre connectivity, expanded availability zones, and direct connections to core backbone routers in urban-situated colocation facilities. Location is incredibly important in terms of where companies are deploying points of presence and availability zones. We are focused on strategic capacity planning to stay ahead of supply and demand challenges.
"Our ecosystems allow each Netrality building to act as an interconnected hub joining hundreds of cloud and network service providers with leading enterprises."
Caramella is also very conscious of how recent global events are shaping the industry's need to be versatile and nimble. 
"This last year has taught us a lot. Companies with traditional in-office environments had to leverage technology to support remote workforces and ensure business continuity – proving a new, geographically dispersed workforce is viable when supplemented with collaborative technologies. While the pandemic and resulting mandates have brought immeasurable loss, the past few years have signalled the true entry into an era of global digitalisation. Working together as an ecosystem and leveraging evolving technologies enable and aid the adaptation to new realities on the horizon. Digital infrastructure and transformation will continue to allow masses to effectively operate from anywhere."
Caramella talks about how Netrality's success and growth is rooted in its commitment to nurture synergies between its strategically located ecosystems and robust partner offerings. Underpinning such success is an ever-evolving culture she is creating between Netrality's workforce and its partners. 
"I'm extremely passionate about creating the right culture here at Netrality," she says. "I truly believe that fostering a healthy environment not only drives revenue growth, but also promotes our retention and employee satisfaction. This, in turn, translates to multi-threaded, mutually beneficial relationships with our customers."
For Caramella, creating an entrepreneurial, diverse, and inclusive corporate culture directly impacts the organisation's ability to drive meaningful change across the industry.
"It all comes down to our network. One of Netrality's core values is to empower its network of customers, partners, and people to thrive and build the innovative technologies powering the digital-first era."