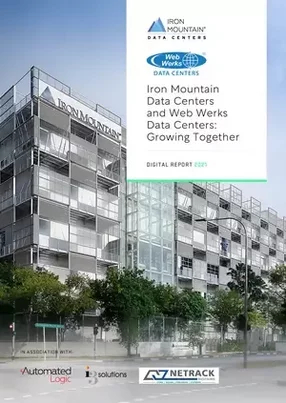 Iron Mountain and Web Werks: Hyperscale in India
Inside Iron Mountain Data Centers and Web Werks Data Centers' $150mn joint venture to capitalise on India's data centre boom.
India is home to just over 1.3 billion people and is rapidly closing the gap with the global population leader, China. As the country's population continues to grow, India's digital economy is on the cusp of a boom, the likes of which have never been seen before. 
"Right now, there are only about 700mn Indians online," says Nikhil Rathi, Founder, Director, and CEO of Indian Tier-III data centre operator Web Werks. "With only about half of the whole country connected to the internet, as the other half comes online, just imagine the data consumption." Rathi paints a picture of a digital India consuming more data than any other country in the world, as everything from streaming video content to advanced analytics is adopted at record speeds. "All of those things are going to require compute infrastructure that doesn't exist yet," Rathi adds. 
At this moment, the entirety of India's data centre industry comprises approximately 400 MW of capacity. "That's less than Singapore, London - it's less than a quarter of the capacity in Northern Virginia alone," says Michael Goh, the General Manager for APAC operations at  Iron Mountain Data Centers. "Given the size of the population, how young they are, and how much they're embracing digital services, that capacity is going to boom." 
In the context of this pivotal moment in Indian history - the threshold of the country's dawn as a digital superpower with the potential to go head to head with China and the US - Iron Mountain and Web Werks have come together in a historic undertaking that seems fitting for these noteworthy times. 
In February of 2021, Iron Mountain announced plans to invest $150mn into a joint venture with Web Werks over the next two years as the two companies leverage their unique strengths in tandem in order to capitalise on India's imminent data centre boom. 
Iron Mountain: Security, Trust, and a Global Reach 
Since the early 1950s, Iron Mountain has been synonymous with security services you can trust. The Boston-based company spent its first 70 years safely storing physical data for companies throughout the US, as well as a number of government entities. Most famous for its hyper-secure facility built in a disused mine some 220 feet beneath rural Pennsylvania, Iron Mountain has leveraged its sterling reputation over the past decade into a successful transformation of its core competencies. Of course, you can still store a box of legal documents in an Iron Mountain facility but, more and more, the company's key business has become building and managing the demand of its customers' digital infrastructure needs. Over the past few years, Iron Mountain Data Centers has built a substantial data centre platform in the US, where it operates sites from New Jersey to Phoenix, as well as across the Atlantic in London, Frankfurt, and Amsterdam. 
"We are currently very strong and growing fast in America and Europe," Goh explains, "and we want to do the same in Asia but even faster. We want a substantial global platform." Goh, a data centre and telecoms veteran with two decades worth of experience, is based in Singapore - where Iron Mountain opened its first APAC facility in 2019. His previous success building extensive data centre platforms throughout the region is, he explains, exactly what Iron Mountain Data Centers has hired him to do. He explains that the reputation Iron Mountain established as a security-focused record management company is one of the keystones of their competitive advantage today. "We built up real customer trust over the 70 years that we were a record storage company. Now, as we have pivoted over the last decade into the data centre industry, we're bringing that customer trust with us," he says. "Our customers who trusted us for decades to store their physical data now trust us to do the same with their digital data." 
As a result of building a brand synonymous with reliability, Iron Mountain has amassed a global portfolio of more than 230,000 customers, which the company is leveraging as it sets its sights on the Indian data centre market. However, entering a market as large and complex as India isn't something to be done lightly. "Iron Mountain Data Centers has been looking for a way to enter the Indian market for the past three years. We know it's a complicated market. It's not a market that any foreign entity can just enter alone, and we've seen other international companies try to enter the market alone and fail," Goh explains. This cautious approach is what led Iron Mountain Data Centers to partner up with Web Werks, he continues. "We needed a partner that understands the market, and has the local know-how to help us be successful, which led us to Web Werks," he says, adding that the $150mn of capital investment Iron Mountain has made into the joint venture "really highlights our commitment to the partnership's success." 
The joint venture with Web Werks isn't the only area in which Iron Mountain is leveraging its key partnerships, Goh adds. "'Iron Mountain Data Centers have been working with ALC for many years. We deploy ALC across our portfolio and have been delighted with the product and support provided by ALC.''
Web Werks: Local Knowledge, Interconnection, and Harnessing the Ecosystem 
Web Werks was founded in a cramped bedroom in the earliest days of India's access to the internet with a princely "funding round" of $30 to host a single web page. "There was only one ISP in the country at the time, which was state-owned, so there was basically no third-party hosting at all," recalls Rathi. "But we steadily built portals, hosted services, and the data centre business actually grew out of the hosting group because at one point we were hosting around 5,000 resellers and around 85,000 websites worldwide." 
Today, Web Werks has grown into one of India's most trusted colocation providers. "We started with a very small setup that grew into the three facilities we have today - one in Navi Mumbai, one in Pune, and one in Delhi NCR," Rathi says. "When Web Werks mushroomed from one small facility to three Tier-III data centres today, it laid the foundation for the Indian market which, in combination with the solid global platform that Iron Mountain Data Centers has built in Europe, Singapore, and the US, has a lot of potential."  
Rathi explains that, by combining Web Werks' extensive knowledge and understanding of the Indian data centre market, as well as its position as an established local brand with a huge ecosystem of partners and customers, with the globalised design standards, brand recognition, consumer trust, and capital that Iron Mountain Data Centers brings to the table, the joint venture is set to rapidly expand throughout both the Indian colocation industry and into the country's hyperscale market. Web Werks Data Centers hosts more than 180 ISPs in its Navi Mumbai facility alone, as well as three major internet exchanges, OTT and CBS players both from India and overseas - bringing a dense carrier neutral interconnection ecosystem to the table. "What we haven't been able to do so far is cater to the hyperscale market, and that's what Iron Mountain is going to help us to do. It's the last missing piece of the puzzle," Rathi adds.
Pan-Indian Expansion 
"Web Werks has this huge ambition to grow, and so does Iron Mountain Data Centers. Our outlooks and philosophies are very closely aligned," Goh continues. Since its announcement in February, the joint venture has bought a 100,000 square foot land parcel adjacent to Web Werks Data Centers' existing MUM-1 facility and - much like the country's digital economy - is poised for an explosion of activity. 
"We plan to expand into every major metro in India. We're looking at Bangalore, Chennai, and Hyderabad, to offer even more to the ecosystems we already serve," says Rathi, casting his eyes ahead to a growing tidal wave of demand on the horizon. "India used to pull all its data from the US and other foreign countries. Now, there's content being made and stored here and more data than ever being imported. All that content has to be hosted in India," he says. "To be ready for this datanami, we have teams in Bangalore, Chennai and Hyderabad getting everything ready for our expansion into those markets as well. The demand is out there, and we should follow." 
Goh agrees. "It's also no secret that we want to bring new customers into our business and help them succeed. So, bringing more customers to India from our global base and building more data centres in India are our two key goals for the next year and a half," he says, adding that the first Iron Mountain customer had already been onboarded into one of the joint venture's Indian facilities. 
Rathi also notes that, much like the tide of data flowing in and out of Indian servers, the movement of Iron Mountain's customers into the joint venture's facilities isn't just a one-way street. "The future of this partnership also allows Web Werks' customers to grow into Iron Mountain's facilities. We've had a number of conversations already with our Indian customers who want to grow into Iron Mountain's US and European data centres," he says excitedly. 
The next 18 months will be full of exciting new developments as the joint venture begins to build at scale with speed. Rathi states that "'one of the first next milestones is to get the MUM-2 facility expansion of 12.5MW up and running," which is something he's confident that the partnership between Web Werks and Iron Mountain Data Centers can accomplish. "We were looking for an excellent partner to help us evolve to our next stage of growth, and there's no better partner than a trusted name like Iron Mountain Data Centers," he says. "That combination is what we intend to leverage to start catering to hyperscale, enterprise and retail customers as the Indian data centre market booms."