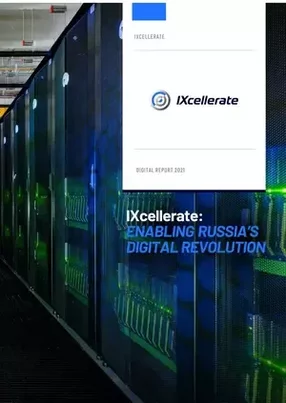 IXcellerate: Data centres enabling Russia's digital revolution
IXcellerate, one of the leading Russian Tier III commercial data centre operators in Moscow, is attracting global hypercloud operators into Europe's la...
What are the prerequisites for a successful entrepreneur? The ability to gain the confidence of investors is up there. Before he ventured into the Russian market in 1998, Guy Willner had already raised seed capital and subsequent funding for his first data centre company IXEurope, floating it on the LSE, surviving the burst of the dotcom bubble and eventually selling to Equinix for £555m. That's a story in itself, however by 2008, having walked away from the job of European President for Equinix he was looking for a new challenge. Another characteristic common among entrepreneurs is drive, ambition. Willner comes over more laid back than driven – in his case the driver is creativity. Both his parents were artists, and though their four sons all chose engineering, he says that in his case the creative gene has been a major asset, giving him the imagination to think differently and not to be daunted by entering uncharted territory.
The founding of IXcellerate certainly required these qualities. Already on the board of a number of companies including Teraco in South Africa, he was approached by the European Bank to chair a Russian data centre company – thankfully that funding fell through but the opportunities presented by Russia, clearly an underserved market, had taken his interest. He teamed up with Clifford Gauntlett – a Russian speaker with 25 years' experience working with tech companies there – to found IXcellerate and raise the capital required to build out some serious data centre capacity in Moscow. It wasn't easy to find the right location, and they looked at at least 100 sites; however they now have a prime position inside Moscow's equivalent of London's M25 and were able to secure first-rate partners such as Arup and Mercury Engineering to execute the project.
There were many reasons why Moscow remained an underinvested market despite Russia's evident global importance. Foremost among these was a perception among western players that the country is a country with alien customs, philosophy and unreliable business practices. " People are frightened of Russia," says Willner, " People are happy enough to invest in Singapore and the Middle East where democracy is not much in evidence. They may say: 'Russians look like us so why don't they behave like us?' They don't realise this is a country twice the size of the USA or China, with huge diversity, dozens of nationalities, ethnicities and cultures," Like many emerging economies, he adds, Russia has been wary of outsourcing with a strong inclination to keep its data in-house. His team has been explaining why outsourcing makes sense, that it does not mean relinquishing control of a customer's IT systems, and it's also his job to explain to IT people that they still retain control of their systems, which will be more effectively and securely located than they ever could be by keeping them close. But Russia is now not merely catching up but leapfrogging in many ways, with interesting e-banking innovations, very fast technological development and even self-driving taxis being trialled on its streets. All this is inexorably driving a new data centre revolution, Guy Willner believes.
That's now, but against this background it was quite an achievement to get serious backers for his project. Nevertheless after talking fruitlessly to the European Bank for Reconstruction and Development (EBRD), in 2012 the World Bank though its subsidiary the International Finance Corporation (IFC) came on board, soon followed by Sumitomo Corporation, which had been investing in Russia for more than 60 years. "It was a fight as it always is in Russia," he admits. But that draws the best out of you, just as creative artists are often at their best when they are swimming against the tide of fashion or even perceived common sense!"
There have been setbacks, for example when his co-founder and business partner Cliff Gauntlett died in 2014, of a heart attack at the age of just 53. "Cliff knew everyone in the business so I felt very much on my own when he died so unexpectedly." It was providential though that at the time the company was hiring a Russian CFO Dmitry Fokin who was able to take over the reins of management. The build-up of the business over the intervening six years has been very impressive. "Goldman Sachs came in as an investor in 2017 so now we are a very big business with over $100m invested, I00 staff on our books and more than 150 customers. In nine years we have come from being the outsider, the foreign incomer, to being the number two data centre player in the whole of the Russian Federation!"
Since 2016 Guy Willner has also been CEO of Eurasia Peering IX, which enables telecom operators, cloud solution providers, system integrators, content delivery networks (CDNs), ISPs, hosting companies, social networks and the like to exchange traffic seamlessly and optimise traffic routes. "Eurasia Peering is the beating heart of the data centre. Peering is like a market place but instead of goods you bring content to the marketplace and connect it to users who may be on six or seven different mobile or broadband networks, all connected to that internet exchange (IX), which is basically a collection of networks, network operators and content providers - so Google, Apple, Microsoft, Alibaba and Tencent which are all on our Eurasia Peering platform and a host of content providers like Wildberries ('Russia's Amazon') are present on the Eurasia Peering platform and able to exchange information with one another."
The first data centre, Moscow One, was housed in a 6,000 sq m warehouse, on a leased site, he explains. "We fitted a small part of it out as a data centre, started putting customers in there, raised more equity and fitted out more till the entire warehouse was full." Today Moscow One has 1,835 rack spaces and a power capacity of 13.7 MW. Soon an adjacent site also with a warehouse on it became Moscow Two, with 1,580 rack spaces and an additional 13,5 MW power. Moscow Two was inaugurated on October 3, 2019 by HRH Prince Michael of Kent, someone who is well known in Russia as Chairman of the Russo-British Chamber of Commerce. "Our Russian guests were dumbfounded. Prince Michael is a Romanov by descent, a fluent Russian speaker who is very popular in Russia – he gave a speech in Russian and then spent over an hour and a half walking round the facility and chatting to everyone, insisting on spending more time with the junior staff than with the leadership!"
The first ten percent of building a business in an emerging market takes five years, Willner estimates. It then takes two years to build up the next 40% and maybe 18 months to achieve the remaining 50%. "We started with a little data centre. Then we found we were getting customers colocating with us, customers such as Bloomberg, Refinitiv, Orange Business Services, Rackspace, NTT and many other e-commerce and financial services companies from Europe and the USA; after that the market began to really take off so we had to build out five times that capacity and complete Moscow One. Suddenly we had some big Asian hypercloud clients like Tencent and Huawei asking for all the capacity we could provide. Our total capacity on the Moscow North campus is now 26.5 MW. "It's like expanding an airport, you try to build close to where you are: with all the infrastructure already there it makes sense to build your third runway alongside the others. Likewise if you have all the networks coming in and upward of 150 customers in your data centre it makes sense to build more capacity on that site. We have signed for another parcel of land where we are going to put another 15MW of IT load, that equates to about 25 MW of grid power, so the power capacity just on that Moscow North campus will grow from about 26 to 50 MW."
The final push will start early in 2021 with the acquisition of a site in the south of the city, a leap ahead for this fast growing company. Here he expects to end up with a further potential of 150 MW, which should be sufficient for the next 5 to 10 years allowing IXcellerate to remain at an optimum scale for the market. "We are positioned very much as the major western player in Russia, though we are indeed a local Russian business so any new international customer of the nature of Booking.com, Apple or Nvidia with their new AI platforms, wishing to come into Russia will need to come to us because because we are the reference player, with the regulatory and sanctions compliance, anti corruption verification and other security they need – and they trust me too because I have been in the industry since 1998!