Data Centre Energy Management Needs a Revolution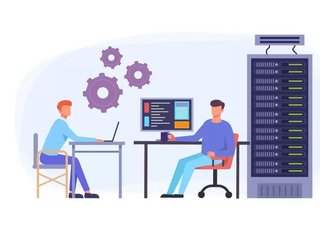 A closer look at how data centres - some of the most power-hungry pieces of modern infrastructure - can adopt new approaches to energy management...
The global data centre industry is booming. However, as investment in digital infrastructure grows, so does the industry's impact on an increasingly fragile climate. Data centres are huge contributors to global carbon emissions and, if the industry is to do its part in preventing the destruction of our planet's environment, drastic steps need to be taken. This month, we're taking a closer look at how data centres - some of the most power-hungry pieces of modern infrastructure - can explore and adopt new approaches to energy management, with the goal of bringing energy consumption in line with increasingly stringent sustainability targets. 
The big data boom
Over the past decade, more than US$100bn of investment has poured into the sector due to increased attention from private equity firms, infrastructure funds and governments, driven by a rising tide of data and digitalisation. Data centres are the engine that powers the modern enterprise and, as 5G adoption, the growth of the Internet of Things (IoT) and COVID-19 continue to accelerate worldwide digital transformations, the need for data centre infrastructure is growing greater by the day. 
"Data storage is already one of the planet's most energy-intensive industries and its growth is only set to rise" -
Enterprises in every industry are increasingly shifting from legacy infrastructure and on-premises data centre solutions to hyperscale-supported public cloud, or increasingly sizable enterprise colocation facilities. A noted that "the 10 MW data centre that was impressively sized 10 years ago now pales in comparison to 30 MW leases that are now signed with increasing regularity." Around the world, data centres are getting bigger. The number of hyperscale facilities exceeded 540 in the first half of 2020, meaning the average amount of time it takes the industry to construct 100 hyperscale data centres is about two years - and it's only getting faster. As the construction of super-sized facilities grows, the overall number of data centres is actually falling, as more and more enterprises abandon their on-premises infrastructure and migrate towards the cloud. As the number of data centres decreases, and the average size of data centres expands, the need for these facilities to embrace innovative energy management strategies is only becoming more of a mission critical priority. 
The wrong direction
"Opportunities for industry growth are abundant," comments , head of distributed energy at , an industry leading data centre power solutions provider based in the UK. Speaking to Data Centre Magazine, Marren adds the caveat that the industry's growth comes part and parcel with the issue of its appetite for electricity. "Continued expansion also presents a major complication: data storage is already one of the planet's most energy-intensive industries and its growth is only set to rise as the need for server space increases." According to Centrica's own research, by the year 2040, data centres will be responsible for a full 20% of the world's energy usage, compared to a mere 3% in 2017. 
Marren notes that each year the UK's data centre industry alone is estimated to consume between two and three terawatt hours of electricity, a figure he doesn't see falling on its own, as the country's digital infrastructure continues to develop. By 2025, a recent report estimates that the UK's data centre industry will exceed $8.4bn in size - exceeding the combined value of the entire African data centre industry by almost $2.5bn. At the same time, the UK government has committed to an environmental target of net zero by 2050 and, while this is neither the harshest deadline imposed by a government as part of its climate strategy, nor likely to be fast enough to avert a climate catastrophe, it's a deadline that the UK data centre industry will find hard to beat, according to Marren. "This combination of environmental pressure and growing concern over a consistent electricity supply puts data centres in an acute position – needing to satisfy their insatiable need for energy, while being mandated to drastically reduce emissions," he adds.
A vicious cycle
In addition to its big picture contributions to climate change, the carbon impact of the data centre industry also threatens to make its own road towards sustainable practice even harder, further compounding the challenges it faces in the process. "Extreme weather as a result of climate change and instability can pose different challenges to data centre operators," explains , global sector head of the data centre unit at temporary power and cooling solutions provider . 
"Rising temperatures are putting strain on cooling infrastructure within data centres" -
In an interview with Data Centre Magazine, Durie explains that extreme weather as the result of climate change is putting increased pressure on data centre operators. "Rising temperatures are putting strain on cooling infrastructure within data centres, particularly now free cooling is more common," he notes. "As ambient temperatures rise to a point where fresh air from around the data centre is too warm to cool the facility, data centre operators have to bring in supplementary temporary cooling to avoid outage. If climate change continues to worsen, the facilities that may not have had concerns around the limitations of free cooling, now must consider planning for warmer summers." He adds that, as other symptoms of climate change like wildfires, hurricanes, tornados and freak storms become more common, data centres face an uphill battle to avoid disruption from fire, flooding or even something as innocuous as a humidity spike. 
If data centre operators are to reduce their consumption of energy, while sustaining the industry's growth and continue operating in an increasingly unstable world, there needs to be significant change in the way that these organisations approach energy management. 
The untapped potential of on-site solar
Covering a data centre in solar panels has been fairly common practice for years now. However, with recent developments in both photovoltaic panels and battery engineering, the technology may be about to undergo a major leap in usefulness. 
"Energy generated through solar panels could be used directly on-site, while surplus energy that isn't needed right away can be stored in the battery. Stored energy could then be deployed at a later time, such as when the weather is cloudy and the panels aren't able to generate enough electricity to power the facility effectively," says Marron. "In addition, this excess energy can often also be fed back to the grid to create an additional revenue stream." 
A new approach to energy management
Luckily, there are solution providers in the industry, like Agrekko and Centrica Business Solutions, working to provide the tools that the data centre industry needs to overcome the challenges ahead. 
Reducing dependence on the grid
"For data centres, exponentially increasing energy needs means relying on the grid solely for their supply may soon become a challenge – a particular concern for an industry whose ability to deliver their service to customers directly hinges on having a consistent, reliable and sizable supply of electricity," Marren notes. On-site power generation is not a new concept in the data centre industry, as power redundancy and backup systems are essential to avoiding a disruption of services in the event of an emergency or natural disaster. Marren asserts, however, that on-site generation may be approaching a point where it is able - and desperately needs - to step out of the shadows. 
"More and more, we're seeing technologies such as natural gas generators being used within a data centre's energy needs – a frontline function they were never intended for," Marren explains. "By instead producing energy on-site, data centres can not only take control of their own supply, but can also begin to tackle their other key challenge – their carbon footprint. And, while generating energy on-site doesn't automatically make a data centre more environmentally friendly, it gives it the opportunity to be so." 
"Taking a more advanced approach to energy through renewable on-site generation will be vital to the industry's future success" -
He adds that, by making battery backup and on-site generated power more sustainable, data centre operators can simultaneously reduce their carbon footprint and become increasingly resistant to disruption. "The prospect of relying heavily on renewable energy has traditionally been a cause of concern in the data centre community, where consistent power supply is a critical requirement. The main drawback of solar or wind power is that both are dependent on the weather, which is often intermittent," Marren explains, noting that combining renewables and on-site generation techniques with storage technology like a battery array can help overcome this hurdle. 
Bridging the gap
Data centre energy management is growing steadily more sustainable, but transitioning the entire industry towards more environmentally friendly energy management practices is still going to be a big step. Durie notes that one of Aggreko's main goals going into 2021 is helping data centre operators bridge that gap, as power grids, renewable energy adoption and mandated carbon reduction goals all continue to impact the industry. As more countries adopt renewable energy as a principal source of power generation, Aggreko is providing its services to help data centres bridge the gap. "Our responsibility is now to supply equipment that is more sustainable and expertise that helps make powering a data centre as efficient as possible," Durie explains. "We have introduced alternative fuels, such as hydrotreated vegetable oils (HVO), and renewable sources of power generation through wind and solar technologies. In terms of future plans, we are researching other technologies such as hydrogen generators, as well as continuing our development of battery storage and rental UPS systems." 
Marren also believes that there is a transition coming, a day when the demands of the data centre industry will outstrip the capacity of the grid. Whether that transition is an environmental catastrophe, or a much-needed step along the path to a sustainable global digital infrastructure, will be determined in the next few years. "As the industry continues to grow at pace, it's clear that demand for energy will soon outstrip what the grid can offer," he warns. "Taking a more advanced approach to energy through renewable on-site generation will be vital to the industry's future success, not only by offering its businesses greater control over their energy and cost savings, but also by providing the opportunity to begin integrating renewables for a more environmentally sustainable future."