Kao Data: Sustainable HPC at Scale
With HPC demand rising in tandem with the need for more sustainable design, we talk to Lee Myall, CEO of Kao Data, about delivering green HPC.
As digital transformation initiatives continue to gather momentum, data gravity intensifies, and the demand for ultra-high-performance computing (HPC) in fields ranging from supply chain and retail to medical research increases, the global data centre industry increasingly finds itself torn between two seemingly incompatible trends. On the one hand, you have this massive growth in data demand. Enterprises want greater rack densities, more powerful computers, and greater support for artificial intelligence (AI) and machine learning (ML) applications. 
On the other hand, you have the existential threat of the climate crisis. After a summer characterised by some of the most extreme weather events in history, and with the warnings of climate scientists growing increasingly dire with each passing week, data centre operators are staring into the face of a sustainability reckoning. From moratoriums on construction to all-out bans on industries like cryptocurrency mining, this energy-intensive industry has never faced harsher scrutiny. 
While finding a way to reconcile HPC demand with the need for a fundamental shift in the way that the industry tackles sustainability might seem like an impossibility, there are several organisations working to do just that. In the UK town of Harlow, between Cambridge and London, one of them looks like it might be pulling it off. 
Kao Data: HPC and the future of Healthcare
"Frankly, no one in the UK is working harder to push the boundaries of data centre sustainability than us," explains Lee Myall, CEO of Kao Data. Founded in 2014, Kao Data is the UK's leading provider of HPC colocation services. Its Harlow campus - built on the site where Sir Charles Kao discovered fibre optic cable in 1966 - first spun up in 2018 with a 2.2 MW data centre. Since then, the site has grown into what Myall calls "the UK's only industrial-scale data centre campus that's been specifically designed to accommodate the needs of HPC, AI and GPU-accelerated computing." 
In October of the same year, the campus became one of the first data centre sites in Europe to obtain OCP-Ready status from the Open Compute Project. This, combined with the fact that the campus remains the UK Innovation Corridor's only NVIDIA DGX-Ready certified facility, makes Kao Data's Harlow site uniquely positioned to "deliver customised architectures for biocomputational analysis, quant and grid computing." 
One of the most prominent applications for HPC has been in the field of medicine - something the COVID-19 crisis has only made more apparent. "The pandemic has shown us that healthcare, like many other industries, is increasingly data and science-driven, both in terms of sequencing human genomes and identifying COVID-19 variants, in vaccine and drug discovery, and in monitoring community spread and within Track and Trace," Myall explains. "All these enormous datasets have to be stored safely, processed, analysed, and made available to a global community of scientific, pharmaceutical and research institutions." Storing vast datasets for big data analysis is only part of the puzzle that Kao Data's Harlow campus is helping to solve, however. 
In July of this year, NVIDIA officially launched its Cambridge-1 supercomputer, a $100mn project to create the UK's most powerful supercomputer to date, hosted within Kao Data's Harlow campus. "As the UK's fastest and most powerful supercomputer, Cambridge-1 is focussed on a number of important areas, including digital biology, bioinformatics, and genomics research, and will be transformative for the healthcare industry globally," says Myall, adding that Kao's ability to host Cambridge-1 supports the work of its founding partners, which include AstraZeneca, GSK, Oxford Nanopore, King's College London, and Guy's and St Thomas' NHS Foundation Trust. Harnessing the power of Cambridge-1, underpinned by Kao Data's hyper-dense architecture, these partners "are leveraging AI to gain a deeper understanding of brain diseases like dementia, to design new drugs and to improve the accuracy of finding disease-causing variations in human genomes," Myall explains. 
NVIDIA's Cambridge-1 isn't the be-all and end-all of Kao Data's support for hyper-dense HPC in the UK and Europe, however. The company also hosts the European Bioinformatics Institute's HPC cluster - a massive web of computing assets and bioinformatic datasets which are accessed more than 80mn times per day by "researchers across Europe." 
"Ultimately," Myall reflects, "HPC is the engine behind many of the measures that have helped us begin to fight back against COVID-19, and it will be instrumental for disease prevention in future." But the real challenge - and one of the key reasons behind Kao Data's ability to attract some of the densest, most critical HPC workloads in the region to its campus - is delivering on these monumental HPC demands in a way that mitigates the technology's eye-watering demand for power, especially when those demands can vary dramatically from one project to another.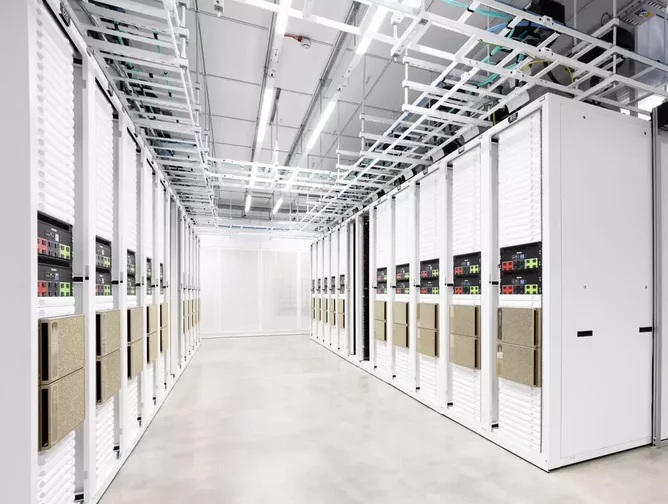 Green HPC
While it's common enough for data centre operators to retrofit more sustainable design features into their facilities, Kao Data's Harlow campus was conceived from day one as an exercise in marrying its substantial HPC capabilities with sustainable practice. 
"Kao Data London-One (KDL1) was specifically designed to cater for the most power and compute-intensive workloads, and to be able to power and cool them in the most environmentally sustainable and energy-efficient way," says Myall. "Central to this was the use of Future Facilities Computational Fluid Dynamics (CFD), which allowed us to both model and simulate our technical suites under a number of operating conditions. The findings enabled us to fine-tune performance and airflows, ensuring we could prioritise sustainable operations and were instrumental in helping us support Cambridge-1." As a result, the campus runs at a consistent PUE of 1.2, even at partial loads (well below the industry average - particularly considering the density of its IT architecture), is powered entirely by renewable energy, and uses mechanical and refrigerant free indirect evaporative cooling. 
While Myall explains that the Harlow campus typically uses this indirect evaporative cooling to maintain its industry-leading PUE across racks with densities ranging between 20-40kW, he adds that " if an AI or HPC organisation wanted to accommodate higher rack or power densities, or to use direct-to-chip liquid cooling, we have the ability to customise the infrastructure accordingly, and the engineering expertise to support them." 
It's this combination of sustainable and HPC expertise that has allowed the Harlow campus to marry ultra-dense IT architecture capable of hosting the UK's most powerful supercomputer with green design techniques that conspire to make the Harlow campus one of the country's most sustainable facilities as well. "The technical expertise of our leadership team, and the ability to power and cool supercomputing systems, such as NVIDIA's Cambridge-1, sustainably, means we've built a green and environmentally conscious home for HPC and AI." As demand for high-tech applications continues to rise, and as the need for a more sustainable data centre industry becomes increasingly dire, Kao Data could end up serving as a blueprint for the future relationship between HPC data centres and the sector's green ambitions.