Kokam launches new UPS battery solution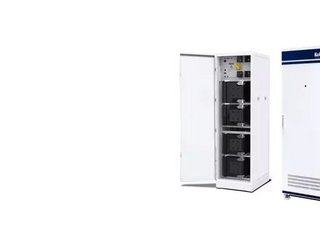 SolarEdge subsidiary Kokam has launched a new UPS battery system designed to support critical systems in data centres...
Korean battery maker is launching a new battery system designed to support uninterrupted power systems (UPS) for data centres and other pieces of critical infrastructure in the finance and manufacturing industries.
The company, which is a subsidiary of Israeli renewable power firm - having been acquired back in 2018 for - announced on Monday that it is now accepting pre-orders for a new UPS battery system designed to increase both the maximum current (c-rate) and energy density. 
"With data center growth and grid instability, the UPS battery market is experiencing considerable expansion. As a leading battery solution provider, Kokam is well positioned to support this market acceleration through technological innovation," stated . "The launch of our new advanced battery system for the UPS battery market is aimed to provide a cost-effective and advanced solution to address the current grid stability challenges."
Grid instability is an increasingly serious issue facing developed and developing nations. The two main threats to grid stability are currently cyber warfare, and the increasingly distributed nature of power infrastructure - coupled with ageing traditional networks. 
Cyber attacks on power grids began cropping up in 2015, most famously with the Russian hack of Ukraine's national power supply, which took , leaving hundreds of thousands of people without light or power. In the years since, growth in the throughout networks has vastly increased the potential for cyber attackers to gain unauthorised access to power networks. 
Also, as renewable electricity starts to replace fundamental elements of power generation infrastructure, the very foundation of many . Managing this generational shift is a huge challenge when it comes to ensuring continuous service. 
Sensing the growing demand, Kokam is embracing the global need for better, more affordable UPS solutions to counteract these threats to national grids. 
The company's new battery system reportedly is designed to support mission-critical facilities in industries where power outages can be disastrous, like as data centres, banking, hospitals and semiconductor factories. 
The system, according to Kokam, has a 46% smaller footprint, and is approximately 20% lighter than traditional lead-acid battery systems. Its lithium-ion design and compact size will, reportedly, decrease maintenance costs by as much as 40% compared to lead-acid alternatives.