4D Data Centres helps Suffolk Mind enhance digital support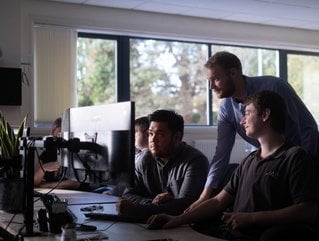 4D Data Centres is helping Suffolk Mind to enhance its digital mental health support offering as the charity looks to develop an e-learning platform
4D Data Centres, a leading UK-based data centre operator and infrastructure management provider, has recently shown support to Suffolk Mind in its mission to get the world talking about and taking care of mental health.
As a member of the domain registry, Nominet, 4D Data Centres is able to utilise the site's GiveHub programme, which gives members the opportunity to apply for a grant to support a charity of their choice.
Based in Felixstowe, Suffolk Mind works across the mental health continuum, from wellbeing to 'severe and enduring' mental illnesses, providing support and information for everyone.
In its journey to make Suffolk the best place in the world for talking about and taking care of mental health, Suffolk Mind is looking to develop a new e-learning platform. The charity has grown rapidly in the last five years and continues to support thousands of people by giving them the information, help and skills to manage their mental health.
While the COVID-19 pandemic has spurred a number of digital developments at the charity, Suffolk Mind now needs to enhance its digital support offering to ensure it can remain sustainable, effective and able to help as many people looking for mental health support as possible.
4D Data Centres provides Suffolk Mind with funding boost for its e-Learning platform
With a track record of supporting businesses and seeing how the difficult conditions have taken a toll on people's mental health, 4D's COO Steve Wright selected the charity as a worthwhile cause that could benefit from a funding boost.
In order to fully fund the development and launch of the e-Learning Platform, the charity needed to raise £10,000, which Nominet has pledged in the form of their GiveHub grant. People using the service will be able to receive support which can impact their perception of being connected to a charity or services, so they feel less alone and more connected.
Speaking on his involvement, Steve Wright, Chief Operating Officer at 4D Data Centres, commented: "I'm excited that 4D is backing such an important cause. Once live, the platform will improve access to Suffolk Mind's mental health support services nationally, so people looking for support will be able to easily access videos and content from their own homes without needing to attend face-to-face services in Suffolk.
"Even with the pandemic easing, people are likely to continue facing barriers when accessing face to face support. The e-Learning Platform will enable them to still get essential support whilst these restrictions remain. This project will enable people who may be vulnerable to access support from their homes during the pandemic, and beyond," he said.