BNP appoints Michael Umfreville to lead UK data centre team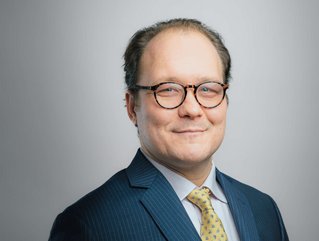 Michael Umfreville has been appointed by BNP Paribas Real Estate (BNPPRE) to lead a team in acquiring land for data centres in the UK
BNP Paribas Real Estate (BNPPRE) has appointed Michael Umfreville to lead a new team focused on the leasing and land acquisitions of data centres across the UK.
Michael, who has enjoyed a successful career at BNPPRE in the City office leasing team, will expand his remit to focus on data centres within the firm's alternatives division. The company says that, alongside co-ordination of the firm's expertise in the sector, he will head up a niche team to support with aspects such as land and building transactions and lease advisory work across an existing and new client bases, taking advantage of the industry's increasing focus on data centres as an asset class.
Stephen Wolfe, Head of Commercial at BNP Paribas Real Estate comments: "Investor interest in data centres has grown exponentially over the past five years or so – offering long-term income and increased security. We've been working with our clients behind the scenes on a number of high-profile deals for a prolonged period – and have taken the decision to build a dedicated and expert team to deliver and support with this. Michael is the perfect candidate to lead the team with his wealth and depth of contacts and experience."
Michael Umfreville, Head of Data Centres at BNP Paribas Real Estate comments: "With data centre transactions heating up across the core locations, BNPPRE will provide support and advice to our clients, whether they are well established or entering the market for the first time. We are already involved in a number of projects across the core markets within the UK, and hope to announce these in due course."
Private institutions such as REITs and investment managers enter data centre market
Michael's new role follows the recent appointment of James Carrington as Head of City Investment; Samantha Rowland as Head of Healthcare; Caroline McDade, Head of Planning; Jonathan Parrish, Senior Director of UK Hotels, and growth hires in key regional offices.
BNPPRE's decision to create a dedicated team comes as specialist private institutions have begun to enter the data centre investment market, including REITs, institutional investors, investment managers, sovereign wealth funds and infrastructure funds, most commonly through joint venture partnerships or entity deals.