Data centre operators 'responsible for energy efficiency'
By Jakub Wolski, Data Centre Strategy and Business Development Leader, Trend Controls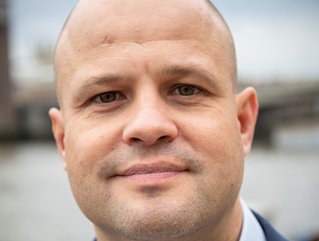 Jakub Wolski, Data Centre Strategy and Business Development Leader at Trend Controls
Jakub Wolski, Data Centre Strategy and Business Development Leader at Trend Controls, explains why data centre operators must develop smarter facilities
If one topic has gone from fringe topic to strategic staple over the past 15 years, it's sustainability. More companies have pledged to meet global climate targets and cut carbon emissions, accelerating the push towards carbon neutrality. While the public has largely focused on air travel, extraction of raw materials and agriculture to drive sustainability goals, the data centre industry is fast becoming the centre of attention.
With more and more energy-intensive applications — from everyday areas like video streaming, video telephony, or private data storage, to specialised high-power computing topics like AI, design, and modelling, or scientific applications — the demand for solutions that support sustainability efforts is also increasing. As such, data centre builders, operators, and users are in demand.
Each click of a mouse or push notification consumes energy, pushing the need for data centre operators to develop smarter and more productive facilities is skyrocketing.
Optimising energy in the data centre environment
When it comes to increasing the efficiency of energy use in data centres, one viable option is the use of energy-efficient servers, routers and storage systems.
In addition, IT equipment can now be operated at higher temperatures than in the past. In order to exploit energy-saving potential as efficiently as possible, solutions for data centre infrastructure management (DCIM), with sensor-based real-time monitoring of energy, can provide a good basis for reducing the energy consumption of servers, storage systems and appliances.
Other influencing factors such as ambient temperatures, structural specifics or even extensive system redundancy measures are less influential amongst data centre customers. Rather, these factors are the responsibility of the data centre operator, who can play a large role in increasing energy efficiency and reducing the environmental impact of the energy-intensive IT industry.
Connecting the old with the new
Making any built environment more efficient is an ongoing process. It involves replacing outdated equipment that consume an unnecessary amount of energy, with new and improved systems and solutions. To ensure efficient performance without sacrificing profits, it is important that data centre operators try to maintain as much current technology as possible, especially if it's still in good working condition.
Not all components need modernisation to run a sustainable data centre. While in certain areas there are regular replacements and other areas where disposal is a greater burden. Despite this, unnecessary replacement often occurs which, undoubtedly, causes higher costs for businesses. Modern building management systems work with older equipment or systems, which causes backwards compatibility issues. As such, it is crucial to rely on solutions that can safeguard older equipment, instead of investing unnecessarily in new hardware.
Keeping things cool
One of the best ways to increase efficiency is through air conditioning as adaptive climate control allows for an array of energy-saving options. Modern solutions with energy intensive systems only activate under certain conditions, like when the ambient temperature hits a certain value or when cold-water distribution systems need extra cooling.
Cold aisle containment is an option that enables strict separation of hot and cold air based on your data centre's design. This method stops discharged warm air from entering cool areas, preventing thermal inefficiency and energy drains on your system.
It is also important to take regional aspects into account. For example, modern air conditioning technologies such as aquifer thermal energy storage (ATES). Using geothermal technology, ATES systems can significantly reduce energy consumption and thus, costs, as both cold and warm water can be stored. By providing a renewable supply of energy to large buildings, cooling in the summer and heating in the winter, waste heat produced by heat exchangers can be isolated in soil and reused on-site or by external users.
Off to the North?
To save energy costs, many companies tend to look towards countries such as Sweden, Norway or Iceland as northern countries tend to benefit from colder outside temperatures – a good thing when it comes to on-site cooling.
Not all remote locations are suitable for all types of applications and data, though. The critical factors here are energy costs, legalities around data privacy, latency and connectivity. It is imperative to take all factors into consideration when it comes to data centre colocation, construction or location decisions. With current fluctuations in energy pricing, some countries might not initially be a first choice, but their network quality or data protection acts might make them ideal for certain applications, like high-frequency trading or computer aided design.
Putting data and humans together
Whether data centre operators want to take advantage of the climate of the global north or build their data centre as close to home as possible, two aspects are key: maintenance and implementation.
The human factor is often overlooked and, while data centre operators can do a lot of good by using the right technology, they also need to take things like air travel for engineering staff and their company's overall carbon footprint into account.
Jakub Wolski is Data Centre Strategy and Business Development Leader at Trend Controls, part of Honeywell International