Digital Realty: Data Gravity Intensity To Double Annually
3 min
Digital Realty's Data Gravity Index DGx™ identifies Jakarta, Singapore, Rome, Hong Kong, Melbourne and Atlanta as Metros with Greatest Intensities to...
Digital Realty, a global provider of cloud- and carrier-neutral data center, colocation and interconnection solutions, has published version 1.5 of its . The latest study covers 53 global metros and assesses the intensity and gravitational force of enterprise growth data on 23 industries.
"As businesses undergo the rapid pace of digital transformation, understanding the impact of data gravity intensity will be a fundamental requirement for both enterprises and service providers to unlock data-driven opportunities," said Tony Bishop, SVP, Platform, Growth and Marketing at Digital Realty.
"Data gravity is an impediment to enterprise growth that will affect businesses across industries around the world. The release of our Data Gravity Index DGx 1.5 exploring the impact of data gravity across more metros and key industries is designed to help enterprises develop a data-centric architecture as they combat digital transformation challenges."
The index analyzed Global 2000 enterprise companies' presence in each metro, along with GDP, population, number of employees, technographics, IT spend, average bandwidth and latency, as well as flows of data. Digital Realty conducted research between August 2019 and August 2020 and drew upon third-party data sources – including the World Economic Forum and United Nations, as well as consulting and market research firms.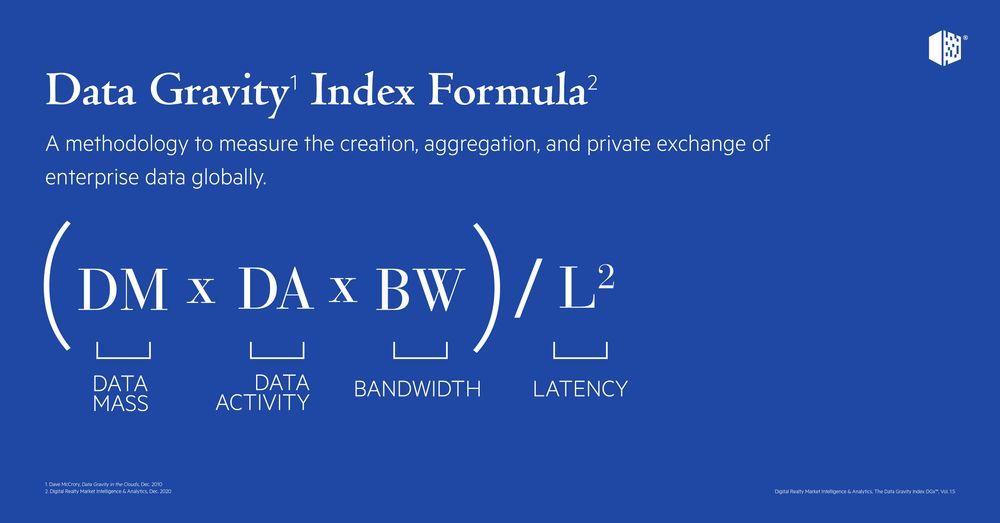 Data Gravity's Growing Impact on Key Industries
The industries expected to experience the greatest data gravity intensity include banking and financial services, manufacturing and insurance, all of which are expected to see rapid growth in digital acceleration, digital-enabled interactions and data exchange volumes globally.
Key findings across Forbes Global 2000 enterprises include:
• Data gravity intensity for banking and financial services firms will be exacerbated by regional growth in key banking and financial hubs.
• Large manufacturers are expanding their data and analytics capabilities, driven by the growth of in-home consumption.
• The insurance industry is expected to see data gravity intensify as digital-enabled interactions continue to increase in importance while key metros experience rapid growth in the volume of enterprise data exchange.
Regional Forecasts for New Global Metros
According to the expanded report, Jakarta, Indonesia is expected to generate the fastest growth in data gravity intensity, followed by Singapore, Rome, Hong Kong, Melbourne and Atlanta.
In addition, banking and financial services centres (such as London, New York, Tokyo, Paris, Hong Kong, Amsterdam, Beijing, Silicon Valley, Frankfurt, Toronto, Singapore, Washington, Charlotte, Sydney, Milan and Seoul) are expected to realise significant growth in the volume of enterprise data exchange.
"Data gravity continues to accelerate unabated, and so does the urgency of addressing it," said Dave McCrory, VP of Growth, Head of Insights & Analytics at Digital Realty.
"We are expanding the findings of our Data Gravity Index to include an analysis of 23 industries and 32 additional metros to provide insights to help business leaders make better strategic decisions about where to locate their data."
Digital Realty supports the world's leading enterprises and service providers by delivering the full spectrum of data center, colocation and interconnection solutions. Digital Realty's global data center footprint consists of more than 280 facilities in 49 metros across 24 countries on six continents.
Schneider Electric reveals new IT Innovation report
3 min
Schneider Electric has released the Digital Economy and Climate Impact report revealing new innovations for sustainability and resiliency in data centres
Schneider Electric has released a new IT innovations report titled "Digital Economy and Climate Impact", with the aim of gaining an understanding of how digitised and smart applications will be powered in the future. The company says that the report predicts that IT sector-related electricity demand is expected to increase by almost 50% by 2030. 
Despite this, the report also shows that emissions would not increase by more than 26% by the same year, following the decarbonisation of the electricity system. In an attempt to reduce this rise in emissions the Schneider Electric TM Sustainability Research Institute recommends continued efforts in achieving efficiencies on the IT and energy sides at both the component and system levels. 
The report highlights how the rise of edge computing technologies require a "specific focus" due to these systems being less efficient than hyperscale data centres. "When the world locked down, it also logged on and internet traffic soared," said Pankaj Sharma, EVP, Secure Power, Schneider Electric. 
"It's misleading to assume that digital activity will inevitably result in a deeply problematic increase in CO2 emissions. The analysis from the Schneider Electric Sustainability Institute puts to rest many of the worst-case scenario claims predicting IT-related electricity use will double every five years. That said, as an industry, we must remain vigilant in finding new sources of sustainability gains while ensuring resiliency as digital keeps life moving forward", he added. 
As well as the release of the report, Schneider Electric also announced several updates to its EcoStruxure IT data center infrastructure management software, Galaxy VL 3-phase uninterruptable power supply (UPS), introducing an industry-leading single-phase UPS, the APC™ Smart-UPS™ Ultra. All introductions are designed to advance the industry forward in meeting sustainability goals while increasing the resiliency of IT and data centre infrastructure, the company said. 
Managing hybrid data center and edge IT environments
Also showcased in Schneider Electric's report are the increasing demands on digital consumption. According to the company, these create a more complex hybrid environment inclusive of enterprise, cloud, and edge data centres. Addressing the unique management challenges of a hybrid IT environment, Schneider Electric has announced updates to its EcoStruxure IT software to increase efficiency and resiliency, including:
Increased remote management capabilities:

New granular remote device configuration features enable users to change configurations on one or more devices – including the new Galaxy VL and APC Smart-UPS Ultra single-phase UPS units – from one centralised platform with EcoStruxure IT Expert. This update, combined with previously released software insights on device security health, enables the user to identify faulty devices or configurations and address them in a matter of clicks, keeping their hybrid IT environment secure.

Improved environmental monitoring:

Environmental monitoring systems ensure users have eyes and ears on data centre and IT deployments from anywhere, anytime. With this update, users can push mass configurations remotely for NetBotz cameras 750 and 755 quickly and efficiently increasing security across the critical infrastructure.

Enhanced remote capacity modeling and planning:

With EcoStruxure IT Advisor's new capabilities, users can remotely compare an unlimited number of racks and easily identify available capacity, view what assets are deployed and their dependencies.
Sharma concluded: "Schneider Electric has been focused on sustainability for the past 15 years and was recently named the most sustainable corporation in the world. We have embraced the mindset that future innovation will deliver better efficiency across the broader connectivity landscape. By making smart intentional choices, our industry can help mitigate how much electricity and emissions result from the rising appetite for digital technologies".