DC Blox breaks ground on new data centre in South Carolina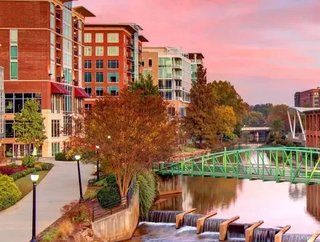 The new 18 MW facility is on track to be the state's first multi-tenant Tier III facility...
Southeastern US-based data centre operator has begun construction of South Carolina's first multi-tenant Tier-III-certified data centre. The company that the project had advanced to the construction stage last week, revealing that the first stage of the data centre is expected to be operational by Q3 of 2021. 
The data centre, located in Greenville, South Carolina, will have a total IT load capacity of 1 MW upon the launch of its first phase. Upon completion (an event for which DC Blox declined to provide a concrete timeline), the Greenville data centre will comprise six data halls with a footprint of 54,000 square feet of whitespace spread across an 8.5 acre campus located in the Global Business Park adjacent to Interstate 85. 
This puts it a few minutes south of downtown Greenville and a roughly two hour drive from the city of Charlotte, South Carolina's most populous urban area and regional business hub.
DC Blox Chief Operating Officer, Mark Masi, hailed the project as a landmark development for South Carolina's digital economy. "With the first Tier III-designed data centre now under construction in South Carolina, businesses adopting digital transformation strategies are set to have access to the most reliable and interconnected facility in the State," he said in a press release last week. 
He added that, "Whether it's a prime location, cloud storage, disaster recovery, or an expanded data centre footprint, we are proud to bring this state-of-the-art data centre campus to South Carolina. Now, even more companies can leverage reliable and efficient data centre services and private, high-speed, low latency network access to cloud providers and applications at scale."
DC Blox has declined to share how much it is investing in the construction of the Greenville data centre, although it claims that - in addition to creating five "high-paying position" over the next few years, the project will represent a cumulative investment of more than $200mn by DC Blox itself and its tenant customers. This, according to the company, makes it the "single largest amount reported by the Greenville Area Development Corporation in at least five years." 
"DC BLOX brings good-paying jobs and significant capital investment to Greenville County, and we are excited to see their vision begin to take shape with this groundbreaking," commented Greenville County Council Chairman and Greenville Area Development Corporation Board Member Willis Meadows. 
"This new data centre will help Greenville County accelerate economic growth and build on our reputation as a world-class technology destination. DC BLOX is a welcome addition to our community."
The announcement of the new facility in Greenville comes hot on the heels of DC Blox . On March 30, the company announced that it had secured the cash from investment companies Post Road Group and Bain Capital Credit, which has allowed it to refinance existing credit facilities and free up liquidity for further expansion across the US Southeast. 
DC Blox isn't the only data centre operator expanding its presence in the South Carolina market. a $500mn investment in the expansion of its own data centre in Moncks Corner, a coastal suburb of Charlston located some three hours from Greenville. 
DC Blox owns and operates a network of data centres across the Southeastern US, including other facilities in Atlanta, Georgia; Birmingham, Alabama; Huntsville, Alabama; and Chattanooga, Tennessee. Over the coming months, the company has said it intends to announce further projects across its home region, adding that the new Greenville facility, "is positioned to vastly improve digital infrastructure capabilities for businesses throughout Greenville and Spartanburg counties, and the State of South Carolina."