Edge Centres to build its first data centre in Vietnam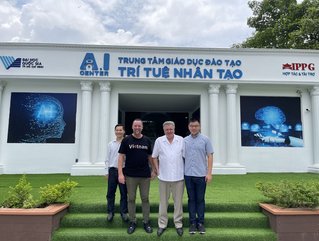 Edge Centres has announced it will begin building a new data centre facility in Vietnam in partnership with the Vietnam National University (VNU)
In a LinkedIN post, Australian firm Edge Centres announced that it will build a new data centre in Vietnam, its first in the country, in collaboration with the Vietnam National University (VNU) Ho Chi Minh City.
Edge said in the post that the centre, to be called EC51, will open in the next 20 weeks once works on the campus are completed. This collaboration is the first of its kind in Vietnam, and we are proud to support the initiatives of the VNU. It added that the university is a 'progressive' one with dedicated AI Centre for training. VNU also has a large "start-up" area supporting new companies and their technologies.
Edge Centres also announced in the post that it will deliver the first solar-powered data centres in Vietnam, allowing students to not only deliver IT projects but also learn about our technology. In addition, the company closed a Series A Funding round in April this year valued at AU$12mn, which it looks to put towards its APAC expansion. Its aim by the end of 2023 is to have 20 sites operational, and 40 sites operational globally by the end of 2024.
Edge Centres: Providing Australia with carrier-neutral edge colocation services
Founded in 2021 and headquarted in Brisbane, Queensland, Edge Centres is an Australian data centre company that provides carrier-neutral edge colocation services. Its primary focus for 2021 was building its business in Australia with 2022 focusing on expanding into APAC followed by The USA from 2023 onwards.
The company's executive team is formed by CEO and Founder Jonathan Eaves, Ahmed Alsaadi, responsible for operations; Paul Robertson, responsible for construction; and DI Harrington, responsible for accountancy.
Image: Edge Centres