Equinix and its Chilean data centre expansion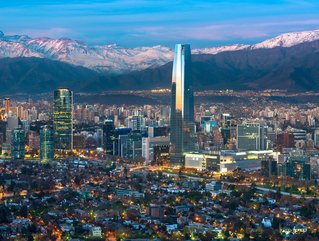 Following Equinix's announcement of four Entel data centres, we take a look at the news in more detail and what it means for Chile and Peru
Chile is the fourth-largest economy in South America, with the highest GDP per capita in the region. Santiago is emerging as a technology hub in South America, serving both regional cloud and content demand as well as local enterprises. According to IDC, enterprise edge spending in Latin America is expected to reach US$8.5 bn by 2024, and in Chile it is anticipated to grow by double digits in the same period. Between 2020 and 2024, IDC predicts that cloud spending in Chile will increase 34.6%.
Digital infrastructure company Equinix recently announced its planned expansion into Chile as well as Peru through its intended acquisition of four data centres from leading Chilean telecommunications provider Empresa Nacional De Telecomunicaciones (Entel), a leading Chilean telecommunications provider, for an enterprise value of approximately US$705 million. The acquisition is expected to close in Q2 of 2022 and includes three data centres in Chile, and may also include one data centre in Peru, Equinix claims.
Expanding Equinix's coverage of the Chilean data centre market
The aim is to expand Equinix's coverage in the market and strengthen its leadership as the top regional provider of digital infrastructure services. With three data centre sites in Santiago, Chile, the transaction also includes significant expansion capacity for future growth in Santiago, allowing Equinix to support both immediate and future growth in the region.
Under the terms of the agreement, Equinix and Entel have agreed to form a strategic partnership to enable enterprises in Chile and Peru to leverage hybrid multicloud solutions to accelerate their digital transformation.
Speaking at the time of the news, Charles Meyers, President and CEO, Equinix, said: "Latin America holds enormous potential, and our commitment to the region has exponentially grown since we entered back in 2011.
"Chilean, Peruvian and multinational companies are thirsting for the digital infrastructure required to thrive in today's economy; with today's expansion, we're broadening digital access and accelerating digital transformation across Latin America, while supporting growth in a responsible and sustainable manner," he added.
By expanding its platform to the Southern Cone, Equinix will extend its presence to five countries in Latin America, including Brazil, Chile, Colombia, Mexico and Peru, operating 15 International Business Exchange data centres in seven metros. Additionally, the company will be present in all the countries of the Pacific Alliance, a trade block formed by Chile, Colombia, Mexico and Peru that aims to integrate these markets and achieve free mobility of goods, services, resources and people. Since 2011, when Equinix first entered the region, it has invested approximately US$1.2bn in its Latin American operations.