Europe is having a reckoning with the cloud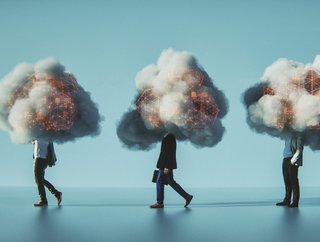 Despite high levels of digitalisation, Europe remains resistant to public cloud adoption, prompting the industry to shift its footing
Written by Harry Menear
Europe is home to some of the most mature digital economies in the world, which nevertheless continue to see strong, continuous growth year-on-year throughout their data centre sectors. However, despite strong growth throughout the FLAP-D markets (the region's five largest locations for data centre development; Frankfurt, London, Amsterdam, Paris, and Dublin) Europe remains a largely untapped market for the public cloud sector.
"Enterprise adoption of the cloud in Europe is still relatively low. It's about 19% on average, thanks to strong numbers in Western Europe and the Nordics, but in some countries it's as low as 7-9%," says Matt Pullen, Executive Vice President and Managing Director for US data centre giant CyrusOne's European operations (which amount to nearly 218 MW of across the FLAP-D markets, with additional projects expanding farther afield as well). "We're seeing Europe continuing to play catchup - particularly with North America - in terms of the region's migration from an enterprise-dominated industry to the cloud."
For a region with a highly digitalised economy, broadly high GDP, and a data centre industry valued at more than $47.5 billion in 2021 (a few hundred million dollars more than the entire economy of Lithuania, just to put it into perspective), the relatively low penetration of public cloud - especially in the South and East - in Europe is something of a puzzle.
Resisting the Cloud
A large part of why public cloud adoption has lagged, both in Europe generally, but specifically in countries like Italy, Spain, and much of Eastern Europe, is cultural, explains Pullen. "If you think about attitudes towards outsourcing generally in Europe, culturally it isn't embraced - certainly in Southern European nations - the way it is in the US, for example," he says. "That's just the culture."
The split - where a few Northern European countries and virtually all of North America embraced outsourced data centres, and much of Europe didn't - started to form around the turn of the millennium during what Pullen describes as the "enterprise phase."
"Post-9/11, when regulation came to bear that said data centres needed to be located away from headquarters buildings, have more resilient architecture, and so on, a lot of American and Northern European countries and companies embraced the colocation market," he explains. "They saw the colocation data-centre-as-a-service providers as a useful tool to stay compliant and safe without breaking the bank."
Southern European countries, on the other hand, took a dimmer view of colocation - an attitude which has carried over into the public cloud era. "In Southern Europe, by contrast, you generally saw companies building their own data centres, particularly the big banks," says Pullen. "Culturally, those countries just don't like to outsource; they like to touch and feel their own assets."
As the benefits of public cloud continue to be reinforced - especially as Europe's data privacy and sovereignty regulations continue to evolve - this cultural barrier, at the very least, appears to be falling across the continent.
The benefits, Pullen explains, simply far outweigh the costs. "I think what we're seeing with the growth of the digital economy is that those traditional cultural barriers to outsourcing are being somewhat transcended," he speculates. "It is so much easier to outsource to the cloud. It deals with a whole myriad of issues, particularly to do with legacy data centres that companies may still be operating. And it helps support the sustainability agenda of a lot of corporate organisations."
Public cloud companies are starting to make spirited pushes into new European markets. CyrusOne - which, along with other data centre firms, goes where the hyperscale demand is - recently made its first push into Madrid, where Microsoft Azure and Amazon Web Services are both in the process of preparing new cloud regions for launch.
However, lurking behind the first barrier is another one that, for AWS and Microsoft, is a lot harder to surpass.
"We want European Cloud"
"There's still the issue that the outsourcing options in the European data centre and cloud space are still largely to North American companies. In certain European countries, that doesn't sit all that well," explains Pullen.
In fact, Europe is having a very anti-American cloud moment. In February, the European Union's privacy watchdog launched joint investigations with 22 national regulators into the use of cloud-based services like AWS by public sector organisations throughout the EU.
The French government put more than $2 billion dollars into beefing up its domestic cloud industry in November of last year, with French cloud provider OVH Cloud, along with its domestic contemporary Atos, pitching "100% European public cloud services" to its customers using Atos' digital sovereignty service, Onecloud Sovereign Shield. In September of the last year, Google (somewhat ironically) began working with Deutsche Telekom on the creation of a German Sovereign Cloud. The EU-sponsored pan-European public cloud initiative Gaia-X continues to gather funding and support for a way to de-couple public cloud from North American hyperscalers, who have seen their reputations tarnished in the court of public affairs for largely non public cloud-related issues.
"Take Paris, for example. It's been one of the fastest growing markets in Europe for the last couple of years, but there is definitely a lot of negative public sentiment there towards North American hyperscalers," says Pullen. "Look at Ireland. The whole economy has been driven by the tech era, yet there's a huge amount of negative public sentiment towards data centres. Now, I think the problem is that the industry is finally on the radar."
Whether a problem of misinformation, lack of effective education of the industry's real sustainability impact (which Pullen stresses is misunderstood and blown out of proportion by the public), or genuine cause of concern, from some angles it looks like the North American public cloud sector may struggle to maintain - let alone grow - its beachhead in Europe.
Despite the fact "It's definitely an optical issue," Pullen doesn't see North American hyperscalers losing out on the European market any time soon, however. Quite the reverse. "We're not seeing any fall-off in growth," he says. "In Europe this year we're probably going to see more of the same in the sense that demand, especially from the hyperscalers, is driving market growth, as it has for the last few years. We're not seeing any abatement of that growth any time soon."
Divya Wakankar, VP Enterprise Market at Belgian telecom firm BICS, agrees, citing increasing data privacy regulation as a key driver of public cloud adoption in Europe. "In the coming years, we expect to see additional legislation implemented. Companies that decide to combat this by holding only private cloud systems will feel the financial burden of trying to replicate systems that are readily available on public clouds," she explains. "Hyperscalers have previously been limited by their marketing budgets in certain regions, creating barriers when it comes to education and promotion. We expect to see this change in the coming years and predict adoption in Eastern and Southern Europe will become faster as best practice cases from Western Europe are replicated."
It's a matter of when, rather than "if", Europe's digital future will step farther into the public cloud. But whose cloud it will be still remains to be seen. Right now, North American hyperscalers remain ahead, but they certainly shouldn't take that lead for granted.